Become an insider!
Get our latest payroll and small business articles sent straight to your inbox.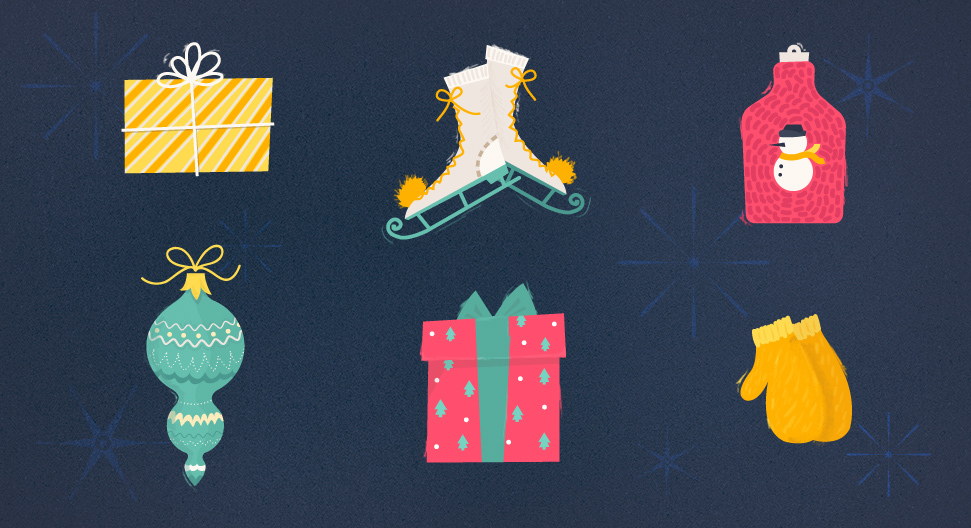 With the holiday season almost upon us, you're probably getting ready to show your employees a little year-end appreciation for their loyalty and hard work.
And you definitely should.
Employee appreciation can go a long way when it comes to the happiness of your staff and the overall opinion they hold of you and your company.
Your employees put in their hard work all year long and now it's time for you to say, "thanks," "Happy Holidays," "Happy New Year," or "wow – you're awesome."
And why not? They get something remarkable, and you get a bit of a tax break. But, before you start handing out the Rolex watches, you do need to know the rules.
Are all employee gifts taxable?
In the US, all forms of compensation are considered a tax benefit and, therefore, subject to income tax unless the tax code specifically excludes it as a de minimis fringe benefit. De minimis means it's too trivial or minor to merit consideration.
Certain de minimis fringe benefits allow an employer to give "traditional birthday and holiday gifts of property (not cash) with a low fair market value" without the employee acquiring additional tax obligations.
Unfortunately, when it comes to an exact allowable dollar amount the rules are vague. We recommend treating any gift with a fair market value of $100 or more as a tax benefit. A cash gift will never qualify as de minimis, no matter how low, and will always be a taxable employee gift.
In Canada, the rules are a little simpler. An employer can give an employee up to $500 a year in non-cash gifts before the gift turn into a taxable benefit.
Anything over the $500 limit, or any form of cash, is a tax benefit that will leave your employee with additional gift taxes at the end of the year.
Skip the cash and other cash-like items and consider one of these certifiably awesome ideas that will keep the gift tax monster at bay.
Now, when possible, we're not recommending skipping out on the cash bonuses… since cash will definitely raise employee satisfaction, but you should also consider something more meaningful.
Need awesome holiday gift ideas for your employees? The ideas below are sure to rock the socks off your employees and win you the "#1 employer award."
We've listed something for everyone including,
The Tech Lover
The Travel Lover
The Food Lover
The Star Wars Lover
The Animal Lover
The Comfort Lover
Happy gift giving!
The Tech Lover
1. Silver USB Cufflinks
Concealed within one cufflink is a 16GB USB flash drive, in case your employee also happens to be James Bond.
$100 (is considered a tax benefit in the US)
2. DIY Thirsty Plant Kit
Employees are a lot like plants – both get thirsty, and it can be tough to know when to grant them their daily ration of water. This moisture sensor has an LED light that flashes when a plant needs to be watered. The DIY kit comes with everything needed to assemble a simple circuit moisture sensor for the office "maker".
$32
3. Smartpen
With a Smartpen, your office gadget guru will be able to save and share recorded notes on their computer, iPhone, or iPad using a micro-USB connector that doubles as a charger for the pen. The memory storage can hold 400 or 800 hours of recorded audio.
$170 (is considered a tax benefit in the US)
The Travel Lover
4. Four-in-one Universal Travel Adaptor
A compact adaptor that contains four different plugs is perfect for an employee that likes to travel. Having four different plugs mean it can be used in 150 countries!
$25
5. Luggage Hand Scale
This handy digital luggage scale will help your employees avoid extra charges due to overweight luggage at the airport. It can weigh luggage up to 100lb, so employees can check the weight before they head off to the airport.
$20
6. Scratch Map
Do you have an employee who likes to speak about all of the different countries they've been to? This map works just like a lottery ticket and enables someone to scratch off the areas they've visited.
$29
The Food Lover
7. Mobile Foodie Survival Spice Kit
Have an employee who's a self-described 'foodie'?  This Mobile Foodie Survival Kit comes in a convenient package and is filled with organic herbs and seasonings, guaranteed to spice up any meal.
$26
8. Kombucha Home Brew Kit
Ideal for any health-conscious employee, this kit will enable your staff members to brew healthy Kombucha from home. Originating in China, Kombucha is a fermented tea rich in probiotics, vitamins and has a natural fizz that's getting a lot of health food attention right now.
$45
9. DIY Garden Kits
These do-it-yourself gardening kits provide your employees with the seeds they need to grow their own vegetables from home. There are themed options from mushrooms to marinara and herbs for spicing up cocktails.
Available here:
Mushroom $25, Marinara $29, Cocktails $12
The Star Wars Lover
10. Death Star Waffle Maker
Have an employee strong in the ways of the Force? Help them obliterate all other waffles with the ultimate power of this fully armed and operational Waffle Maker.
$40
11. Chop Sabers
Awaken the Force in your employees by providing them with an elegant utensil from a more civilized age. Unless of course they feel chopsticks are no match for a good fork at their side. Available in Luke blue, Yoda green or Darth red.
$25
12. BB-8™ App-Enabled Droid
Do you have an employee that loves gadgets and Star Wars? Then this is the droid you're looking for. Your employee will be able to guide a voice-responsive BB-8 around their house with a compatible Apple, iOS or Android device.
$150 (is considered a tax benefit in the US)
The Animal Lover
13. BarkBox Subscription
Does your employee love dogs? These delivery gift pack subscriptions contain healthy treats, toys and more for the puppy (or puppies) they love.
$40+
14. PetChatz
PetChatz is a unique Skype-like option that lets pet owners interact with their pet from anywhere. Using a computer or smartphone, they can even give out treats. Give your employee peace of mind knowing their pet is safe and happy even when they're away.
$300 (is considered a tax benefit in the US)
15. Bee House
Do you have a caring employee who loves wildlife? This is an environmentally friendly beehive designed to mimic natural wood. It's ideal for the peaceful Mason Bee and helps support the at-risk bee population.
$55
The Comfort Lover
16. Aromatherapy Shower Kit
Stress is terrible for health and wellbeing, so give your employees the relaxing gift of a unique shower aromatherapy set. Made with organic essential oils, it connects directly to a showerhead.
$45
17. Adult Coloring Book
Looking for a unique and trendy gift for your employees? Try an adult colouring book. Doodling and Coloring promote relaxation and creativity while also reducing stress.
$15-25
18. Bubble Calendar
Have an employee who likes to fiddle with things and make annoying noises? This season, indulge them with this poster-size bubble wrap calendar and a friendly reminder that the bubble wrap around the office is for shipping, not playing.
$26