Become an insider!
Get our latest payroll and small business articles sent straight to your inbox.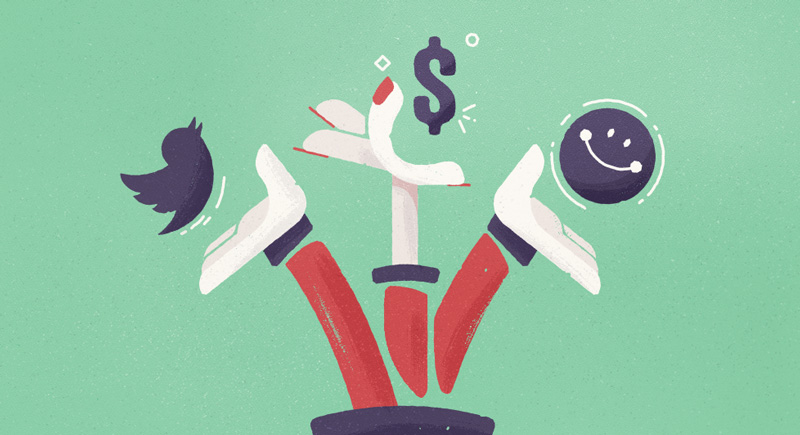 When working at a startup or small business, there's no point in doing something if it's not bringing business value and working towards your organizational goals.
Of course, goals are going to differ depending on your business model — they might be to reach x% in revenue in three months, or to grow to one million customers by year-end. No matter what those goals are, all company activities should be working towards them.
At any company, it can be difficult to get everyone on the same page, but it's especially vital at a small business where employees are likely wearing several hats.
The "trick" is to take a transparency-first approach and clearly communicate your goals with the team so that you're working as a well-oiled machine towards the same pot of gold, rather than having everyone spending time on multiple different things that may only see incremental results.
Here's how you can get your team working smarter with key performance indicators, or KPIs.
1. Make your goals known and visible
Obvious, right? Well, it may be counterintuitive for some founders or CEOs to lay it all out there — to share projected revenue and year-end goals with the entire team. But if you want everyone doing meaningful work to get to where you need to be, it's necessary.
Make your goals available to the entire team. If you use a collaborative tool such as Slack or Basecamp, add the goals to the description of that workspace.
At CloudPeeps, a talent community connecting businesses with freelance marketing professionals, we have a Slack channel called "showandtell" where we only place wins related to our business goals, such as sales, new customers, matched jobs, etc. We then celebrate department-specific wins (such as increased blog traffic or email subscribers) to the channel specific to those activities.
If you have a physical office, print them out in huge font and put them on the wall — heck, even paint them. That way, they serve as a constant reminder of what everyone is working towards. Of course, this isn't meant to stress your team out, it's just a way to keep everyone focused, on track and ensuring that they're work is going to pay off for everyone.
2. Identify your KPIs
Okay, so you know what your business goal is and what the entire team is trying to achieve together. Now, what is each department doing to get there?
What are key performance indicators? Break your goal into smaller activities that will help the company reach it, identify how it's measured (your KPI), then tie a number to it.
Taking sales as an example, let's say customers can have a different lifetime value — i.e. the amount they spend over their time as a customer depends on the level of product or service they purchase. One KPI for your sales team is going be "average customer lifetime value." Their goal will be to achieve an average customer lifetime value of some maximum amount, based on upsells and renewals. By establishing and communicating this KPI, your team then knows what they need to do to achieve this goal that ties into your bigger revenue goal.
Like most things, KPIs are going to be different from company to company, but here's a great resource that outlines typical examples for each department.
3. Attach a KPI to each and every activity
Everything that you and your team does should have a KPI attached to it, that includes activities such as social media management, content curation, or support.
When identifying the roles of each team member, write out their responsibilities and attach a KPI to it. We recently did this with social media, identifying Twitter chats as something we believe will add value in terms of growth, so we attached three KPIs to measure effectiveness:
Direct: increased social media followers
Indirect: new customers
Indirect: new Peeps (freelancers for the supply side of our marketplace)
Social media followers may seem like a "fluffy" KPI, but for us, this is directly correlated to brand awareness and reputation, which impacts the ability to attract new customers and freelancers. When discussing this with our social media manager, we made sure to cover the overall goal and the why behind each activity.
After giving these a try for a couple of weeks, we'll evaluate whether or not they've had a positive impact on these KPIs — and how large that impact was — then decide based on that information if we should continue on with them or not.
By identifying the KPIs each team member is focused on, everyone will have a clear idea of what they're trying to achieve and how they're going to achieve it, which means less time spent managing and reporting, and more time doing.
How does your team ensure that everyone is working towards the same goal? Share your experiences in the comments below!
This blog post is brought to you by Shannon Byrne, Chief Content Officer for CloudPeeps – a talent community connecting businesses with freelance marketing, content and community needs to help them reach their growth goals.