Become an insider!
Get our latest payroll and small business articles sent straight to your inbox.
I've heard many horror stories of fumbling through a makeshift sales process from accounting and bookkeeping professionals. Given our chosen profession, this is totally understandable as it's not in our nature to sell. We are taught to battle through terrain by balancing our debits and credits!
One of my favourite things to do — when I'm not roasting marshmallows — is engaging in conversations about small business financial technology (fintech).  But, how do you make your prospective clients as excited about fintech as you are? And, how do you make finding a better way to "eat your veggies" sound as appealing as dessert?
Long story short… onboarding new clients doesn't have to be difficult, especially if you let technology work for you. Here's the rundown on how to take a prospective client through a sales process.
What's a sales process?
A sales process is the path you choose to uncover a prospective client's needs and bring them into your firm's workflow. 
It's similar to a quest where you need to find a greater understanding of the prospective client's requirements. Understanding needs isn't always clear cut — it's not always mapped out for us. What we need to do is dive in, look at the systemic problems and fix them with robust fintech tools and applications.

5 sales steps to onboard bookkeeping clients.
Let's get started on the five simple, low-tech steps I use to bring in (onboard) new bookkeeping clients. It's easier than you think!
Step 1. Social media
Social media is pivotal if you want to grow a virtual practice. To attract clients online, you need to actually be online and leverage different social channels to be heard.
There are many ways you can funnel a prospective client to reach out to you online. For example, you can post an informative article on LinkedIn and pepper it with links that lead back to your website (backlinks). You can even use backlinks to a web form with a clear call-to-action to encourage them to "Get Started Today."
Once you receive a direct message or virtual response to your lead capture form, it's crucial to follow up with the warm lead within 12 hours. 
I typically follow up in less than 12 hours during a typical workweek. During this time, your response doesn't need to be super polished. A simple message like the one below will suffice:
"Hey, I got your message saying that you're interested in our services — awesome! Let's book a discovery call. I'll follow up with the next steps by the close of business on Monday."
💡 Pro Tip: Ensure your website or landing page can be easily found on your Twitter, Facebook and LinkedIn profiles. 
Make it easy for prospective clients to connect with you without picking up the phone. These are tech-savvy clients that will fit nicely into your new virtual practice. Don't worry, I totally understand the importance of communication and having a human conversation — which leads us to Step 2.
Step 2. Communication
Next up is good, old-fashioned communication.
In a virtual practice, traveling to meet clients face-to-face is inefficient. However, you can still build a relationship with prospective clients by using online conferencing tools, like Zoom.
It's a long hike before we send out a proposal. To start our journey off on the right foot, book a virtual discovery call. During this call, ask if you can record the session to avoid having to take notes or miss an important piece of information.
After all, the main objective is to provide eye contact and form a relationship — both of which are hard to do if you're jotting down notes at the same time.
💡 Pro Tip: Consider using Practice Ignition to send your confidentiality agreements to clients. It will provide them with the upfront knowledge of how organized your firm is and the added benefit that your client becomes familiar with your proposal software. It's also a contact-free and paperless method for sharing documents.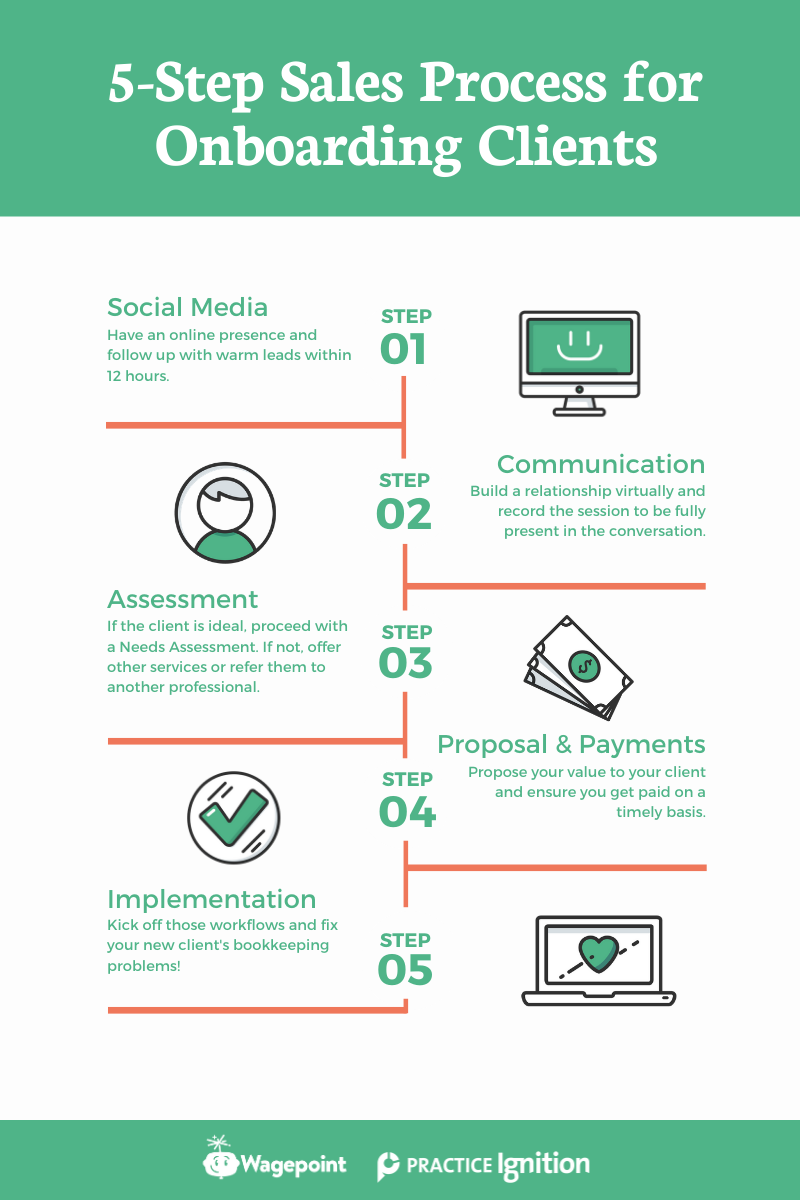 Step 3. Needs assessment
This is the big reconciling moment.
First, determine if the client is a good fit for your workflow. If they are a good fit, proceed with a Needs Assessment that outlines exactly what they need to fix their bookkeeping issues. Don't forget to outline other items, such as a service guarantee, proposed implementation timeframe, as well as expense and revenue policies.
Sadly, not everyone will be a good fit. Stay true to your ideal client philosophy. If they aren't a good fit, consider offering Business Optimizer sessions to consult with them on a virtual hourly basis. Or better yet, refer them to someone in your professional network with whom they'd be a better fit.
Step 4. Proposal and payments
This is the part most accounting and bookkeeping professionals look forward to — kind of like getting a nice cold bevvy after a long canoe trip. It's time to propose your value to your client and get paid on a timely basis.
Picking a proposal platform can be overwhelming. The added benefit of Practice Ignition is that they have enabled payments to ensure you'll get paid, in advance, before kicking off the workflow in Karbon.
Step 5. Implementation
At this point, you've done your due diligence and have taken your new client through your sales process. It's time to kick off those workflows and show your client how amazing you are at fixing their problems!
For us at Moore Details, we use Practice Ignition and appreciate its integration with Karbon — it helps streamline our monthly workflows. Karbon is a great tool to keep track of all the small, but essential steps to properly set up your new client. You can also triage e-mails quite easily!
💡 Pro Tip: Karbon's tasks can be integrated with Practice Ignition. When you propose your services in Practice Ignition, those action items are kicked off in Karbon. Now that's being efficient!
Humanize the relationship, scale the sales process.
Taking your firm online can be hard, especially if tech is something you've never ventured into. It can be overwhelming trying to figure out what to do to create efficiencies and onboard new clients.
My recommendation is to always start with the client. Build a strong relationship with them and cater to a proposal unique to their needs. By using the above steps, you will be well on your way to growing your practice and securing recurring revenue.
The advice we share on our blog is intended to be informational. It does not replace the expertise of accredited business professionals. Wagepoint assumes no responsibility for errors or omissions in this document.