Become an insider!
Get our latest payroll and small business articles sent straight to your inbox.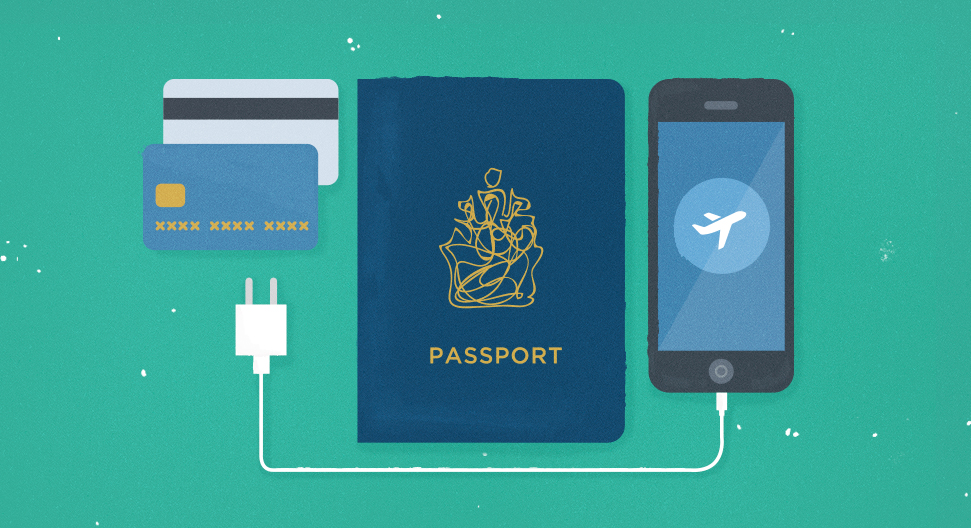 From business meetings to conferences to workations, there are many reasons you could need to pack your bags for a work trip.
You may dread leaving your comfy and familiar office, or you may be itching to set sail to a new, awe-inspiring work environment. In either scenario, you'll want your work-travel experience to go as smooth as possible, which is why you'll need to be prepared.
We get it, traveling can be stressful. There's so much to remember, potential timezone changes and when you're traveling for work, there's still work to be done.
This isn't a list to remind you to pack socks and underwear or a complete packing list.
Below we've outlined 5 things you'll want to pack for a successful work travel experience.
These items will keep you happy, prepared and productive, no matter where you're traveling. And there's nothing we love more then seeing productive employees, teams and companies.
($5 – $30 USD)
If you've never used battery packs, these things are going to change your life.
When you have battery packs, you're no longer confined to your phone or tablet's battery life. You're no longer attached to low-to-the-ground electrical outlets. You're no longer a slave to your devices.
You might even say you're free elf.
When you're on the go, there's more you will do with your smaller devices. You'll want to check your email, keep occupied during plane or travel time, look up directions and you may even grab a few photos of the new sights. All of these things will eat up your battery power.
Unconvinced?
The busiest spots at conferences are always around an outlet. People line up just for a little extra phone juice. When you're as busy as you probably are, why waste time looking for a place to charge your phone?
Pro Tip: Make your travel life even easier by traveling with two external battery packs. This way you will always have one charged and ready for the day ahead.
($20 – $100 USD)
Packing cubes are another must have, and that's why they appear on nearly every 'what to pack' list. They make it easier to pack and unpack, and they also help you find exactly what you're looking for throughout your journey.
Packing cubes really are worth the investment. They're perfect for both those of you that lack organization and for those of you that live off of it.
You can use them to separate clean and dirty clothes, you can use a small one for easy access to socks and underwear, and you can keep all of your miscellaneous gadgets in one spot.
Unconvinced?
Imagine you're traveling alongside your colleague or boss, and someone at customs begins rummaging through your carry on. Do you want them to see everything you've packed? Your workout clothes, underwear, etc.? Packing cubes hide the mess and keep your personal items a little more personal.
Pro Tip: Color-code your packing by traveling with different colored packing cubes. You'll know exactly which cube you need each time you go digging into your suitcase.
3. Cash
($20 – $100 of the required currency)
Yes, the days of being pirates and carrying bags of coins are behind us, but when you're traveling it's a different story.
Some people never carry cash – it's a rule they live by. When you're traveling to a new location, it's good to have a little bit of the required currency with you.
You may be used to your office credit card vending machine and cloud-order pizza shop, but in a new country or city, all bets are off. Cash can be inconvenient to carry, but very useful while traveling.
Unconvinced?
You need physical money for some transit systems, to get some water from a vending machine and to leave someone a tip for their services. Will you really trust hotel employees with your luggage or car after you couldn't tip them anything?
Pro Tip: Carry a few different denominations so that you always have the required change. You'll want to have some coins as well as a few bills so that you are prepared for anything.
($5 – $20 USD)
Speaking of not trusting people with your belongings, you can use small locks to secure your luggage.
Even when you just have a carry-on item, you can get separated from your suitcase. When planes are full, they move carry-on bags around to make room. Some shuttles or buses only have room for luggage to go in the containers below the vehicle.
Unconvinced?
If a thief sees an easy target, can you survive the weekend without the contents of your suitcase? Even if you're not worried about thieves, locks make sure that your luggage doesn't open up by mistake, littering the airport, plane or shuttle bus with your belongings.
Pro Tip: Make sure you use travel locks for your luggage and not just any small lock. In the US, the Transportation Security Administration, TSA, requires that all travellers use specific travel locks so that they can still access your bag if they need to. With accepted and recognized locks, the TSA can open and re-lock your baggage without destroying your lock and or suitcase.
5. Extra GB Space
This item isn't physical, but that doesn't make it less essential.
Our first must-travel-with item solved any potential power issues, but you still need space on your devices to do anything. Space is never a problem until you don't have any and then it's a nightmare.
Make sure you have extra space available on your phone or tablet whenever you are traveling. You will likely take more photos, notes and videos than you would in a regular week and when you're on the move, there's nothing more frustrating than wasting your time choosing which apps to delete.
Unconvinced?
Imagine you see an amazing double rainbow, but just as you go to capture your photographic proof, you're told you don't have enough space. The same could happen as you try to capture meeting notes or a photo of an important slide at a conference presentation.
Pro Tip: Download the things that you need in advance. Many conferences have their own apps to help with navigation and scheduling. You can also download city maps on apps like Triposo or Citymaps so that you can mark your location, see surrounding sights and find your way around without using more data.
There's plenty to remember whenever you leave home, and when you're traveling for work, your time is extra valuable.
Preparing with this list of travel necessities will make sure your next business trip goes as smooth as possible.
Happy travels! ✈️
📝 Are you changing time zones on your next trip? You'll want to check out our Ultimate Time Zone Guide For the Business of the Future.