Become an insider!
Get our latest payroll and small business articles sent straight to your inbox.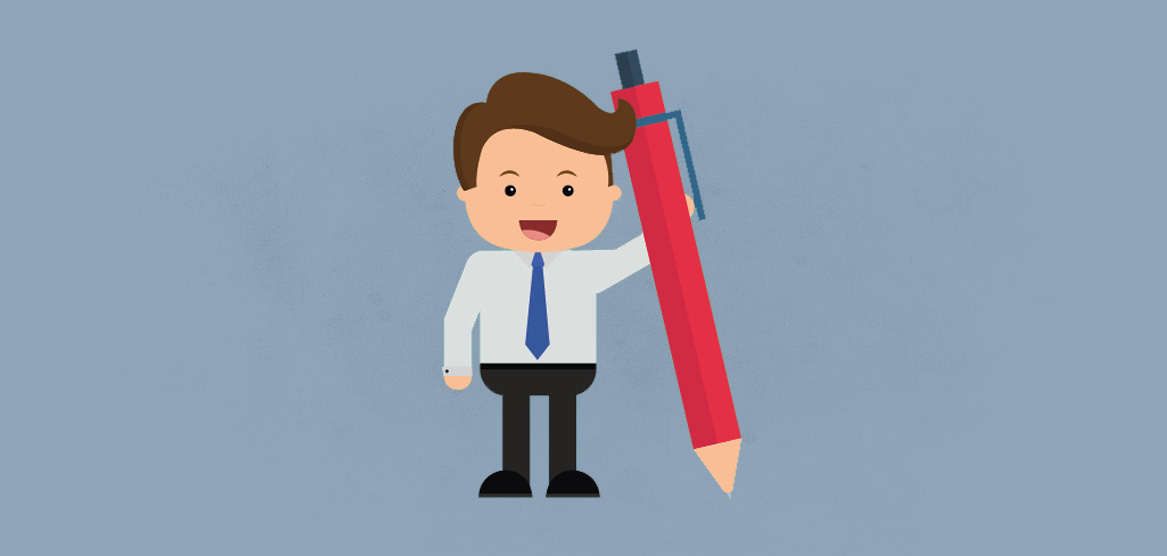 Looking for the best payroll tools for your small business?
Or a stack of online payroll tools that work together seamlessly, so you can keep your attention where it belongs — on your growing business?
In this article, you'll learn:
4 things you need to think about when choosing your online payroll tools
The 4 tasks your payroll tools need to handle
A simple stack that creates an efficient HR workflow (no matter how many employees you've got)
4 Tips for Choosing Your Best Payroll Tools
When building a smart HR workflow, you need to select tools that meet these criteria:
1. Easy to Learn, Easy to Use
Payroll needs to support your business, not take it over. So the tools you choose should be easy to figure out without a lot of instruction. They should also have an intuitive user interface, so you can complete your payroll tasks with less time and effort.
2. Seamless Integration
Nothing's more frustrating than technology that doesn't play nice. As you'll see in a minute, payroll involves 4 distinct tasks, and you need to integrate different tools at each stage of the process. That being the case, you need to be sure they all work well together without a lot of work-arounds.

3. Functionality
The best payroll tools automate much of your work. Rather than simply performing a task, they anticipate your next move and either do it for you or make it easier.
They also provide apps and add-ons that minimize integrations — so you spend less time entering data or waiting for information to pass from one tool to another. Since the apps all talk to one another, information is synced across the entire suite.
4. Growth Potential
Your business will have different needs at different stages of growth. Make sure your tools can grow with you, so you don't have to change your set-up every few years. Ideally, you should be able to set things up when you have just a few employees and add functionality as you need it.
A Simple Stack of Online Payroll Tools
An effective payroll workflow for small- to medium-sized businesses has just 4 steps:
Schedule your employees' time
Track hours worked and time off
Do payroll
Add the financial information to your books
Here's that workflow laid out in an infographic. Notice how seamlessly it all works together.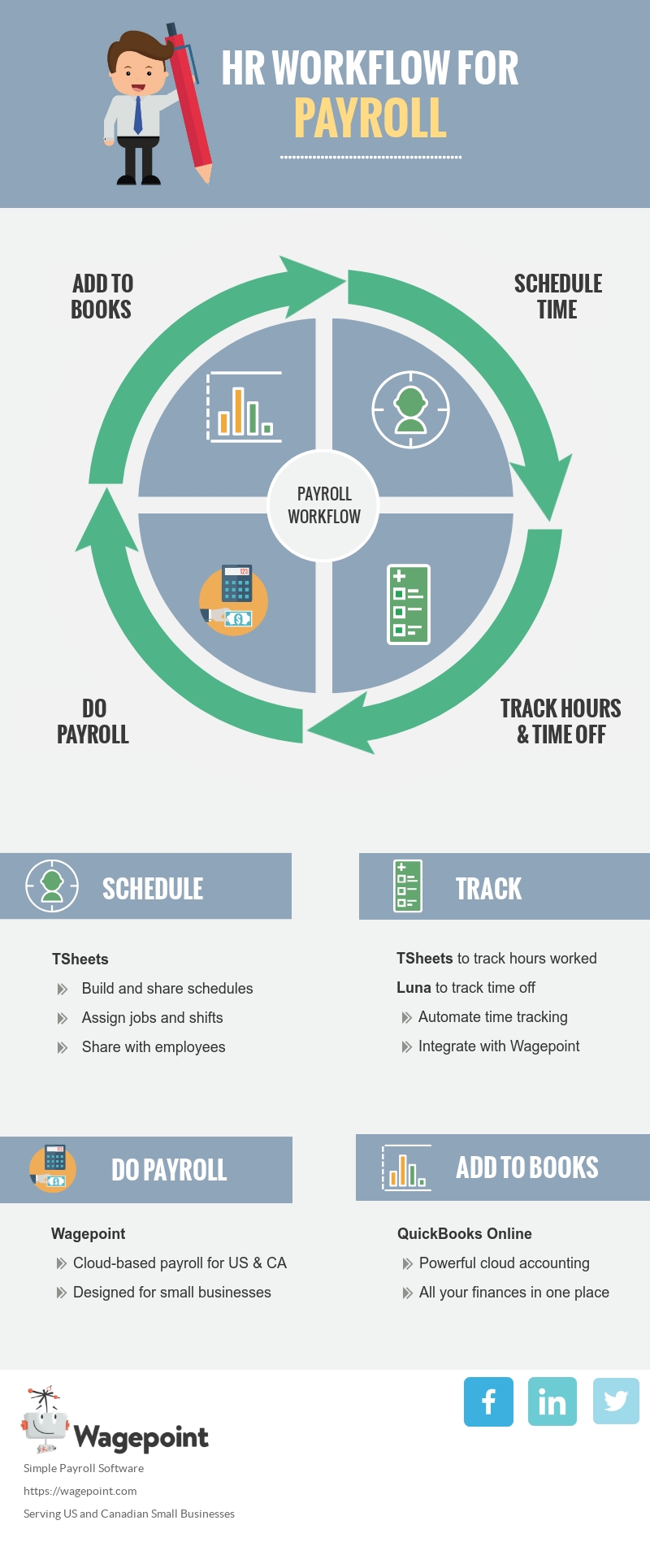 Now, let's take a closer look at each of the tools in this payroll workflow.
Scheduling Time: TSheets
If you still use dry erase boards, printed Excel spreadsheets, and colored pencils to create your work schedules, it's time for an upgrade!
TSheets makes it faster and easier to build schedules, assign jobs and shifts, and share schedules with your employees. It lets you create a complete schedule in minutes, and employees can see updates and changes in real time on their mobile apps.

Tracking Hours Worked > TSheets or Track
Your timesheet app should either work with your scheduling app or with your payroll system — or both.
In the infographic, we recommended TSheets for an obvious reason: if you're using it to schedule employees, it makes sense to use it to track their time.
But you could also use Track, a Wagepoint add-on that automatically syncs your employees' timesheet information with your payroll system, so you save tons of time getting approvals, entering data, and making sure everything's ready for payday.
Let's review them both so you can pick the one that's right for your business.
TSheets Timesheet Tracker
TSheets' Timesheet Tracker has handy clock in/out reminders, and employee break and overtime alerts to keep everyone on the same page.
Employees can clock in and out on their desktop, laptop, or mobile phone. They can even text message or dial in. If someone clocks in or out when they're offline or out of service, TSheets accurately tracks time and automatically syncs when back in range.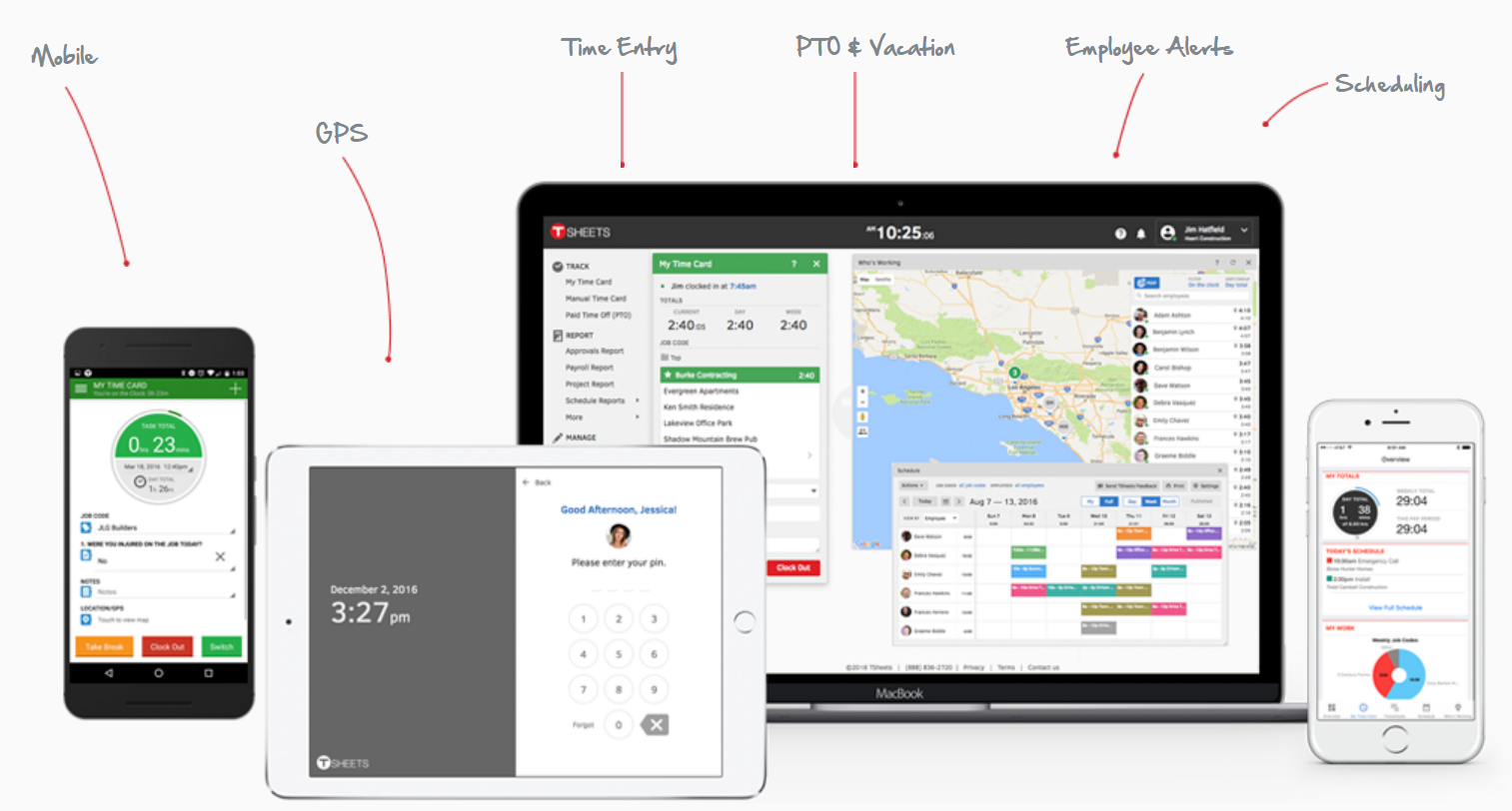 Wagepoint's Track
Track is fully-integrated with Wagepoint, so you only have to set up your employees once in Wagepoint, and it automatically imports all your employee information to Track. That includes any new employees you add into Wagepoint and any employees you terminate in Wagepoint.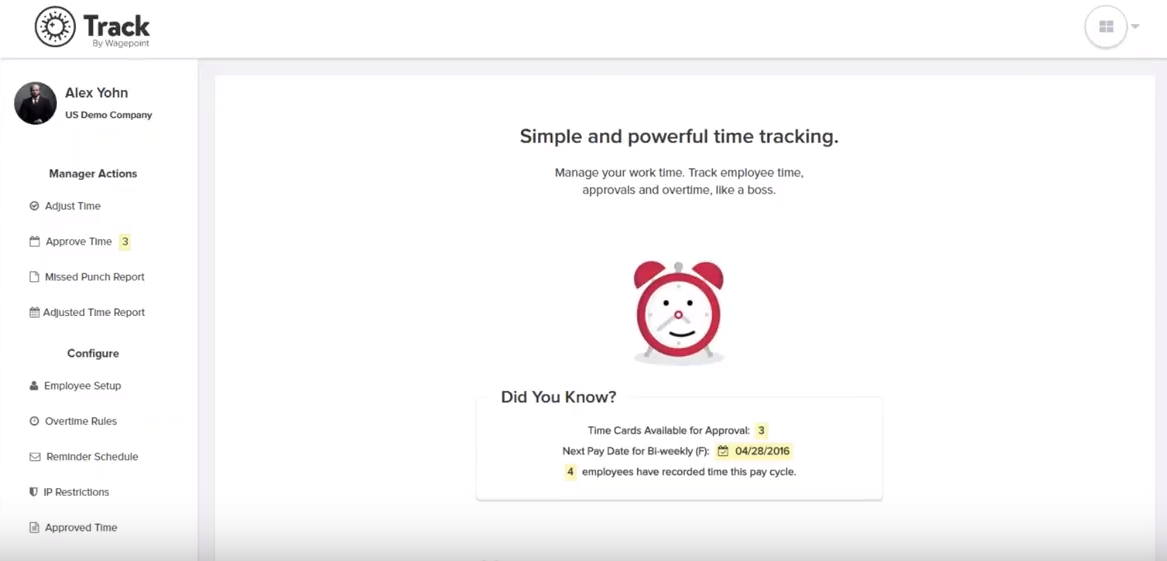 Simply set up the appropriate tracking system for new employees — time card vs. time sheet —and select the person who will approve their time.
Employees can then track their time in whatever way you've chosen: an app for off-site workers, at their desks, or on an in-house computer.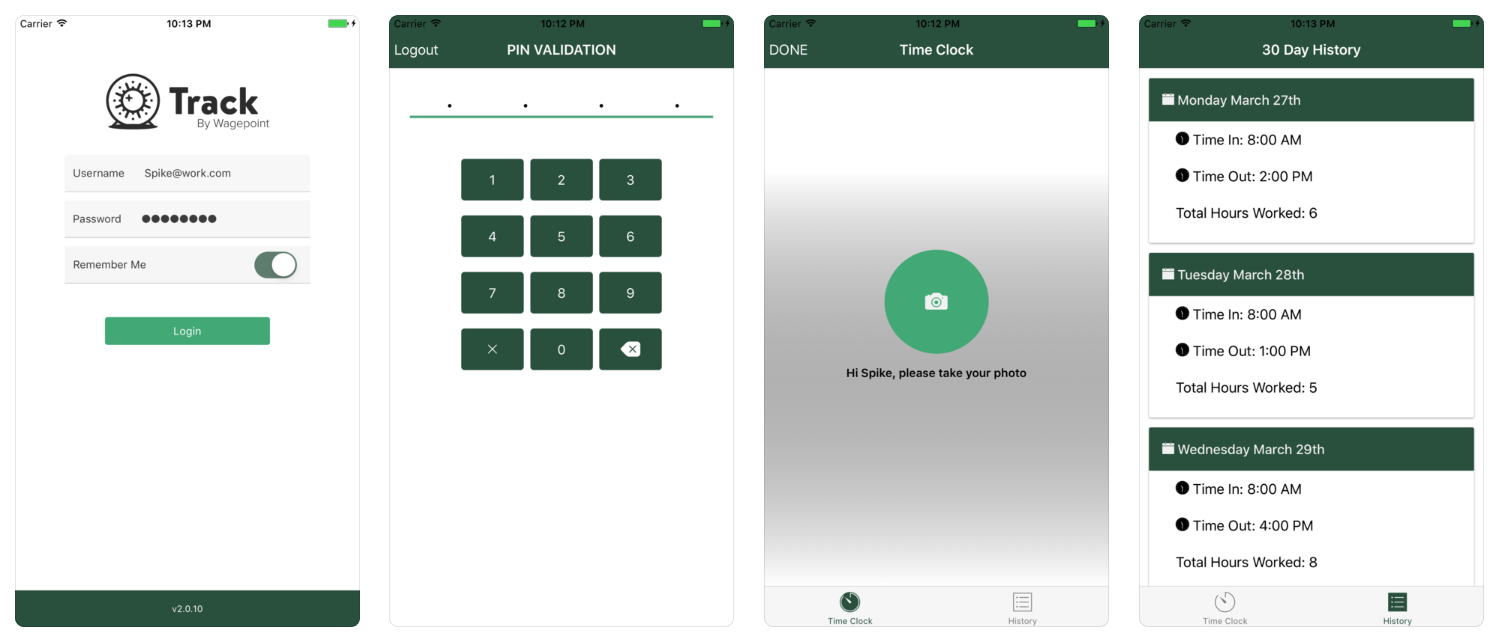 Track Time Off > Luna
In addition to time on the job, you need to track time off: any vacation, PTO, and sick days. That's where Wagepoint's app, Luna, shines.
Employees simply request time off. The request is forwarded to their manager, who approves the request or sends it back for more information. And the system takes care of everything else.
No more email chains, puppy calendars, and post-it notes to track time off! Your Luna calendar is all you need to keep up with who's taking off and when.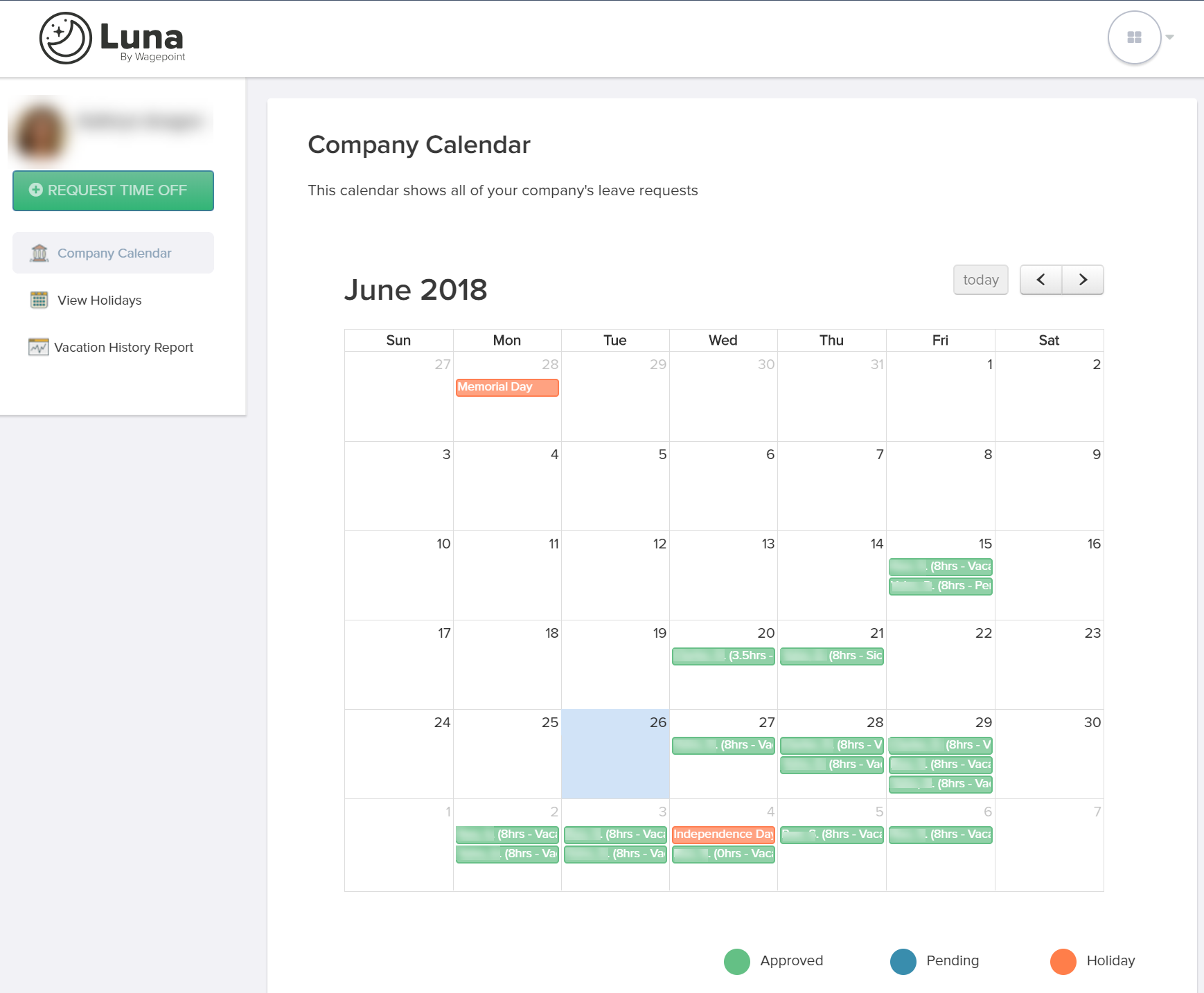 Run Payroll > Wagepoint
Wagepoint is an online payroll software that caters to small businesses — helping them run payroll while remaining compliant with Canadian or US regulations. Wagepoint makes it their business to keep payroll simple, so you can stay focused on your business.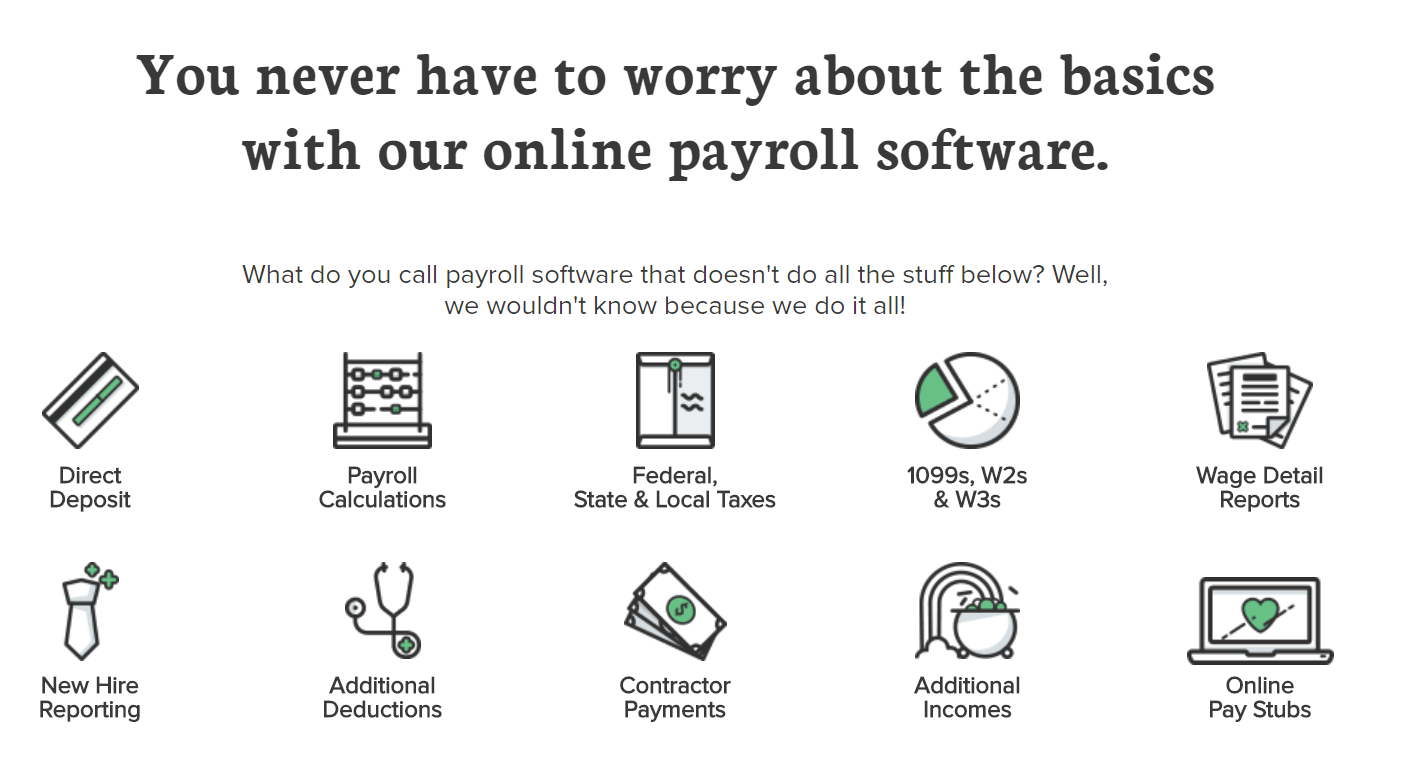 All you have to do is answer basic questions about your business and how you want to handle your payroll, and Wagepoint does much of the heavy lifting for you.
Add the Numbers to Your Books > Intuit QuickBooks Online
Not a numbers person? Not a problem!
Quickbooks Online is a cloud accounting solution that's designed to be usable even for non-accountants.
Manage bills, track your miles, and easily manage income and expenses. Set up invoicing with custom reminders, tracking, and direct deposit. Plus, with QuickBook's reports, you'll always know where your business stands.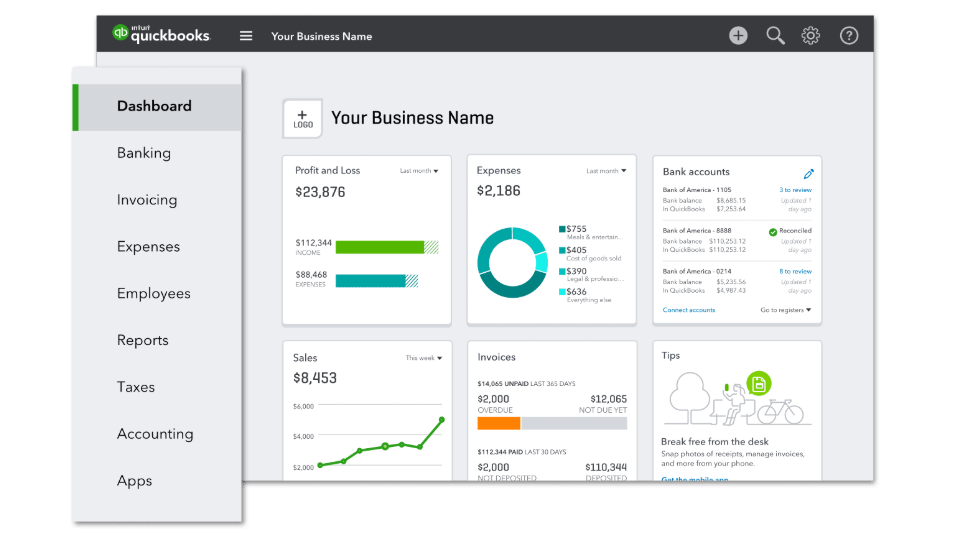 The Key to a Powerful HR Workflow? Simplicity
Payroll may seem complicated, but it doesn't have to be. With the right tools, you can set up a payroll workflow that almost runs itself.
We recommend building your payroll stack out of just 3 payroll tools: TSheets, Wagepoint, and QuickBooks Online.
It's a set-up that lets you take care of your employees and your business at the same time. Which sounds to me like a formula for growth!
What are your favorite payroll tools? How do you integrate them for an effective HR workflow?

The advice we share on our blog is intended to be informational. It does not replace the expertise of accredited business professionals.