Become an insider!
Get our latest payroll and small business articles sent straight to your inbox.
All businesses have their own busy and slow seasons. There are some key times of the year that small business owners can leverage to launch new businesses, products, services and offerings. In addition, depending on what industry your business is in, there may be more effective times to reach, connect and engage with your community.
Planning your marketing strategy around the most favourable timelines for your small business is a clever way to connect to your perfect fit customers at the right time, right place, and in the best way. Plus, it will also give you a clear sign of where you can take advantage of some well-deserved R&R as a business owner.
Let's look at some possibilities for capitalizing on the calendar to get the maximum visibility for your small business.
New Year
It's the season of resolutions and making positive changes for the year to come. Use the new year as an opportunity to launch a new business, re-engage and try something new to level up your small business.
This is a great time for:
Launching new businesses and business models, products, services or memberships.
Hosting clearance sales from the holiday season.
Creating branded promotional items, calendars, planners and agendas.
Also, this aligns cleanly with the financial and payroll timelines you need to be mindful of.
Valentine's Day
In the spirit of all things love, leverage this message to share the love with your customers and invite your prospects to learn more about your small business. This could be a perk, a valuable bundle offer or maybe you can send some swag to your favourite customers and partners.
At Wagepoint, we usually kick off our Share The Love campaign during this time of year. Last year, we recognized our partner community with some nice, warm fuzzy socks to keep them warm during our cold Canadian winters. This also turned into an awesome social campaign where our amazing community shared their gifts with their audiences as well.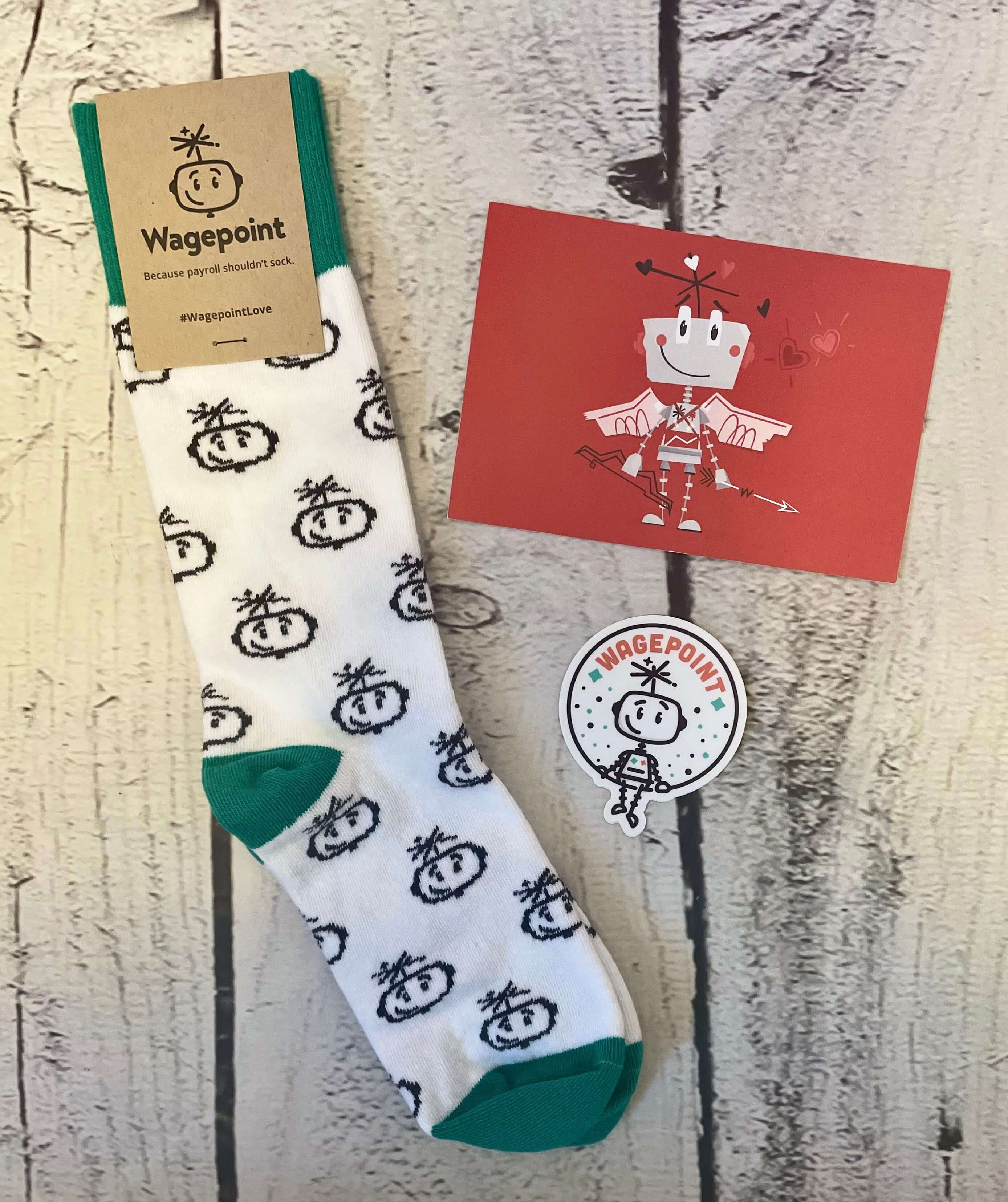 Swag shared during Wagepoint's Share The Love Campaign
…because payroll shouldn't sock. 😉
This is a great time for:
Customer and partner appreciation gifts or events.
Promoting gifts and services for your customers' loved ones.
Doing a draw for an amazing experience and/or gift pack to generate interest!
Tax and T4 time.
We love our businesses, but tax time may not be one of our favourite times of the year — unless you are a bookkeeper, then it is the busiest.
If there are two areas of your business to keep in order, it is your legal and financial house! Think of this as part of your ramp-up to spring cleaning.
This is a great time for:
Making sure all of your financial records are in order.
Issuing T4s to your employees.
Getting up to speed on other financial or payroll-related deadlines.
Recognizing your bookkeeper or accountant with kind gestures (ex. sending coffee, treats or perhaps a beverage).
Spring
It's been a long, cold winter and everyone is eager to get back out to mix and mingle. Spring is all about rejuvenation and is also an ideal launch time for you to do a big reveal of a business renovation, new team or offering.
Celebrate Spring with your community and community-minded businesses by throwing a Spring Fling! This could be a sidewalk sale, community barbecue, charitable event or a loyalty tour through your businesses.
This is a great time to:
Partner with like-minded businesses on a fun event to attract customers.
Did you do a remodel? Rebrand? This is the time for that big reveal!
New product line? Service? Launch it now!
Summer
This is an opportunity to invest in some serious R&R. Business owners, please ensure you take the time to invest in your own self-care at the time that is right for you.
For small business owners, summer is GO TIME! With people out and about booking vacations and enjoying the glorious weather, any specialty retail, hospitality and tourism business should leverage this time to invite new and existing customers to engage with your business.
This is a great time for:
Outdoor community engagement.
Self-care and vacation for business owners.
Summer promotions for seasonal products and services.
Back-to-school and back-to-business
Around this time, people are getting back in the zone after a well-deserved summer of relaxation and restoration! Our energy is up, we have laser focus and we are ready to get back into it!
This is a golden launch time in addition to leveraging the back-to-school, back-to-business mindset.
This is also a great time for:
Launching a business, product or service.
Marketing back-to-school necessities.
Creating an educational campaign that aligns with your business.
Winter holidays and celebrations
'Tis the season to be jolly! With so many cultures having special celebrations during this time, it is a great opportunity to reconnect with your customers and support them, whether they are looking for gifts, fine foods or other ways to make meaningful connections together.
This is a great time for:
Team introductions — find creative ways to introduce your team to your community.
Showcasing your best gifts for the season.
Offering a specialized service such as personal shopping, styling or gift wrap.
Hosting a customer appreciation event.
Get small business tips delivered to your inbox
At Wagepoint, not only do we believe in simplifying payroll processes for small business owners, but also being a trusted voice for small businesses. Sign up for our newsletter to get the latest small business trends and research from experts on topics such as business growth, payroll and employee management sent to your inbox every month.