Become an insider!
Get our latest payroll and small business articles sent straight to your inbox.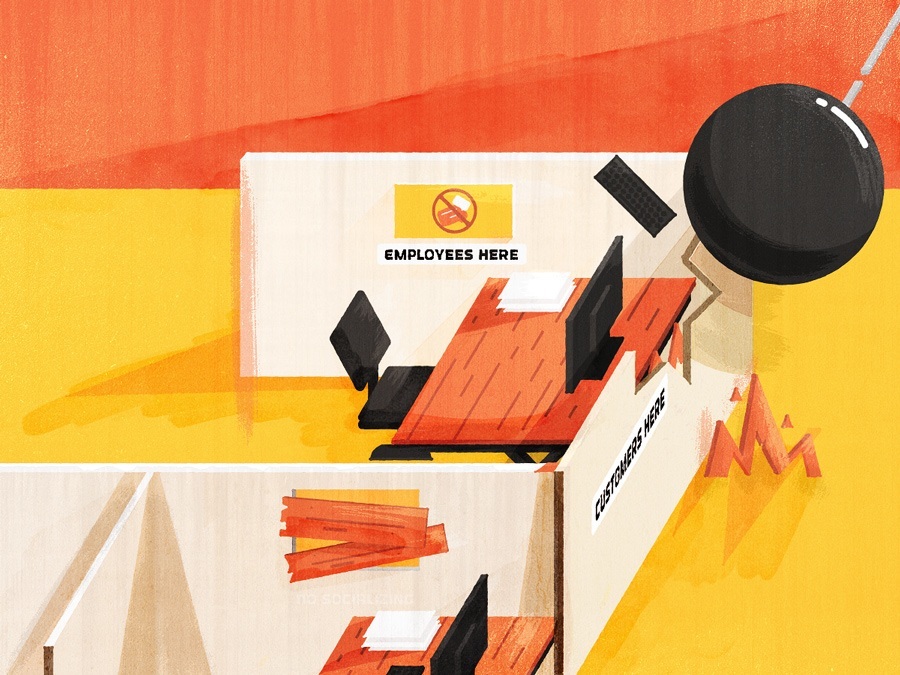 Structure. It's something I struggle with on a personal and professional level.
There is something about putting things neatly into boxes or drawing within lines that feels like a creativity killer.
Being an entrepreneur might not be exactly like being an artist – well, maybe except for those impressive ramen-reserves and the occasional need to crash on your friend's couch – but there is a high level of creativity involved in the job.
From fundraising, to building a team that trusts you to execute to building usable products that your customers love – so much of it is an organic process of trial and error.
And like me, if you used to work at a large company before taking a stab at entrepreneurship, you still vividly remember what it was like to feel trapped by the limited scope of your job. I didn't want to subject any of my employees to that kind of torture.
In the very early days at Wagepoint, I was dead set against creating a hierarchical structure – especially one that was top-down – because I felt like it 'put everyone in their place' and what I really wanted was for everyone to rally together and do whatever it took for us to succeed. And that's exactly what we did.
The good news was that we got a lot done and fast. Customers loved the fact that they could talk to someone who was empowered to make decisions and solve their problems quickly. Turns out, we were operating under a sort of Holocratic structure without actually knowing it.
Holacracy – the new democracy?
Holacracy as a structure has been around for years now, and it can be best defined as a  super-flat structure, which operates on the principles of self-government. People regulate themselves to streamline processes while boosting transparency.
Larger well-known corporations had tried implementing holacratic structures, but it didn't work out too well in the long run. This structure depends on people behaving logically, but logic can take a back seat when groups of people are forced to work together.
And this is exactly where it went wrong for us as well. As our company was growing and we were adding new team members, our unstructured team was becoming more of a pain than a benefit. It turned out that people actually did want to know where they fit within the company – who did what, who reported to whom and all those things that I was shunning.
So the founders got together and we started to brainstorm ways in which we could keep maintain our flat culture, while still putting some structure in place – or in the 'right' places.
Sure enough, the usual suspects made the list. The Pyramid vs. The Matrix.
"Walk like an Egyptian"
There's more to that title than just catchy wordplay. The pyramid-shaped org chart implies hierarchy, where each level is managed by the one above, and everybody reports up to the head honcho.
But I didn't want all the accountability to flow just one way. I wanted each one of us to be accountable to each other.
I recognized that the biggest benefit to the pyramid-organizational structure is that everybody would have clear boundaries around their functions and the departments they fell into. Our teams would be divided up based on functions and/or geographies.
But this structure didn't fit with my personal style, and I felt that its benefit would also be its biggest challenge.
My fear was that by locking people into certain departments we would sacrifice on our collaborative culture and that people would stop thinking holistically about the big picture.
The Blue Pill or the Red Pill
Spoiler alert!
The section heading has no relevance to this bit of the post, besides having the word "Matrix" in common.
The Matrix structure is a newer organizational style and is commonly used at larger companies. No surprises, it is also the hardest structure to manage because of its complexity.
The company I used to work at before I decided to become an entrepreneur used this kind of a structure. The way it works is that people with a similar skill set e.g. marketers all report to one person i.e. a marketing manager. But these marketers are also assigned to different projects in which case they also report to the project manager(s).
The Matrix structure seemed to have the best of both worlds – a functional structure that still fit within a decentralized framework. But it wasn't a problem-free solution!
I didn't like the idea of people having to report to more than one "boss", it seemed like a disaster waiting to happen, especially if people were going to be expected to play nice and share control over an employee.
And I didn't want to discount people going crazy with power.
Need I say more?
I decided not to write this style off entirely, but I wanted to go back to the drawing board and rethink our structure around what mattered most to me.
Our customers.
Market trumps all.
I came across this post on Fast Company about the 9 ways that great companies organize themselves for success, and the part that stuck with me was how "Market Trumps Functional Trumps Matrix".
It was clear that other companies also struggled with how to structure their company, and I wasn't wrong in thinking about putting my customers ahead of everything else.
Is it scalable?
Honestly, I am not sure, but this is the one that feels right for me and my company. It seemed like the structure that would help us give our customers the best possible experience.
Then, I met Tommy Petrogiannis, founder of Silanis, an e-signature solution.
He had come in for a presentation, and he was there to talk to us about how he grew his company from a fledgling startup to a full-blown company. He told us about some of the mistakes he made – a lot of which I could relate to, and as if on cue, he started talking about how he structured his company.
He realized that their organizational structure at the time wasn't working for them – instead of creating silos around departments, he wanted to create silos around each and every one of his customers. He had a lot of pushback from his team at the time, but they eventually got on board, and he said that it was one of the best decisions he had made.
I felt more confident about my decision to move forward with a customer-centric structure for Wagepoint.
With a structure in mind, the next step is actually figuring out what that org. chart is going to look like, which is the conversation for another post.
There's a chance that I'll take inspiration from all four organizational structures, and that's the best part of being in a startup – you don't have to be tied to anything.
How did you structure the team at your own company? Have suggestions or ideas on what's worked and what hasn't, I'd love to hear them!