Become an insider!
Get our latest payroll and small business articles sent straight to your inbox.
There's nothing quite like attending an event packed to the brim with jaw-dropping speakers, value-infused sessions and the chance to have a good time while absorbing it all. Wagefest 2022: Grow. Connect. Celebrate. may be virtual, but we're shooting for the stars and promising the same amazing experience — you just get to enjoy it from the comfort of your sofa in your jammies if you so choose.
If you want to dress up for it, by all means, but Wagefest comes with no dress code, no travel expenses and no pressure to be the most presentable version of yourself. Payroll might be rigid with its expectations and requirements, however Wagefest is anything but!
Whether you're showing up in your comfiest PJs or something a little more put together, we want you to get the most out of your Wagefest virtual experience. We'll take you on a bit of a virtual tour through the Wagefest portal so you know where to find everything you'll need to have two awesome days.
Where Wagefest magic happens.
Let's dive in. Here are a few of the main areas you'll find yourself in as you virtually walk through Wagefest.
Lobby: Just as it sounds, the lobby is where you'll be taken once you log in to the Wagefest event portal. There's a chat where you can interact with other attendees, Wagefest event staff and overall get started with the Wagefest experience. Plus, there's a virtual photo booth to snap some pics and share with everyone else! Here are a few from our team from last year's event! 📸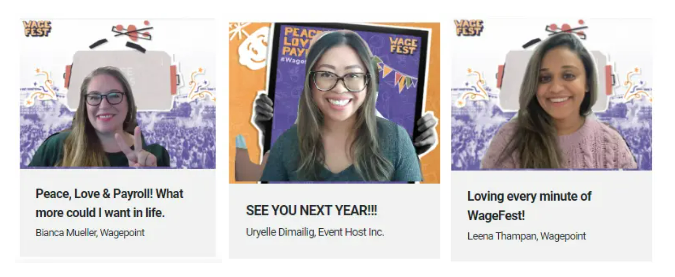 Speakers: This section introduces you to who you'll be hearing from at the event, including keynote speakers, presenters and Wagepointers like Shrad Rao and Leena Thampan, our Chief Executive Officer and Chief Product Officer extraordinaire (who'll once again be having an Ask Me Anything session!).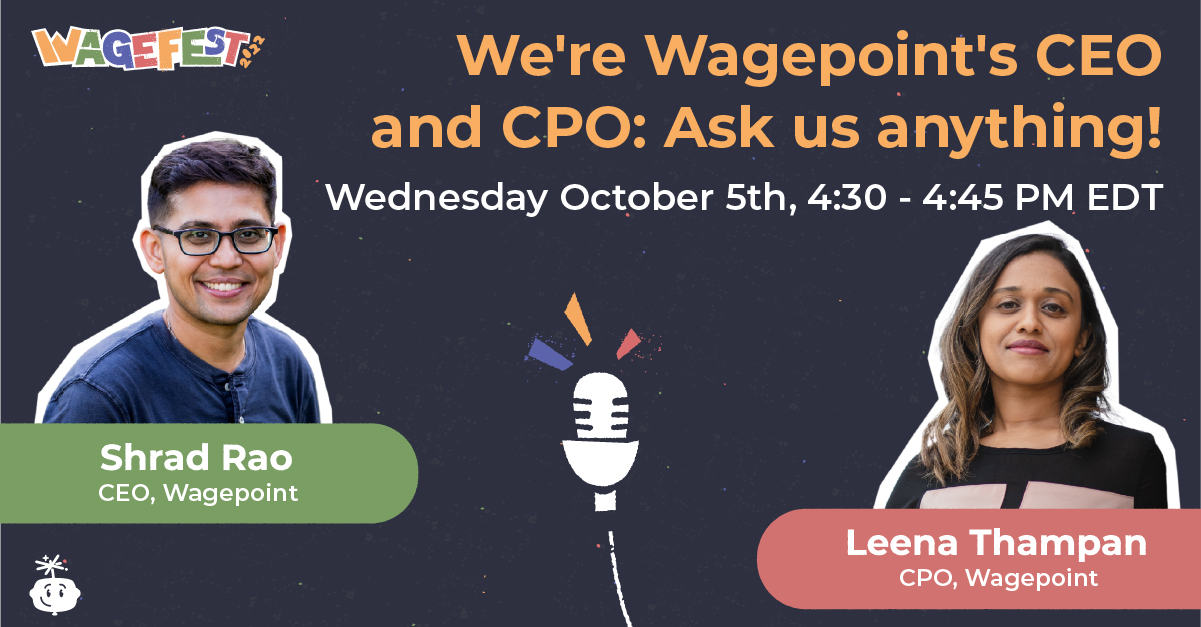 Sessions: Consider this your schedule of events where you can see not only what sessions are next, but tune into the ones happening right then and there. If you haven't seen it yet, we've got quite the lineup for you, including incredible Day 1 speakers like Daymond John, Gurdeep Pandher, Komal Minhas, and Erin Bury, as well as fantastic Day 2 speaker Rachel Fisch and sessions from National Payroll Institute's Steven Van Alstine. Accountants and bookkeepers can also claim certificates of attendance to submit toward personal and professional development credits.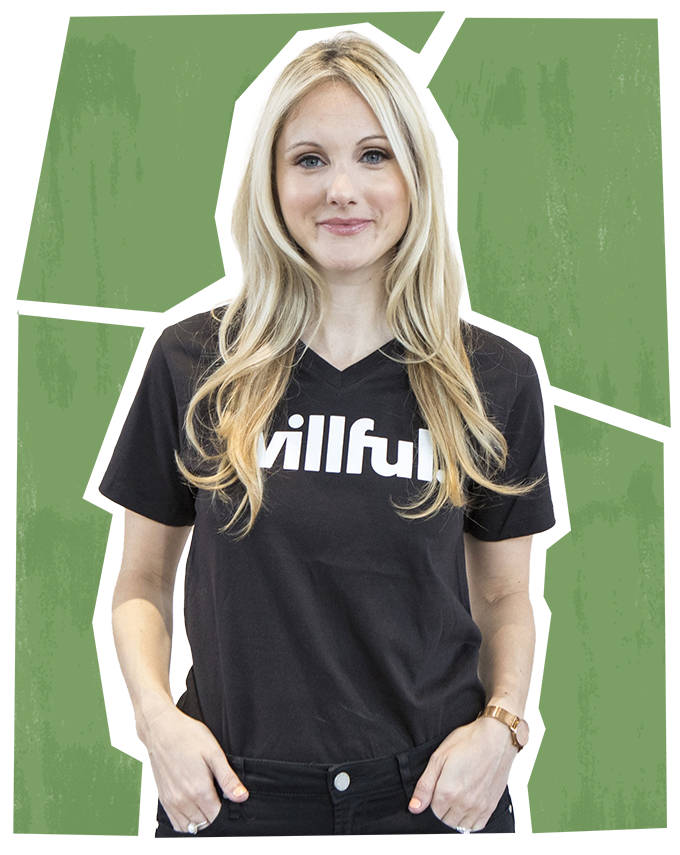 Erin Bury, Co-Founder, Willful
Erin is the co-founder and CEO at online estate planning platform Willful, where she drives the company's mission to make it easier for Canadians to prepare for and deal with death in a digital age.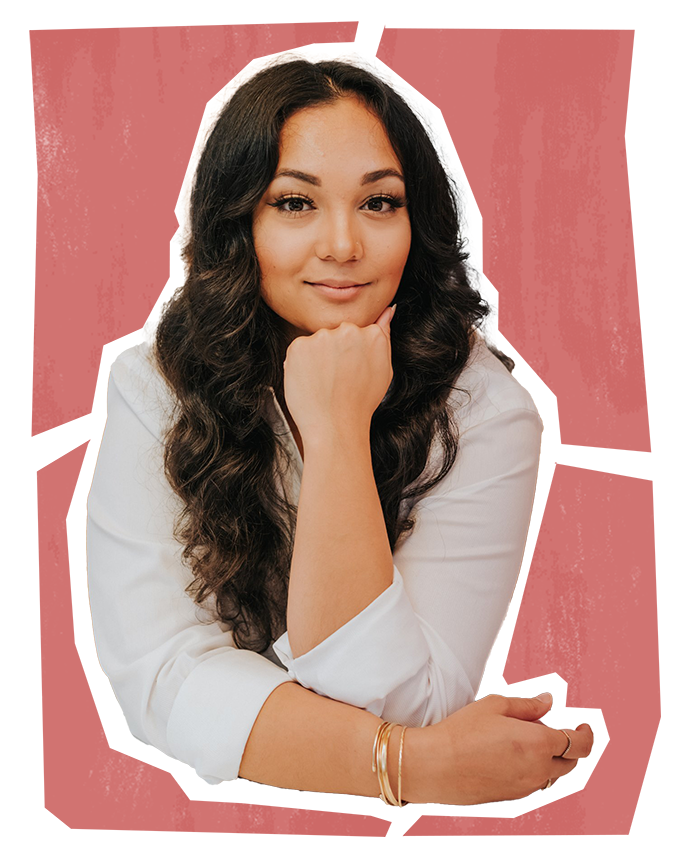 Komal Minhas, Executive Coach, Interviewer & Investor
Komal curates powerful experiences and conversations as an interviewer, business strategist, and investor, and was named to Oprah Winfrey's Super Soul 100 list for this work.
Gurdeep Pandher, Author, Teacher & Performer
Gurdeep is a Yukon based, Bhangra artist and educator. He creates performance pieces that bring together people from all backgrounds while promoting inclusivity.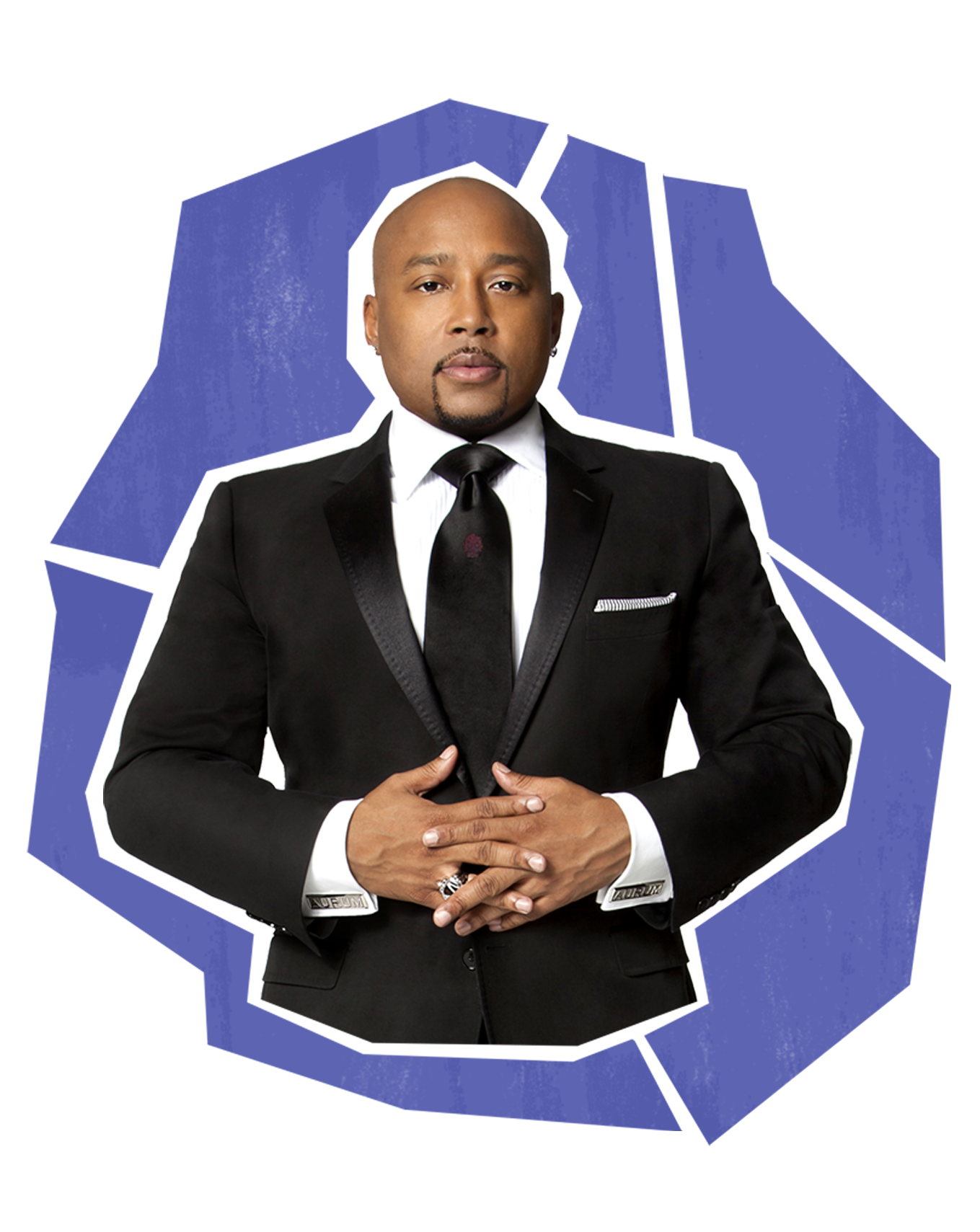 Daymond John, CEO & Founder of FUBU, TV Personality on ABC's Shark Tank
From his wildly successful role on ABC's smash hit, Shark Tank, to his distinguished status as a Presidential Ambassador for Global Entrepreneurship, Daymond John has become globally recognized for his relentless commitment to promoting and supporting entrepreneurs.
Exhibit Hall: The Exhibit Hall is home to the Friends of Wagepoint. These are amazing partners and small businesses we love that you can virtually visit, chat with and learn more about. Once in the Exhibit Hall, just select their booth icon and see what they have to offer.
Each of these can be accessed from the left menu in the Wagefest portal. Easy-peasy access to everything you need. And these sections? That's not even all that's in store! Here are two others you'll want to keep your eyes on.
Networking: We know that events are a fantastic opportunity to network with others in the industry, which is why we love this feature that allows you to do just that! When you click on the Networking tab, choose from the People or Groups sections to find others to connect with!
Gamification: Have you noticed we've been dropping codes here and there? (For instance, here's one: PJPARTY) These codes, when cashed in, earn you points that you can put towards awesome prizes, swag and raffles so that you can walk away from your Wagefest experience with a little something extra.
How do I access the Wagefest event portal?
When you register for the event, we've got your details in the system. This means that once the Wagefest event portal is ready for you to start perusing, we'll send you an email with the details on how to get in. This email will be sent out a few days before the event, so be sure to keep an eye on your inbox and check your promotion or junk/spam folders just to be on the safe side!
There's still time to register for Wagefest!
If you haven't signed up for Wagefest 2022: Grow. Connect. Celebrate., don't worry! There's still time to get in on all the inspiration, learning and fun! Whether you're a small business owner, accountant or bookkeeper, this two-day event is for you.

Additional reads.