Become an insider!
Get our latest payroll and small business articles sent straight to your inbox.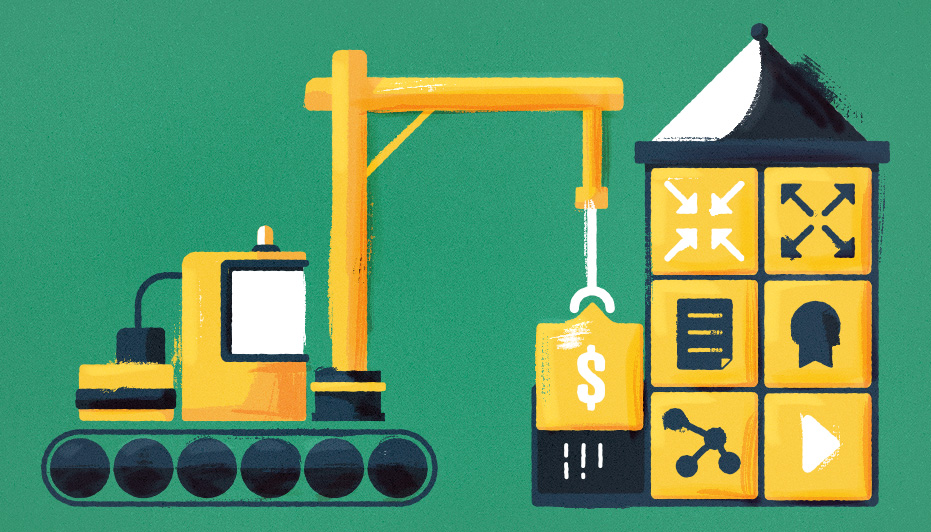 Modern marketing teams have exploded in size in the last few years. With so many specialized roles between management, creative, and technology, it's hard to know when to build out your team and when you should outsource to an agency.
In this post, we'll look at how modern marketing teams are structured and how to decide which roles require full-time, in-house employees and which roles you should outsource to an agency.
To get started, here's an outline of what a fully-built B2B marketing team would look like:
Management Team
VP of Marketing or CMO
Marketing Operations Manager
Tactical Marketers
Product Marketing Manager
Social Media Manager
Content Manager
Demand Generation Manager
Marketing Programs Manager
Field Marketing
Events Manager
Press Relations
Analyst Relations
Creative Team
Brand Manager / Creative Director
Graphic Designer
Web Developer
Copywriter
Video marketing
Technical team
Marketing Systems Management
Bonus (these roles might not live in marketing, but frequently do)
Sales Operations Manager
Business Development Representatives
Customer Service and Support
I know – it's a lot of roles.
Depending on your company size all of these roles might be one person, like a Marketing Manager who does everything, or it could also be thirty-five people spread across the country.
It really depends on what stage your company is at, your market, and your business goals.
But before you build out or expand your team, you need to ask yourself one question: is this something you should keep in-house, or something you should outsource to an agency? 
Why use an agency?
Agencies help you scale-up (or down) very quickly to fit your business needs. They have experts who work in these specialized silos all day, every day.
Need help with your editorial strategy? A content marketing agency can help make that happen.
Implementing a marketing automation system? A digital agency will know each system inside-and-out.
Is this a long-term strategy or short-term execution? That's a bit trickier.
Agencies attract the best creative talent: designers, web developers, and copywriters pushing the boundaries of what's possible. With a great creative director (and a willing client), these teams will push out stuff you've only ever dreamed of.
They can make your business seem bigger than it is.
It may not be easy, but learning how to choose a marketing agency is key. You need to review their portfolio, get client references, and ensure you have flexible terms. Make sure you understand the difference between a creative agency and a production house.
For tips on working with your agency, read You're My Favorite Client by Mike Monteiro.
But, there are also downsides to outsourcing:
Agencies are expensive; changes are expensive; maintenance is expensive.
Agencies are a time-suck, you need to actively manage the relationship.
You're going to wait longer for work; if you're a small client, you can end up on the back burner.
It will take more iterations to get their creative to where you want it to be.
They don't know your audience / target market as well as your team.
Why move work in-house?
When the cost of an agency outstrips its value, you should consider bringing that role in-house.
An agency will charge you 4-8x more per hour than a specialized marketer in fully-burdened salary (depending on the role). If you use a social media agency for 10 hours of work per week, that role would be more cost-effective in-house.
You'll get more (and better quality) work done, but you need to ruthlessly prioritize which role to bring on and when.
When your company is small, you can even share these roles across the company.
A copywriter can write blog posts, press releases, and micro-copy inside your product. A graphic designer can work on your brand, spruce up your social media posts, and help your development team with UI. (Whether they can do each of these things well can only be determined by you.)
In-house teams enable you to move fast, iterate quickly, and work towards a common vision. They know your target audience inside-and-out. And they can react to changes in the market immediately. You'll also reduce miscommunication by having everyone working towards common goals.
There are downsides to keeping all your marketing efforts in-house as well:
Hiring good creative talent is hard; if you get stuck with a bad designer, you now have a full-time employee to fire.
You need to be careful with headcount, which makes it painful to scale down your team in tough times.
In-house teams are made up of individual people who need management and mentorship, where an agency usually only has one contact person; do you have the time for this?
There is no right answer.
You will always need agencies: finding agencies that treat you like a partner is the most important trait. Working with multiple, specialized agencies (especially for things like video) is important.
Always be opportunistic about getting the best people you can afford involved, whether they're in-house or not. Because at the end of the day, quality people make a world of difference, no matter which side of the fence they are on.
This blog post is brought to you by Marko Savic, Founder & CEO of Funnelcake, Customer Journey Analytics for B2B marketing teams.