Become an insider!
Get our latest payroll and small business articles sent straight to your inbox.
Running a restaurant sometimes feels like your hair is constantly aflame.
Shift to shift, week to week, serving your customers takes hard work that often goes unseen (and maybe a little unappreciated, too). You don't have a lot of time to make mistakes, especially when it comes to back-office tasks.
Having smart tools that enhance your workflow is key to keeping things quick and efficient. That means ridding your workflow of manual processes that can waste your valuable time.
Restaurants call for specific timekeeping features.
Considering restaurants face unique challenges compared to other small businesses, it makes sense that the tool you choose to use as a manager recognize those needs and address them head-on. In this case, the software you use to keep track of your employees' shifts and work hours is crucial to keeping your labor costs at an affordable threshold.
Most businesses need the basics in their time tracking software — think basic timesheets and a simple clock in/clock out process. But restaurants have more in-depth processes and therefore require more features that can track things from start to finish.
Timekeeping for restaurants includes scheduling, shift trading, understanding the highs and lows of sales throughout the week, and much more. Having a tool to address all the needs of your restaurant is crucial to effective (and fast) time tracking each pay period. That's why 7shifts includes all these features in their timekeeping solution.
Timekeeping for restaurants and how software can help.
Since your restaurant time tracking software should do more than just record hours, think about your entire labor tracking process. 7shifts does an exceptional job of addressing needs at every stage, from scheduling to payroll.
1. Scheduling your employees' shifts
"Paper is for napkins, not schedules or timesheets."
— Jennie Moore, Founder Moore Details, Inc.
Fact: 70% of restaurants still use paper to schedule employees and track time. Using software is such a simple thing — that pays for itself simply in the amount of time it saves. Perhaps this is why 80% of restaurants are turning to software and technology to ease these pain points.
If you're going to be using software to track employee hours, it only makes sense to be able to schedule those hours in the same portal.
7shifts lets you schedule your employees by shift, based on when they're available and how many hours they already have that week. Then, if your schedule stays consistent from week to week, you can save the schedule as a template to work off in the future. That way, you can schedule right the first time without scrambling to cover dropped shifts and avoiding overtime when possible.
After employees are scheduled, you can then communicate the schedule to your employees with the team-wide communication feature. Everyone can then see the schedule for the week, and request shift trades to managers if necessary.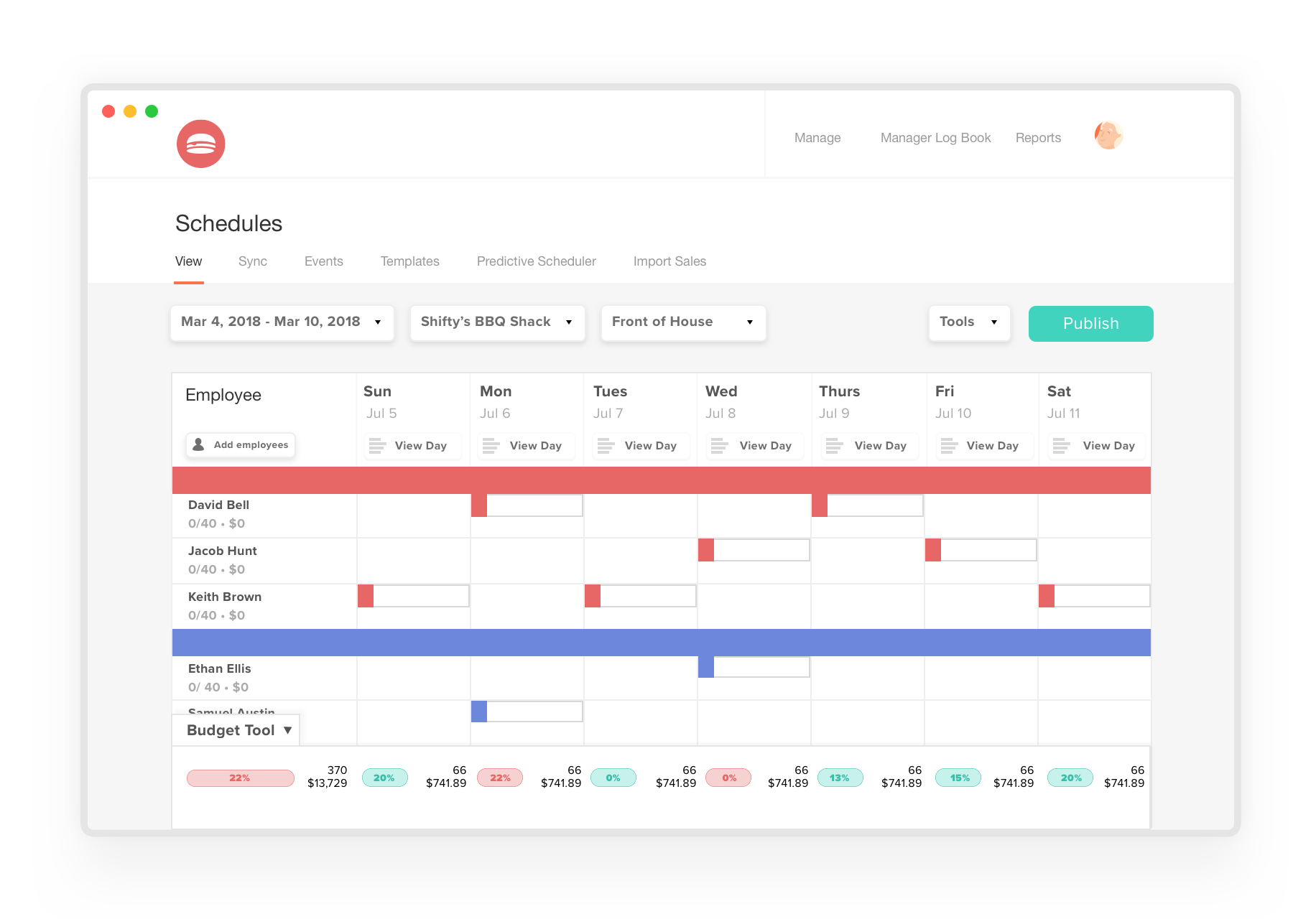 2. Tracking work hours and preventing time theft
Once the schedule has been set, it's a lot easier to accurately track the hours that your employees work. They can clock in using the 7punches app (from 7shifts) on any device and start their scheduled shift.
If you're worried about time theft, you're not alone. Buddy punching can be a big problem for restaurants — when an employee clocks in for themselves and another person who isn't there, the unworked minutes can add up over time.
When restaurants already have small profit margins, it's crucial to try to cut down on time theft. Timekeeping software can thwart thieves with features that restrict where and when employees can clock in and out.
7shifts can add breaks into your schedule, and prevent employees from clocking in early from their break time. On top of that, you can set a cutoff time that automatically clocks employees out if they forget to do so at the end of their shift. Every minute tracked correctly means you can breathe easily while running payroll.
The result: On average, 7shifts users save $500/week on time-theft.

 3. Approving work time for payroll
On top of clocking restrictions, having a timekeeping system where managers must approve worked time for payroll is an added oversight that can catch any inaccuracies before they become bigger problems.
7shifts lets managers look at the pay period's work hours, check for any changes, make corrections if necessary, and have the timesheets ready to go when it's time to run payroll. It's just another way to prevent mistakes and time theft. Plus all these features are available online and through the mobile app — meaning managers can make changes even when they're not in the back office.
4. Understanding the labor cost trends for your restaurant
The restaurant industry tends to be cyclical and fickle in nature. Business booms under certain conditions — places with outdoor patios are more popular in the summer, brunch spots are hopping on the weekends — which means it's up to owners and managers to spot the trends and employees accordingly.
Too many workers on a shift and you lose money. Too few and your customer service will be lacking.
But instead of going off your best guess, there are solutions that can track your labor costs versus your restaurant's income. 7shifts has labor cost tracking and projections as part of your timekeeping, so you can know how many employees to schedule based on your revenue history. The tracking includes things like weather, time, and day and puts it into an easy-to-read percentage of sales so you can see exactly what you should be spending on labor.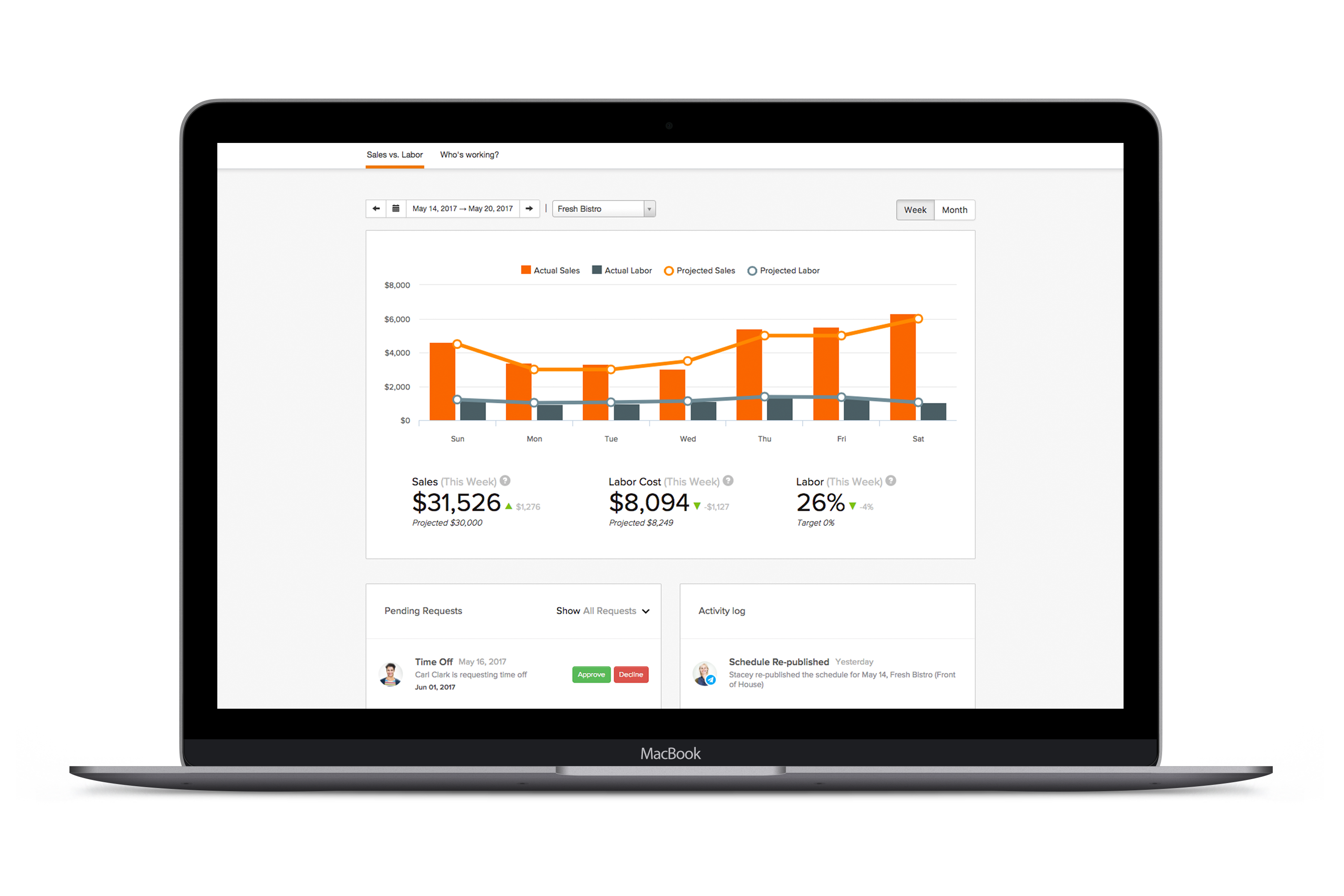 5. Engaging employees and receiving feedback
Employee engagement can play a huge role in keeping your labor costs down. Considering restaurants experience high turnover and the cost of losing an employee can range from $5,000 to $6,000, it's crucial to identify high and low performers early and create training processes that are efficient.
7shifts tracks engagement by tracking statistics like late arrivals, no-shows, and how many shifts are put up for grabs — all things that point to a disinterested employee that may be thinking about leaving. At that point, instead of spending thousands of dollars to replace them, you can first try to re-engage them by giving them extra support and training if necessary.
Along with tracking the numbers about shifts, managers can also gather feedback from employees after each shift using the mobile app. After they clock out, employees are prompted to give their reactions about the day and add notes. That way managers can notice trends in their business that are people-related — not just about numbers.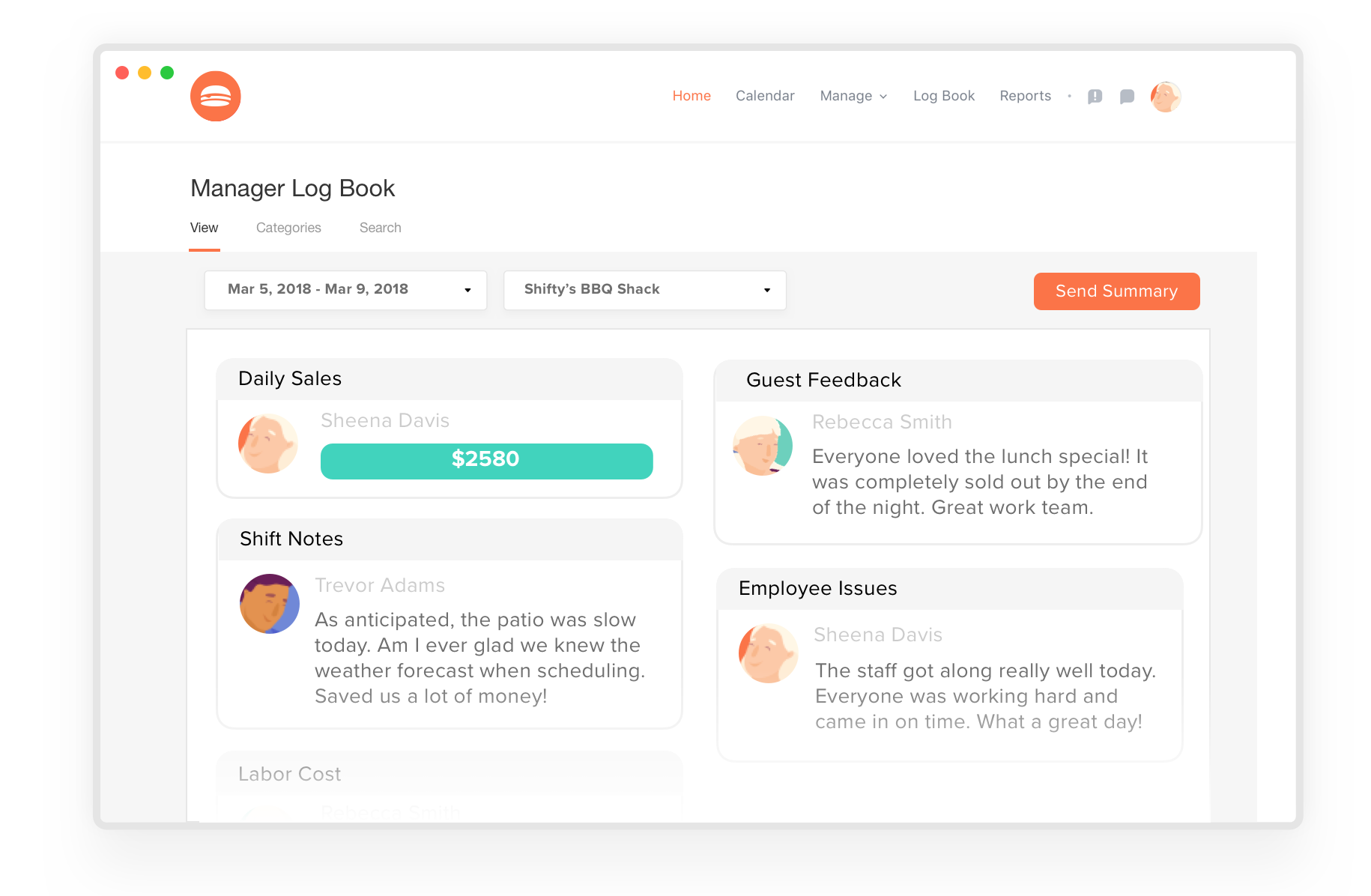 6. Integrating with payroll software
Just like all the other software you use in your restaurant, you want each piece to be able to share information and integrate with each other. That doesn't change when it comes to timekeeping and payroll.
Since running payroll requires work hours to be known for your shift employees, your time tracking system should be able to import those hours after they've been approved by managers. 7shifts integrates with Wagepoint so you can import employee hours directly into payroll with one click each pay period.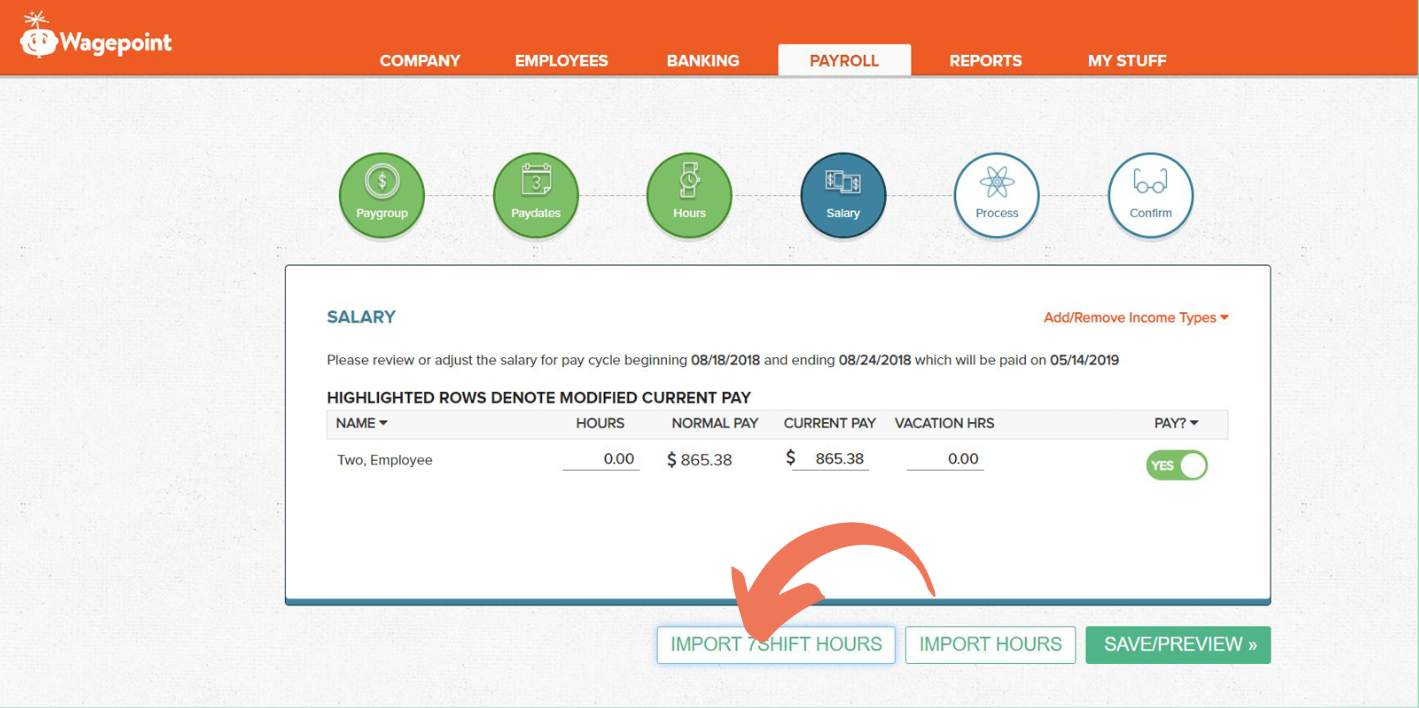 Do more with your restaurant timekeeping
Though "timekeeping" implies tracking time only, your software should work a little harder for your restaurant. Integrating tools like labor cost projections time theft prevention, scheduling, team communication, and payroll into one interface not only eases your duties as a manager but keeps your profits intact.
If you're ready to connect your 7shifts and Wagepoint accounts with our free integration, get step-by-step instructions here.

The advice we share on our blog is intended to be informational. It does not replace the expertise of accredited business professionals.