Become an insider!
Get our latest payroll and small business articles sent straight to your inbox.
You want to learn more about taking your practice online. You're looking for tips on using cloud-based tools and decoding the ever-growing ecosystem of fintech applications. Or, maybe you just want to connect with your fellow humans — your accounting and bookkeeping peers.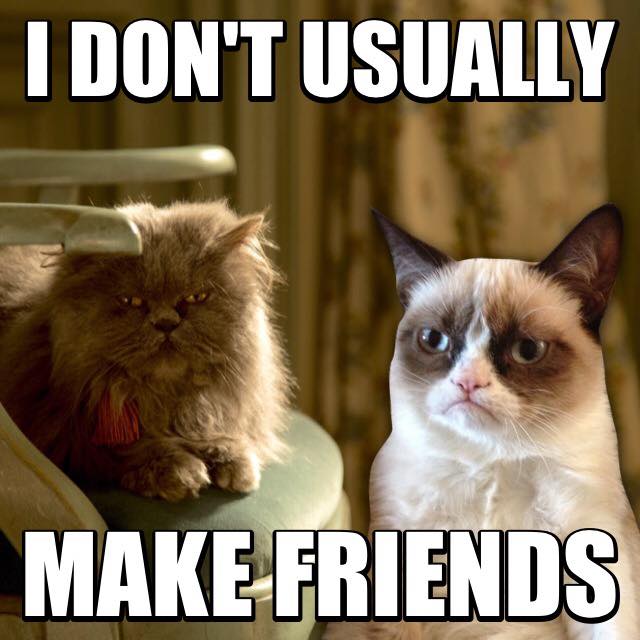 Even if you're not a social butterfly or networking master, believe it or not… private and public Facebook groups might be the answer you've been looking for. Seriously, it's not just for pictures of grumpy cats.
This list of Facebook groups for accounting pros is by no means exhaustive. (Attempting to capture them all would be exhausting.) It's simply a starting point. To ensure objectivity, the lists are in alphabetical order.
Audiences: 🇨🇦 = Canada 🇺🇸= United States 🇺🇸🇨🇦= Canada & United States 🌎 = Global
If you're a conscientious objector to social interaction, just give it a chance. You don't want to miss out on some genuinely unique and introvert-friendly communities.
General Accounting and Bookkeeping Facebook Groups
I was going to title this platform-agnostic, but one, "agnostic" is a pretty complicated word. Two, who's really going to ask Google, "Find me a platform-agnostic accounting group on Facebook please?" The groups in this list focus on key topics rather than specific accounting software. Come as you are, as long as you're interested in the specific subject area. 
If you're in the leveling-up boat, check out Accelerate 2 Advisor, serving an international audience with weekly live focus sessions Fridays at 2 pm EST.
Created by the legendary Alan Salmon, it's your headquarters for Excel tips, tricks, training, and support for accountants and bookkeepers using Microsoft Excel.
You know the role of the accountant and bookkeeper are changing, plan for the future with strategic conversations — held between Wall and Main.
A community for education and collaboration, this group is for bookkeepers and accounting professionals serving multiple clients, to connect and collaborate on general bookkeeping topics. It's a safe place for communication on any topic or any software platform.
This group is specifically for bad-a$$ business owners who want to grow.  They talk Mindset, Marketing, Tips, and Tools that help your #ONLINE cloud business move into the 21st century and beyond.
Share your ongoing journey to work-life balance, trade ideas with accounting professionals and small business owners and keep up to date on all those apps.
A QBO and cloud app accounting professional group, this is a space where members may share upcoming webinars, online and accounting related articles related to online accounting and other emerging business trends.
Gotta thing for Fintech? Well, so do the members of this online community. Got lots of questions? Well, come on in and join the Fintech Details Family. (Family by choice rather than genetics.) Small businesses, accountants and bookkeepers welcome.
As its name implies, this group is for firm owners who want to innovate and collaborate on topics relating to trends in technology, marketing and practice management.
This group — brought to you by the letter K — focuses on the #HOTT topics of hiring, onboarding, teams and training. Sometimes they also just talk about growing your practice. And other times, whiskey. 🥃
This community is a place that surrounds you with people who "get" you. Most importantly this group is for people who are hell-bent on building a bookkeeping business you love and making it a success.
Sponsored by Cloud Pricing 2.0, this is a forum where accounting professionals who want to transition to value pricing can ask your questions, get help from a supportive community and share experiences.
Work those workflows — the key to efficiency, consistency, transparency and accountability. But where to start? Which App to use? Pull up a chair, grab your favorite bevvy and have a chat.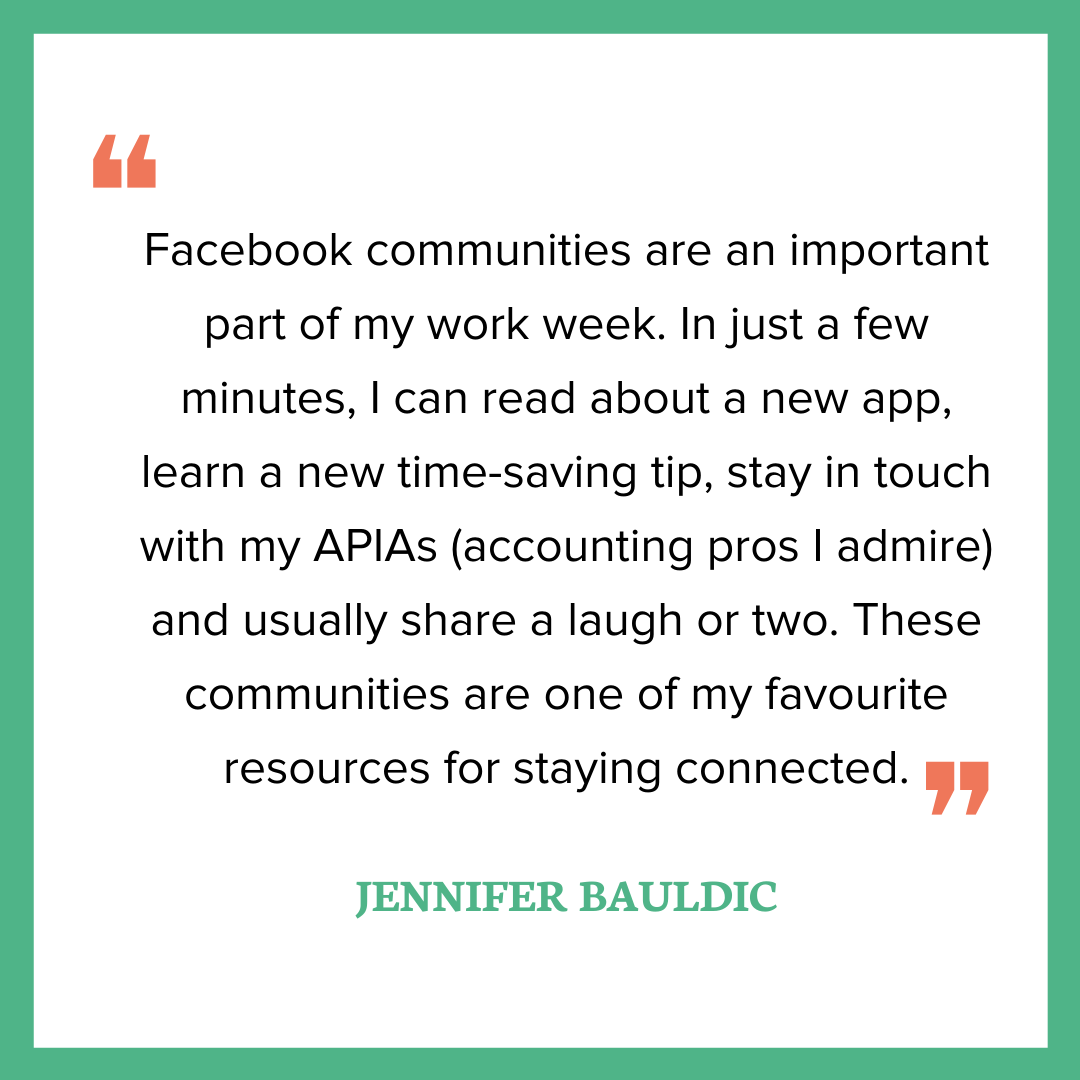 This group is for any BC-based bookkeepers, accounting professionals and entrepreneurs looking to build a community where you can safely ask your questions and collaborate on general accounting, tech and tax topics.
Sage Facebook Groups
A lot of accounting and bookkeeping Facebook groups are organized by the platform a majority of the members use, in this shortlist there are the main Sage user groups. The advocate groups are created and moderated by Sage.
Bookkeepers and accountants who support Sage products or just want to keep up with the latest Sage news are welcome here. Note: They've heard the pun "Sage advice" roughly 30 million times.

QuickBooks Online (QBO) Facebook Groups
The accounting software with the most platform-based groups is QuickBooks Online. Each of the groups on this list is moderated by one or several ProAdvisors. While QBO team members often participate in the groups, the groups themselves are independent of Intuit.
The beauty of British Columbia isn't just its natural splendor. There's also this dynamic and creative group of ProAdvisors sharing tips and tricks. Another perk — no bear spray, grappling hooks or any form of safety gear required.
In their own words, "Get Intuit is Canada's 'abundance mindset' QuickBooks community." This group is focused on thought leadership and training content for Canadian QuickBooks users. However, members include influencers from around the globe.
The prairies don't have to be that lonely after all. This regional group connects QuickBooks ProAdvisors in Manitoba and Saskatchewan. Get to know your fellow Manitobans and Saskatchewanians.
This is the main page for the accounting channel from Intuit, makers of QuickBooks and QuickBooks Online. While not a group, it's a good source of information for what's happing with the products.
Jet Fuel for Accounting Professionals (QBO Connector) 🇺🇸🇨🇦
Be in the know… and dare we say, "connected" with the latest on QuickBooks Online, live events and upcoming conferences. If you love learning, this is your happy place for expert how to's and even a few expertly placed memes and fun facts.
Given its name, it's no shock that the focal point of this group is online accounting applications. Join in for app profiles, pro tips and recordings of the group's weekly live online chats. There's also an annual (friendly) gingerbread house competition each December.
Believing that "Together we all succeed" — this group includes small business owners, accountants and bookkeepers. The journey to and within the cloud is paved with questions, so why not have a place to ask them?
Canadian accountants and bookkeepers are likely familiar with QB-HQ as a "headquarters" for QuickBooks tips of all kinds. Their goal is to create a community by encouraging members to do their best each and every day.
One of the better-known American Facebook groups, QBOchat is a wealth of knowledge for ProAdvisors in the United States, Canada and around the world. This group is also affiliated with a popular online training program.
Wanna step it up a bit? This Facebook Group is for QuickBooks Power Users, accountants, bookkeepers, CPAs and ProAdvisors looking to improve and share their practical skills and experience.
A group where anyone can list QuickBooks training opportunities from live classes to video courses. This group has almost 5,000 members with a strong international presence.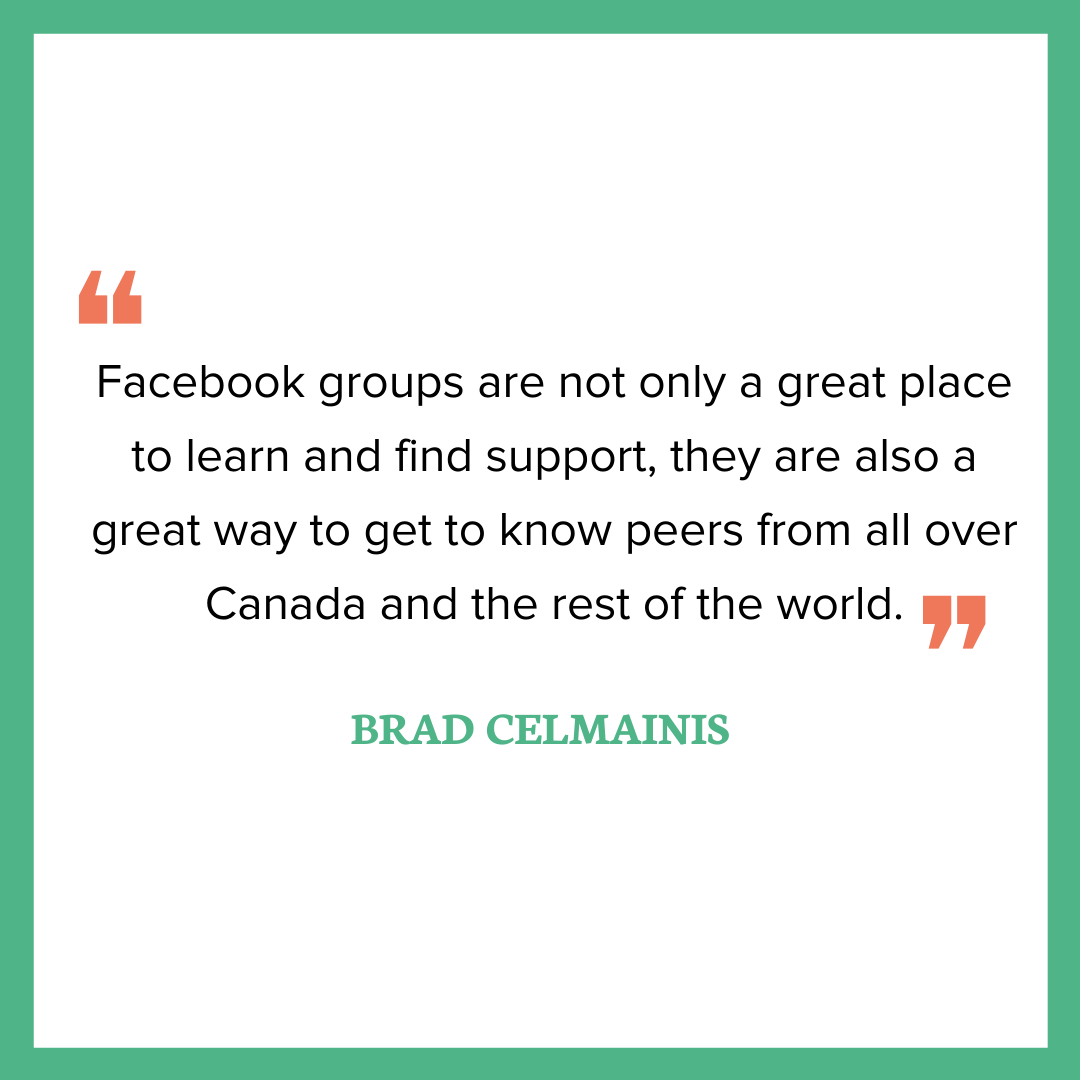 Xero Facebook Groups
And here's a handful of  Xero Facebook groups. The ones marked "official" are moderated by Xero on behalf of its partners. 
If you want to join this group, you have to pass the test. There's also a waiting list for this global community of expert Xero users. However, they don't disclose if there's crossover membership with any Mensa groups.
These are Xero's groups for the accounting and bookkeeping channels in Canada and the United States (North America as a whole).
An ultra-mini guide to Facebook groups
If you're new to Facebook groups or want to learn more, this guide is just to help you get started. For additional information, Facebook has its own comprehensive guide.
What's a Facebook group and how is it different from a Facebook page?
Facebook groups are unique to Facebook. They're kind of like the evolution of a chatroom. They're different from a company or personal page, in that Facebook groups are meant to build micro-communities and provide consistent opportunities for engagement.
For instance, on a page, it's usually the person or brand that shares content and the conversation is fairly one-sided. However, on a page, members can contribute content and moderators can create events, share polls and more. Facebook groups build trust by adding value.
Do you have to be a Facebook member to join a Facebook group?
Yes, you have to have an account and a profile. The groups are created within Facebook, so there's no other way to gain access other than to join Facebook.
How do you find Facebook groups?
The most direct and straightforward way is to log in to Facebook and enter the kind of group you're looking for into the search function.

Then select "Groups" from the menu bar below the search bar in order to only see groups as part of your search result.
From there you explore the list to learn more.
Are these groups public or private?
In accounting and bookkeeping circles, most of the groups are private.  This means you'll have to ask to join and the moderators will need to approve your request. But don't be intimidated, this step is a way to ensure the group stays true to its intended purpose.
How do I know which group is right for me?
When you find a group that interests you, click on "About" at the top of the menu on the left side of the screen. This will take you to all the key information about the group, including a description, when it was created, how many members there are and the rules.
A group that's been around some time and has a lot of members is proof that it's delivering on its value promise to its community.
Do Facebook groups have rules?
Yes, they do and it's important to know and follow the rules. The people who created the groups put a lot of time and effort into doing so. And, even though a group is private, it's not a license to say and do anything you want. It's the internet — nothing is anonymous.
Treat your Facebook group conversations as you would any personal or professional conversation.  No matter where you are, the Golden Rule of treating others as you'd like to be treated always applies.
If you're not sure about something, send a private message to the moderators.
How do I get the attention of a specific member or business within the group?
This process is called tagging. Normally if you're replying to a comment, it will automatically tag the person who wrote the original comment. If you want to add other group members, simply use the @ right next to the person's name.
A lot of times, the app partners are on these pages so that they can answer user questions and address concerns. If you're trying to get their attention, be sure to use the handle for the app. Again, @ plus the company's name or Facebook page name.
Last, but not least — have fun!
As more accounting and bookkeeping firms move to the cloud and switch to a remote work model (sans the standard office), online communities are becoming a vital connection. In the spirit of collaboration, if you have more groups to add to the list, please share them in the comments below.

The advice we share on our blog is intended to be informational. This unofficial list of Facebook Groups is intended to be a quick, objective overview. Wagepoint and Wagepoint team members are members of some of the groups in order to listen, learn and answer questions whenever needed.
Looking to learn more about our partner program? Let's chat!