Become an insider!
Get our latest payroll and small business articles sent straight to your inbox.
Most small businesses are used to working with an accountant or bookkeeper. After all, someone has to keep a track of all those debits and credits.
This usually involves a lot of phone calls, a shoebox full of expense receipts, that hair-raising moment when you realize that you have forgotten to give them all the information they need to file your sales tax return and the list goes on and on. Some business owners even use their accountant to give them their payroll net amounts which they then use to write checks to their employees! Belch!
Of course, all this comes at a price. It's not just all of the back-and-forth that is a major time suck, it is also highly inefficient. Then there are those nail biting moments while you wait anxiously for your accountant to tally up their professional services hours and present you with an invoice. Let's be honest, at that point you might find yourself subject to a wee bit of sticker-shock.
It isn't necessarily your accountant's fault either because for years the accounting industry used desktop tools that did not allow seamless collaboration between them and their clients. As a result, they were geographically restricted to service clients in a local area and they created offline processes that worked for them to collect the information they needed to manage their clients' books.
But, as it turns out, the industry is heading towards a major shift – one that is dominated by service that is chock-full of personality, made efficient by next gen technology and package pricing that leaves you with no late-in-the-day fee surprises. And the best part, it is totally virtual.
And it just so happens that, at Wagepoint, we partner with some of most awesome virtual accountants in this space.
Xen Accounting
Ryan Lazanis is a technologist first, and an accountant second.
Ryan believes that most accountants are too inward looking, with not enough of them putting the customer first. "We do this by putting ourselves in our clients' shoes and by thinking about how we can render their entire accounting process as painless and as seamless as possible. We look at what accounting firms have been doing and completely throw that out the window," he said in an interview.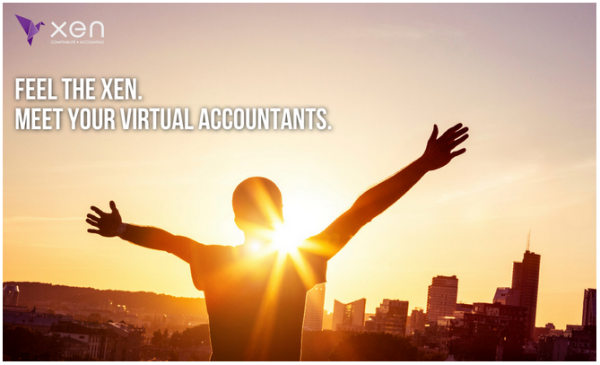 It's this approach that has made Xen Accounting a go-to solution for companies who need a virtual CFO. Xen is integrated closely with Xero, and now so is Wagepoint and we admire the market position Xen has adopted, for tech savvy, on the go business owners. They are also really on the ball when it comes to new regulations, like those surrounding the crypto-currency, Bitcoin. With all this going for him, we agree –  Ryan is absolutely the Xen Master!
LiveCA
Every town and city across the country has at least one accountant. To say that this is a highly competitive industry would be an understatement. But that didn't stop Josh Zweig and Chad Davis, both certified Chartered Accountants, from starting LiveCA – Canada's first online accounts firm.
Accounting has always been a paper-rich function, but Josh and Chad want to change that by going completely digital. They offer a 100% cloud-based full-service accounting solution that can be tailored to your needs. They saw an opportunity to create a systemized process that cuts down on all the confusion about what comes next.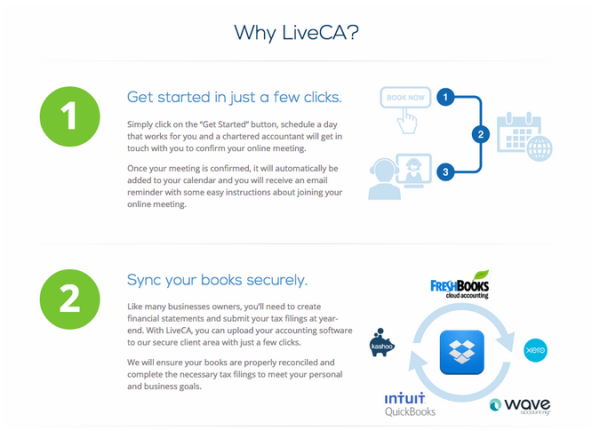 It starts with a phone call – talk to one of LiveCA's many certified accountants and if you like what you hear, you then get your books synced up – whatever platform you use and you pay a price that works for your business.
Nearly two years since their launch, they're still going strong and with their convenience and great customer service we can't recommend them highly enough.
One of the best parts of our jobs is that we get to surround ourselves with awesome people. The kind that we would actually hang out with socially. This has been especially true of our partners. We have found that successful partnerships are those that come from putting quality ahead of quantity. We select our partners with great care because we want to work with people with a similar ethos to us! Nothing's better than simple solutions that work for your business, priced just for you, and it comes with phenomenal service that is guaranteed to impress.
Know of any other awesome virtual accountants that fit the profile, we'd love to hear from you!