Become an insider!
Get our latest payroll and small business articles sent straight to your inbox.
Having simple, straightforward tools is always a great way to stay organized and save time. But if you're one of the many types of businesses that has more complicated processes, sometimes the simple tools don't do the trick.
When it comes to time tracking and payroll, you need to be able to accurately monitor and attribute time correctly so your business finances stay organized. TSheets is a more in-depth tool with a range of intelligent features to match your needs — plus, you can import these hours directly into Wagepoint.
Manual time clocks and paper timesheets are not right for you.
Imagine: You own a landscaping business and are working a job at a business park with a handful of employees. After several hours of hard work, it starts to rain. You don't worry about it too much until your employees hand you their soaking wet timesheets.
Now imagine if the timesheets were handed to you in the form of an online notification. That means no wet paper, no running ink, and an accurate read every time. And since your site locations change all the time, a non-waterproof time clock doesn't seem like the best solution, either.
Field workers tend not to be in prime conditions for physical timesheets and time cards. Using an online (and mobile) system allows them to instead track their hours using the devices they already own. Enter TSheets and other timekeeping software, built for businesses that need a system that's faster and less… messy.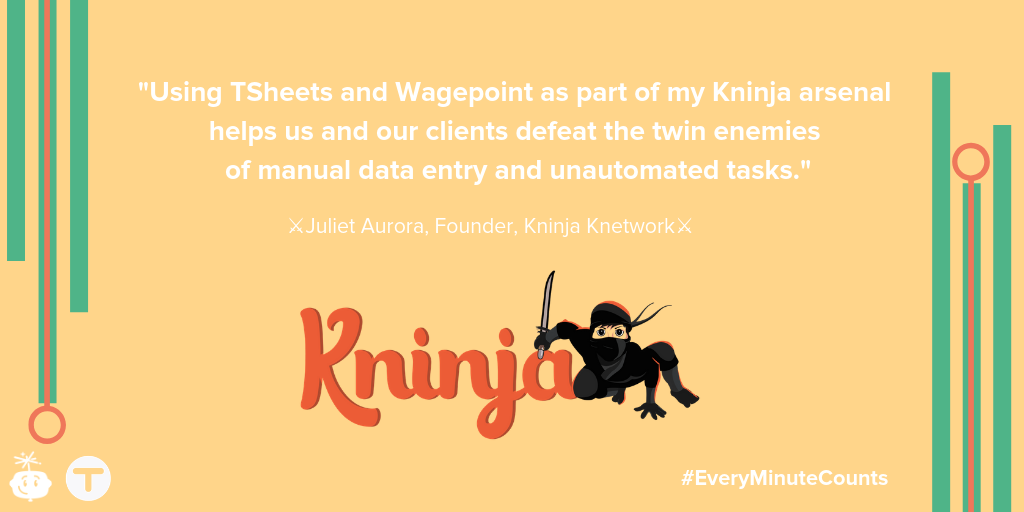 When to start using a robust, online timekeeping tool.
You should never pay for all the bells and whistles if they're something you don't need. But in some cases, bells and whistles can save you time and money by allowing you to track more nuanced expenses.
When it comes to tracking employee time, the range of sophisticated features offered by TSheets works well for businesses that have mobile workspaces and employees — like construction workers or home repair technicians. Since these employees are traveling from place to place and managing different jobs, you want your time tracking software to be able to keep up.
After all, the cost of labor is something you have to factor in when pricing a job. If you don't know exactly how much you're spending on labor, it's pretty difficult to meet your margins!
How do I know if my business needs advanced timekeeping and scheduling features?
Your business and how it operates is probably intuitive for you at this point. As a business owner, you know exactly what routines and processes need to happen to make it all work. Taking a step back and evaluating what constitutes as "complex" may be difficult now that you know the ins and outs.
We've put together the checklist below to let you easily match your business's needs with the types of features you should be looking at in a robust timekeeping system.

Do I have complex timekeeping needs? [Self checklist]
(Cure — Use TSheets and Wagepoint and call us in the morning.) 
If your business meets the criteria outlined below, in-depth software like TSheets may be the best choice for your timekeeping needs.
Remember: It's all about what works for your unique situation. There's no shame in needing something more simple and straightforward, but you never want to be left wanting for more features for the sake of price. Multifaceted tools like TSheets tend to pay for themselves in time savings.
1. I need to schedule my trade workers and field employees.
Before you can track an employee's hours from location to location, they need to know where to go and when to get there.
Businesses who don't have shift-work or mobile workforces may not need a scheduling feature. However, shift scheduling is common in industries who employ hourly and field workers. It makes sense then to have the same system that tracks the work hours also schedule those hours beforehand as well.
Adding scheduling also lets you better predict your labor costs before they happen — which helps cut down on unnecessary overtime pay or scheduling mistakes. When you know how many hours your workforce is putting in each pay period, you can more easily plan for payday.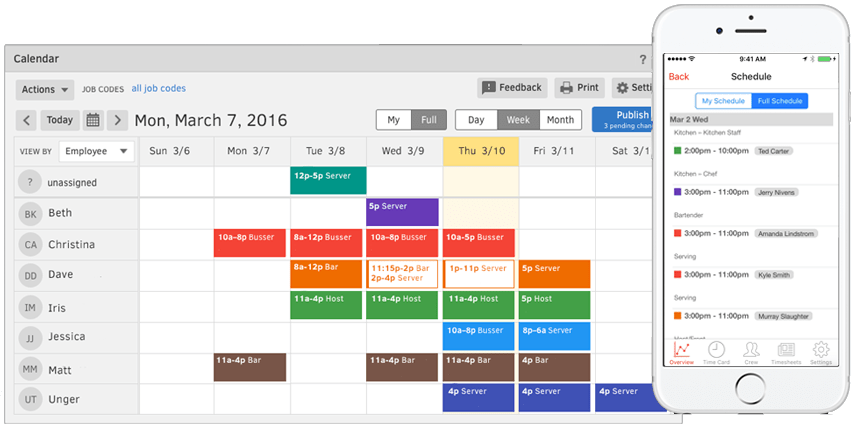 2. My employees often work at different locations and projects.
Not all businesses have one set location where all their work takes place. You may have multiple worksites, or have employees that go from place to place to do their work. In any case, the labor costs should be attributed to the correct locations.
This starts with a versatile time tracking system that shows you where your employees worked and for how long. One that can even drill down to the project level of a specific phase or component of a job, making it easier to charge the right amounts based on your labor costs and give a more accurate ballpark to your clients of how much time the job will take.
Time theft can also be cut down by detailed job tracking — when you attribute specific time to specific locations (and have a system that allows you to make sure it's accurate and correct), you won't be paying for any time that isn't spent working.

All of this contributes to better reporting, estimates and invoicing for your clients — and better financials overall for your business.
3. I can't always update or approve hours from a computer.
If you're a site supervisor using timekeeping software to monitor your employees' hours, you may not always be near a networked computer. If a change needs to be made to someone's timesheet or time card, it can be difficult to remember to input the change when you make it back to the office. Having the ability to make changes from a mobile device is key to preventing costly mistakes.
TSheets has a mobile interface for both employees and administrators in the field. This makes it simple for employees to clock in and out and administrators to make necessary changes and approve hours.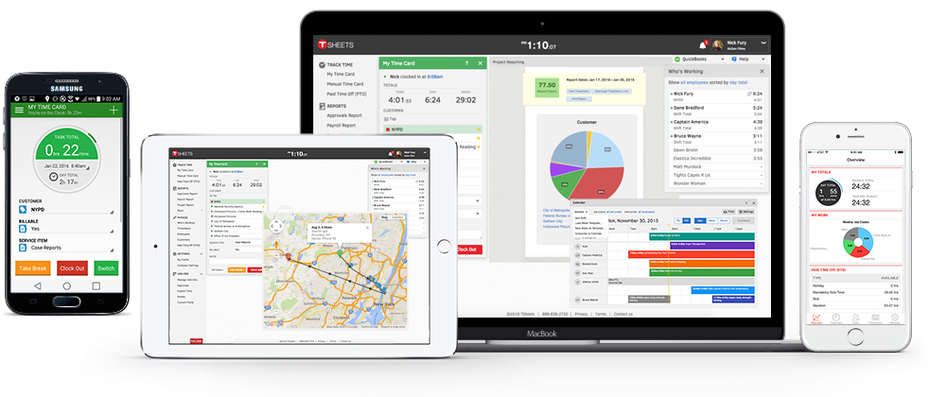 4. I want to make sure my employees are where they say they are.
As an administrator or manager, you always hope that you can trust your employees to do the right thing. When your employees are always on-the-go, though, it can be difficult to be sure the time they track is completely accurate.
Time theft is a huge problem for most employers. It costs US businesses roughly $11 billion annually, with almost half of US employees openly admitting to time theft. Especially since your employees are moving from job to job, having a smart timekeeping system that can prevent time theft is key.
With mobile time tracking comes mobile features like geo-fencing, GPS tracking, and IP address gating. These allow you to put limits on where and when an employee can clock in, ensuring they aren't being paid for any time they aren't working. TSheets can also go a step further by tracking an employee's location throughout the day as they move from job to job. Better yet, this feature can function without an internet connection.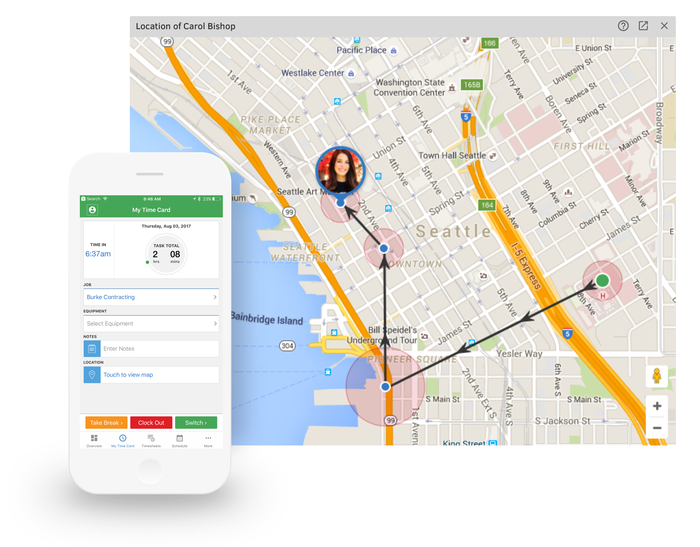 5. I want time tracking software that syncs with my payroll and accounting software.
Good apps find a way to work with other systems in your business processes. In the case of timekeeping, hours have to be recorded for payroll purposes so it's only natural that it should integrate with payroll.
Even further, labor is a cost to be tracked for accounting, too. When you're able to track labor costs across different jobs and clients, your reporting and forecasting are more granular and informative.
Thankfully, TSheets and Wagepoint can be integrated, and then data can be easily imported into accounting software like QuickBooks Online. That way you can use the numbers to better inform your business decisions

Know what you need and where to find it.
A multi-functional timekeeping system isn't for everyone, but it's great for businesses who need it. If you find yourself wanting something better than a wet timesheet on your work site, TSheets may be the right option for you. Learn more about connecting your Tsheets and Wagepoint accounts.
For those of you who don't match up with the checklist above, don't fret. There are other tools out there built for simpler needs, or specifically for certain industries.
On the straightforward side, Track by Wagepoint a useful tool for basic timekeeping. To learn more, read a recap of our webinar on this tool. (The recap includes a link to download a copy of the webinar.)

The advice we share on our blog is intended to be informational. It does not replace the expertise of accredited business professionals.