Become an insider!
Get our latest payroll and small business articles sent straight to your inbox.
Next up in our series of shining spotlights on our awesome customers: Swapskis now Vendeve, the world's first skills swapping website exclusively for women (sorry guys!). This is a great new website for women trading skills and kicking ass. The guys at Wagepoint are jealous of this one – us women in the workplace are psyched, we think it's going to really take off, so we can't wait to sign up.
Vendeve is the creation of Katelyn Bourgoin, who's also the Co-founder of Red Riot, a fantastic little marketing and PR agency based in Halifax, Nova Scotia.
Katelyn and her team have a well-earned reputation for being different. Red Riot has worked with all kinds of brands. They usually end up blowing their socks off with kick-ass branding, copy and execution.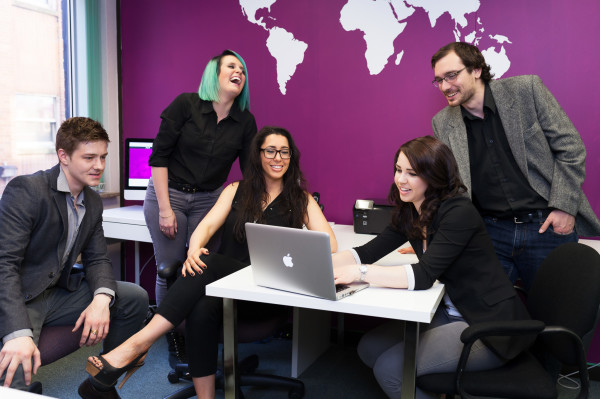 So I was curious then, since she already has a successful business, why Katelyn wanted to go back to being a startup founder?
"When I started my freelancing business, I was totally cash-strapped. I had skills, but without a big network or much "real world" experience I had to hustle hard to make ends meet."
Something we're familiar with. Like a lot of our customers who've hustled and sweated blood and tears to build any kind of decent business. Anything which makes that just a little easier is aces in my book!
In this game, some days it's just all about the hustle.
Other days, "ah ha" moments strike. Swapskis was one of those.
She explained that instead of trying to barter with clients, other freelancers or contractors, this is a way for peers to swap skills. You need help marketing and branding, nip onto Swapskis, see if you can find someone to help. Likewise, if they need an accountant at tax time, you can give them a helping hand.
I thought it sounded a bit like eBay, for services.
"That's right, you got it!" Katelyn exclaimed.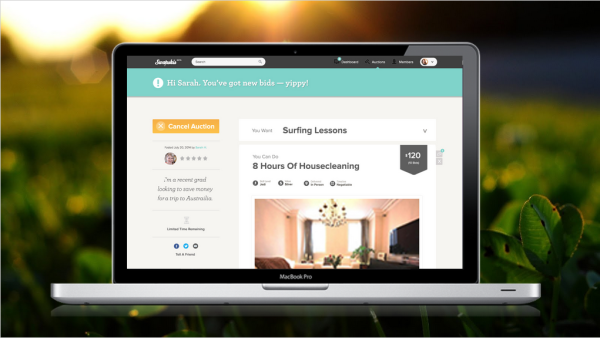 But the emphasis is on exclusivity, trust, and of course, women only. Women outspend men way more when it comes to services anyway, plus they're "innately more collaborative, which might explain why they find service swapping so darn appealing," she said – and, women love saving money, so this way all their guilty pleasures can be bought guilt free.
New users either have to be invited by an existing member or be verified through social networks. Once you set up a profile you can show whether you're in the market to swap services or sell / buy.
A marketplace is the core of the website. Which is divided by different types of services. Ratings are displayed prominently, said Katelyn as she described Swapskis; alongside the services users offer, level of skill, how it will be delivered and a quick description.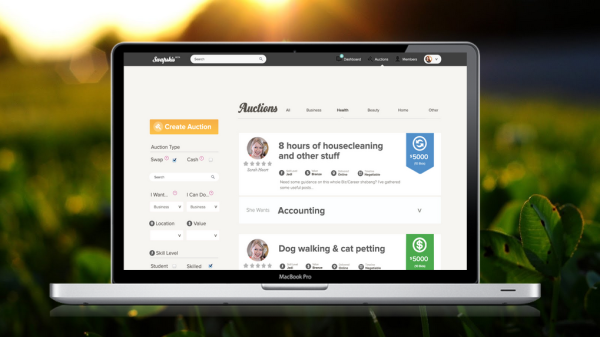 Users can then promote their swap or auction through their social networks, then reject or accept bids, the same way you can on eBay. Except their design is so much better! Much easier to navigate and use.
I had to ask, because I can't wait for it to launch in my neighbourhood — Why they're keeping it quite so exclusive?
"We're focused on building a vibrant, engaged community," she said, before they ramp up growth too much. "We've already attracted 600 subscribers using grassroots tactics and work-of-mouth, and now we're ready to really amp up our marketing efforts. We hope that guerrilla-style marketing tactics, PR, affiliate referrals, and member invites will help drive our growth."
This is BEFORE they launch a closed beta in September.
Followed by – if all goes well *fingers crossed* – a public beta launch in October 2014.
Not to add a note of doom and gloom, but thats the disclaimer every business owner attaches to every new venture, product or service: if all goes well. 
She said, I know, it's true. Which is perhaps one of the most valuable lessons Katelyn learned from Red Riot, and another reason behind Swapskis: "everything always takes twice as long as you think it will (and sometimes even longer), so plan accordingly."
Pausing, to stress this point, she added, "Most important, I've learned that no matter what business you're in, if your people aren't solid… you're in for a bumpy ride."
So as well as swapping consultancy time for an expert massage, if users can find dependable people to help grow their businesses, then Swapskis can become every woman's hidden asset?
Exactly, Katelyn added, with a knowing smile.
And finally, how are you finding Wagepoint so far?
"A friend recommended Wagepoint, so I tried it. I love the pain-free process and the customer service is impeccable. I confidently recommend Wagepoint to anyone and everyone. It's awesome."
Katelyn's been a part of the Wagepoint family since last year, and you heard her – it's awesome! So don't be the only one missing out! If you want to join a kick-ass group of founders and small business owners to partake in business trading services, like Katelyn, sign up for a 30-day Free Trial today!