Become an insider!
Get our latest payroll and small business articles sent straight to your inbox.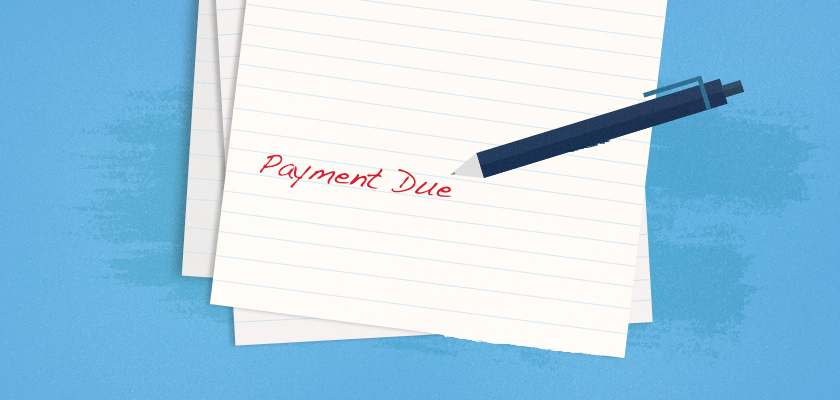 No matter what industry your business is in, you're bound to come across a client who's thrilled with your work, but never pays an invoice on time.
Not only does a late payment put strain on your business, it creates friction between you and your customers. You want your customers to have a pleasant experience and don't want to burn bridges, but the reality is…
You need to get paid.
If you hate confrontation, you may be tempted to let the delinquency slide. Or maybe you struggle to approach your late-paying client calmly, which can alienate them further.
Neither of these approaches work long term, but there are a few key strategies that can make this stressful situation a little less sweat-inducing.

First, make it difficult for late payments
The reality is, sometimes late payments happen. But there are precautions you can take to make it less likely your client will miss a payment.
These are best implemented before you start sending out invoices.
Discounts for early payments
In some cases, positive reinforcement is the best strategy. Consider offering incentives to reward clients who pay early and motivate those who don't.
Whether it's a discount for clients who pay before a due date or a rewards-based model that offers something in exchange for early payment, an incentive can often encourage a client to pay up and in advance.
Give payback options
By allowing as many payback options as possible, you give customers the flexibility they may need.
Consider expanding both the types of payment you accept and the payback plans you offer. Sometimes even adding an additional payment option (like mobile billing) can give customers the control to pay in the most convenient way for them.
Make clients pay up front
In a perfect world, your customers would always pay every single invoice. Unfortunately, this isn't always the case – and it's easy to get intimidated by the idea of enforcing pre-payment with clients.
If the idea of asking your customers to start paying before the work is completed makes your stomach turn, consider asking for a deposit (say 10-50%) before you start. This will protect some of your investment and help your client feel confident you'll get the work done.
If a late payment happens…
Sometimes, late payments are inevitable. It's important to consider giving the customers the benefit of the doubt – at first.
Reminders are a great way to start nudging a late-paying customer, and they work more efficiently than you might expect. According to a study, customers who get reminders have a 7-9% higher chance of meeting their deadline.
Consider email scripts
If you're a non-confrontational person, it may help to have a script ready for this situation. Tone can be difficult to convey through email, but crafting a simple script ahead of time may help you feel confident when handling the situation.
Try starting with one initial reminder a week before the payment is due, one the day the payment is due, one the week after it was due, and then increase your follow ups as time passes.
Get on the phone
It may feel easier to approach a client through email, but sometimes the best way to reach a flaky customer is by picking up the phone.
It's important to use your best "customer service voice" and remain as friendly as possible. Especially in the beginning, you want to simply remind your client of the due date and reiterate that you're on their side.
Institute a late payment fee
Incorporating a late payment fee into your company's policy is generally a good idea. A business that enforces late payment fees sets the precedent that paying on time is expected.
It's a good idea to inform your clients ahead of time about the fee and include warnings in any communication before you impose it.

Last resorts
Sometimes even the most polite and graceful approach with a late-paying customer doesn't work.
When you simply cannot get paid, there are steps you can take to remedy the situation and make sure it doesn't happen again. Keep in mind this is a worst-case scenario – try less extreme options before going this route.
Use a collection agency
A collection agency is a third party institution hired to get payment from a client. Collection agencies often have access to software to help track down phone numbers and emails, and will use that information to get through to your clients.
Plus, a collection is a red mark on any credit report so most people will do whatever they can to avoid one. Though not ideal, sometimes a collection agency can successfully collect payment after you've tried multiple times.
Refuse to work with the client again
If you're dealing with a client who consistently pays late (or not at all), it's acceptable to end your working relationship. Like a collection agency, this should be done after all other options have been exhausted.
It's important to remain polite, yet confident. Thoroughly explain your reasoning and your payment policy. It may also prove valuable to keep a paper trail as you demand payment so you feel confident in your decision to cut ties.
Be Prepared
Late paying clients are a definite pain, but unfortunately you're bound to come across them as a small business owner.
By remaining fair and diligent, you can approach the situation with professionalism – and if all goes well, get the money you're owed!

The advice we share on our blog is intended to be informational. It does not replace the expertise of accredited business professionals.