Become an insider!
Get our latest payroll and small business articles sent straight to your inbox.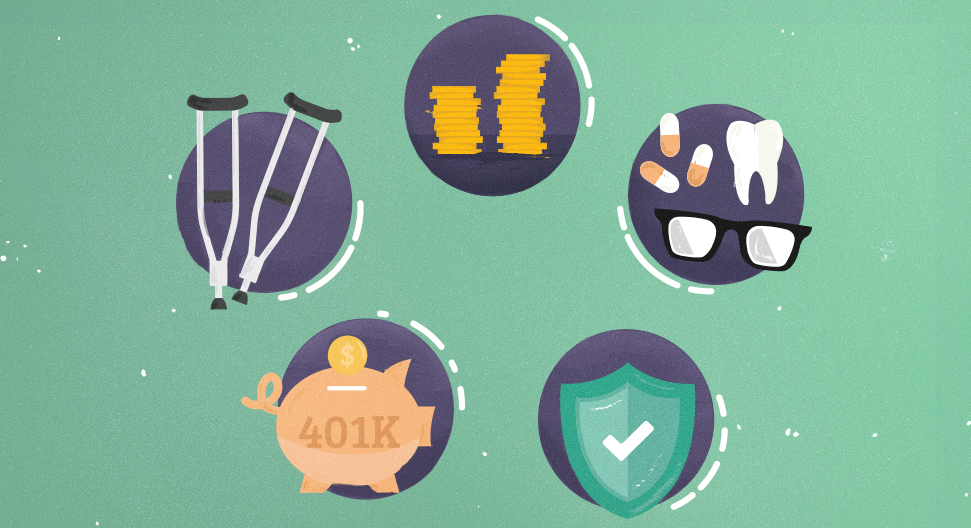 In any payroll, there is always a certain portion paid out toward an employee's income e.g. Regular Wages, and a certain portion that is deducted from an employee's income. 
Deductions on your paycheck is a fancy way of describing the amount that an employee pays to cover employment expenses — mandatory and otherwise. Because there are a number of these types of deductions, we've compiled a comprehensive list of payroll deduction types that are commonly used in payroll.

Want information on income types? Be sure to check out A Comprehensive List of all Payroll Incomes You Need to Know.
The Deduction Types Commonly Used in Payroll
Health Insurance

– Medical, Dental and/or Vision health premiums are voluntary deductions that are held back from an employee's paycheck, assuming that the employee is participating in the health insurance program. These can be spread out over the course of employment and deducted with each payroll or deducted once a month. 

Short-term & Long-term Disability

– If you provide your employees with Short-term & Long-term disability coverage, it ensures that your employees still receive a percentage of their salary in the event of an accident that leaves them disabled, temporarily or permanently. This deduction type would be used to collect employee premiums towards this insurance.

Life Insurance

– This deduction is used if an employer provides life insurance coverage, and your employees have signed up to receive basic term life insurance protection through the workplace. The premiums associated with the coverage are deducted from an employee's pay, unless the employer is paying the premiums on behalf of the employee.

Supplemental Life Insurance

– Typically, company-sponsored life insurance plans tend to be pretty basic, one-size-fits-all type of plans. As such, your employees might want to get some additional life insurance coverage. If this supplemental insurance coverage is being purchased through the workplace, your employee gets the benefit of better rates (it's not always guaranteed though), and this deduction type would be used to collect the premiums associated with this insurance.

Dependent Life Insurance

– This type of insurance coverage protects you in the case of a financial loss that results from the loss of a dependent spouse or child. If your employee is paying for this additional coverage, you can use this deduction type to deduct the premiums directly from an employee's payroll. 

Accidental Death & Dismemberment (AD&D)

– Based on the type of accidents that are covered in the plan, AD&D insurance gives your employees additional protection in the case of an accidental injury or death. The premiums for this type of coverage can be based on your salary or a specific set amount. 

401(k) / Registered Retirement Savings Plan (RRSP)

– If your employees want to put aside some money for their retirement, they can do that through a 401(k) / RRSP plan. This deduction type would be used to manage employee contributions if the amounts are being deducted directly from their payroll. 

Profit-Sharing

– This type of plan works as an excellent incentive to motivate and retain employees because it gives them a chance to really participate in the company's financial success. Profit-sharing plans did not always include a component of employee contribution; however, this is becoming more commonplace. Employees have certain limits to the amount they can contribute towards a profit-sharing plan. 

Pension

– In the US, employers can offer a defined benefit plan or a defined contribution plan. In a defined benefit plan, the pension amount is calculated based on criteria like salary and length of service, and it is a set amount paid out at retirement. A defined contribution plan does not have a specific amount paid out at retirement, and it could be a plan in which both the employer and employee can contribute. Examples of this type of plan include 401(k)s, profit-sharing plans, etc. 

Garnishments

– Otherwise known as Wage Garnishments, is a deduction type that is used if an employee is required to pay a debt, as a result of a court order. The garnishment is deducted directly from an employee's paycheck until the entire debt is paid off or alternative arrangements to pay the debt have been made by the employee.

Union Fringe deductions – These are taxable health benefits that are deducted from a union employee's check. 
Union Dues – If your unionized employees are required to pay dues for their membership in the union, you would use this deduction type to hold back the membership fees from their payroll. 
Disclaimer: The advice we share on our blog is intended to be informational. It does not replace the expertise of accredited business professionals.