Become an insider!
Get our latest payroll and small business articles sent straight to your inbox.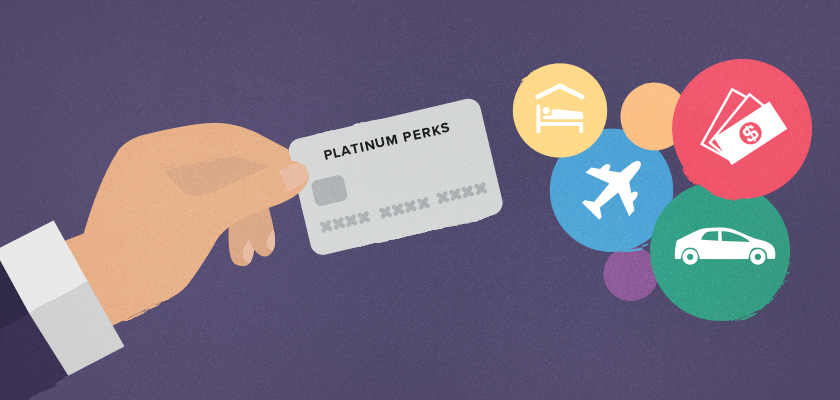 Many small business owners have come to depend on their business credit card—and for good reason. Beyond providing a revolving line of credit and a simple way to improve your business credit score, they can also help you cover your business expenses (and track them for claiming your tax deductions).
By responsibly using a business credit card with a rewards program, you can actually earn points or cash back to use towards anything from travel to office supplies.
Rewards credit cards are a great option for any small business owner. Even if your small business is simply the freelance work (side hustle) you do in addition to your 9-5, you may qualify for a business credit card to help cover your business expenses.

How Business Rewards Credit Cards Work
If you're new to using rewards credit cards, it's worth noting that they each differ in the way you accrue rewards.
Credit cards with points allow you to earn points based on the amount you spend via the card. The card may stipulate that you only earn points, or earn more points, for certain categories.
You may have also heard of cash back rewards credit cards. These cards let you earn back a specific percentage of the amount you spend on your card, which can help you keep more in your wallet and save money.
With so many business rewards credit cards out there, how can you be sure you're choosing the right one? No matter what industry you're in, there's bound to be a good business credit card out there for you. Here are some of the top ways to take advantage of rewards accrued through a business credit card.
1. Travel Rewards
The most obvious perk of a travel business credit card is, of course, to help cover travel expenses. If you are constantly on-the-go for work—visiting clients, attending conferences, etc.—travel rewards can help you cover things like airline tickets and hotel stays.
Some travel rewards credit cards for business owners come with attractive sign-up bonuses. Depending on the specific business rewards credit card, you could earn upwards of 50,000 airline miles or points just for opening an account and spending the amount you normally would.
When deciding on a travel rewards credit card for business, take note of how you can specifically redeem your rewards points. Can you only use them towards airline miles, or can they also be used to cover train tickets or hotel stays?
Additionally, some of them let you accrue more points when you spend specifically on travel, while others let you accrue the same number of points across all spending categories. Before you choose a card, evaluate your spending habits to see where you could stand to earn the highest number of points and make your decision from there.
2. Cash Back Rewards
Many business owners opt for a cash back business credit card rather than one of the other many rewards points programs. Why? Because it's the most straightforward way to save money on what you're spending.
Cash back rewards cards allow you to earn a specified percentage back on whatever you spend. These cash back business credit cards, for example, allow you to earn anywhere between 1 and 5% back on purchases, depending on the specific credit card and spending category.
Just like certain points-based credit card rewards programs, some cash back business credit cards allow you to earn more back on certain spending categories.
Regardless of the specifics, one thing is clear: a cash back credit card saves you money for investing in your business, period. You earn money back as you spend what you normally would on your operation, which can add up substantially.

3. Fuel Rewards
Some business credit cards reward programs can be hyper-specific, which you can use to your advantage. If you have several employees who are constantly driving around as part of their day-to-day, a gas rewards card may be one of your best picks.
The Shell Small Business credit card, for example, is a fuel card that helps you save 3 cents per gallon at all 14,000 Shell locations across the country. That may not seem like much, but if you have a sales team, delivery men and women, or other employees out and about constantly, that 3 cents per gallon really adds up. Additionally, you can use this card to manage what your employees are spending on, such as limiting them to fuel only.
A fuel rewards card is likely not worth it if your biggest business expenses are scattered across different categories. But, if fuel is where most of your cash is going, it may very well be worth it.
Note: If you and your employees regularly use your vehicles for business, be sure to track your mileage, which can also be deducted at tax time.
4. Loyalty Rewards
Some companies, such as hotel chains and airlines, offer incentive-based loyalty card options for business partnerships. Unlike the travel rewards cards we detailed earlier, these business credit cards only let you redeem points through one specific provider.
These cards make the most sense if you are already frequenting a specific business—e.g. Delta Airlines or Marriott Hotels. You may be able to get a free night's stay or free flight every once in awhile by using this type of business rewards credit card.
No matter what kind of business credit card you're currently using, if it's not earning you rewards in the form of points or cash back, you're leaving money on the table.
Almost every small business owner can benefit from taking advantage of credit card rewards. You have to spend money.

The advice we share on our blog is intended to be informational. It does not replace the expertise of accredited business professionals.