Become an insider!
Get our latest payroll and small business articles sent straight to your inbox.
Payroll, it's one of those "common sense" things most of us just accept at face value. You do your job and you get paid for what you do.
However, when a major shift happens — like a global pandemic — payroll software companies, like Wagepoint, are a "canary in the coal mine" in terms of being an economic indicator. We knew what our own numbers said, but we also wanted to know what the small business themselves had to say.
In June 2020, Wagepoint partnered with Asking Canadians to conduct a survey that included 300 English-speaking business owners, CEOs and General Managers of small businesses (SMBs) with 2 to 99 employees.
We wanted to know how these businesses viewed payroll and how COVID-19 had affected their workforce. Here's what we found out:
March 2020 was a month unlike any other.
The results are no surprise. According to respondents, 6 out of 10 Canadian small businesses had to make cuts to their payroll. These cuts took the form of a reduction in hours or wages (or both) as well as temporary and permanent layoffs. In fact, our own internal data suggests exactly the same that for 2020, March represented 60% of the year's layoffs. However, since then rehires have continued at a steady pace.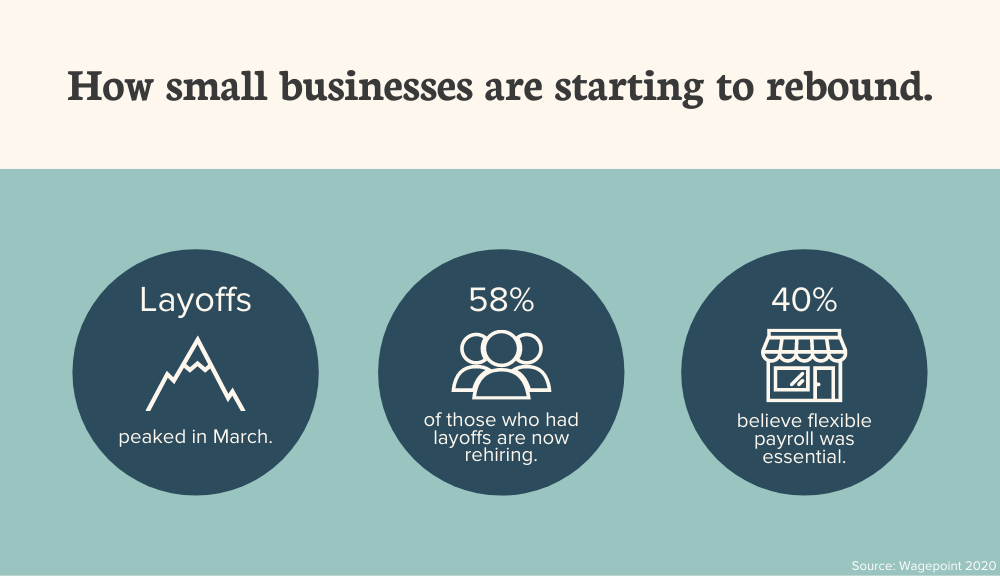 58% of SMBs who laid off workers are now rehiring.
While March was devastating, there is light at the end of the proverbial tunnel. Whether through innovative pivots, the wage subsidies and other relief programs or reopening, Canadian small businesses are rebuilding their teams.
Small businesses employ more Canadians than any other part of our economy. So, when they got hit hard by COVID-19, we all got hit hard. But small businesses are built on entrepreneurial optimism. They've always fought against the odds and now we're seeing them do it again. Wagepoint is honoured to be there with them every step of the way, giving them the tools they need to rehire, rebuild and carry on with their vision.

Shrad Rao, Wagepoint CEO
Responding to a pandemic requires flexibility in payroll software and processes. 
Change happens. We all know this. But, then there are historic moments where the shift is extremely fast and deep. Hello, 2020.
Payroll is like one of those daily to-dos, like brushing your teeth or taking out the trash. You just take it for granted and often don't consider if there's a better way or if your current solution is the best in every situation.
With COVID-19, there's been a sudden change of perspective regarding payroll.
72% of small business owners believe payroll is important — on par with sales, invoicing and general accounting.
40% of SMBs that reduced headcount felt payroll needed to be flexible enough to accommodate quick changes to their workforce.
26% of small business owners said paying employees quickly and accurately took on a whole new meaning.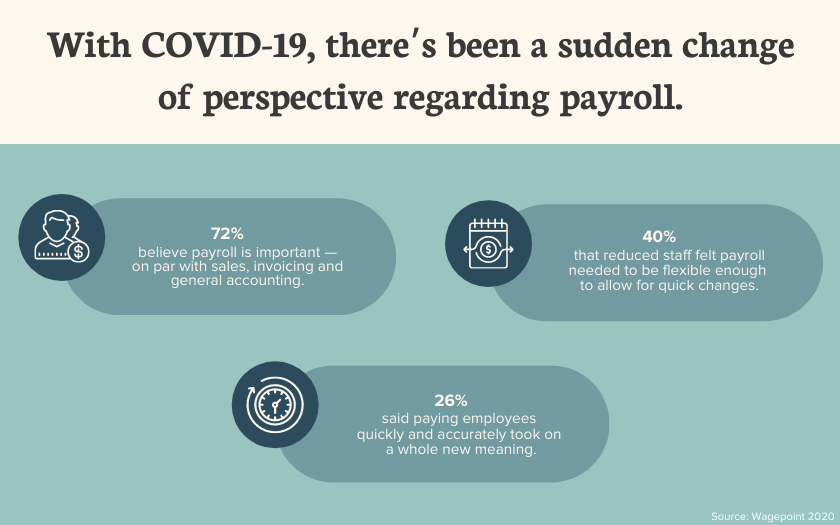 Big changes to small business payroll were made at breakneck speeds.
When the shutdown began in March, the 6 out of 10 SMBs that had to make cuts to their workforce made the following changes:
44% reduced hours or wages.
40% lowered headcount through temporary or permanent layoffs.
The number of employees at each SMB was also a factor:
Firms with more than 10 employees were hit hardest with 70% reducing headcount, hours or compensation.
Firms with less than 10 employees were still impacted, but less so with 57% making cuts.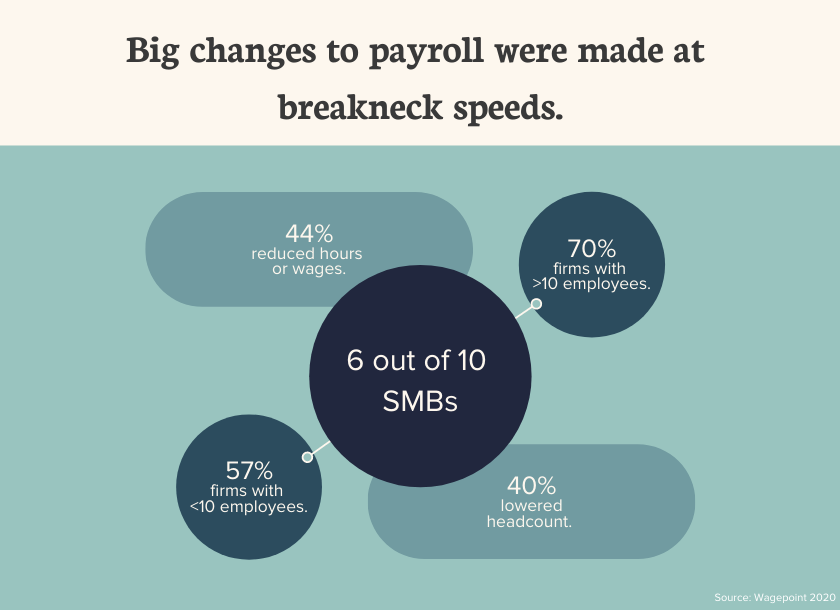 How simple payroll software made change easier.
These massive changes to headcount happened in a matter of weeks and cloud-based small business payroll software, like Wagepoint, made this easier in the following ways:
1. Online access from anywhere.
Small business owners and managers could access Wagepoint from anywhere they had an internet connection. For example, one small business owner (and Wagepoint customer) recounted how he was in Florida on March Break at the time. But he was able to log in and lay off his workers so that they could apply for their relief benefits.
2. Less data entry and fewer manual tasks.
Once a business is set up in a small business payroll application, all the relevant business and employee information is in one place. This includes pay rates and payroll tax calculations, like Employment Insurance (EI) and Canada Pension Plan (CPP).
If you're not using payroll software, most of this is done manually. But if you're using a tool, like Wagepoint, all you have to do to adjust wages is to enter the new amount or toggle a switch to change a worker's employment status.
Wagepoint was also able to build in (automate) the application of the 10% Temporary Wage Subsidy (TWS), the precursor to the 75% Emergency Wage Subsidy (CEWS). Furthermore, the payroll reports generated by the software on an ongoing basis were useful in applying for the CEWS.
3. Automated Record of Employment (ROE) process.
Whenever an employee experiences an interruption of earnings lasting seven days or longer, an employer must issue a Record of Employment (ROE) that is sent to Service Canada to help determine the amount and kind of benefits the employee qualifies for.
Without payroll software, this is a manual task. Once a business authorizes Wagepoint to submit ROEs on their behalf, they are able to create, and immediately submit, their ROE data directly to Service Canada using ROE Secure Automated Transfer (SAT). Click here for more information.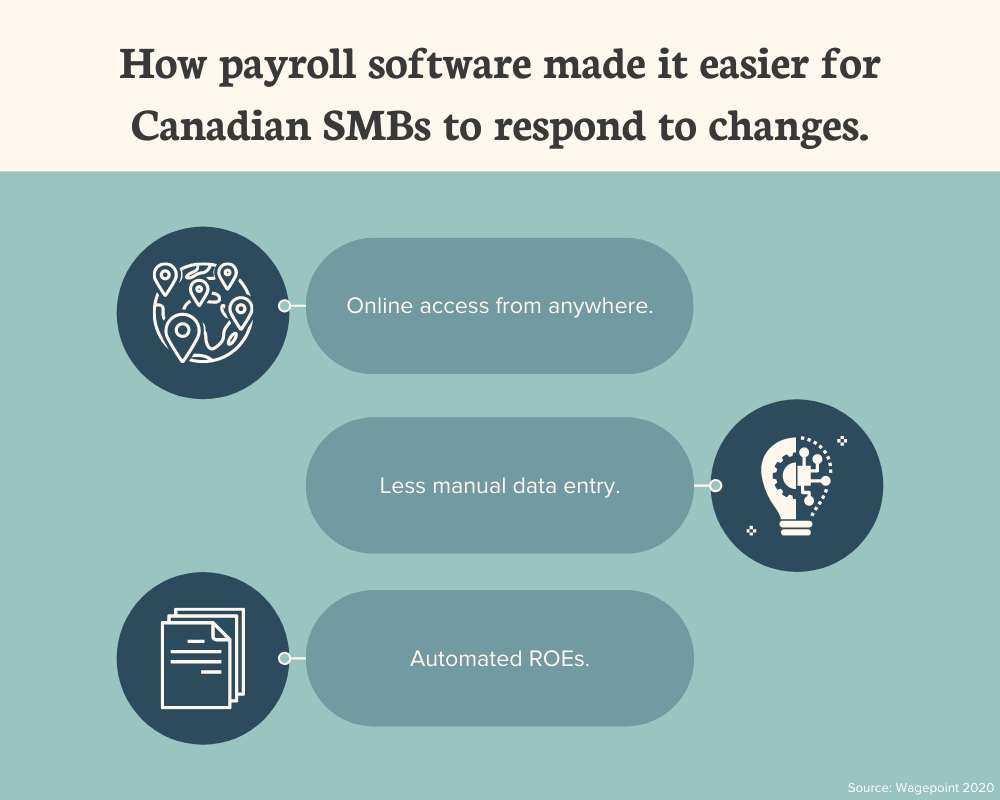 Who were small businesses in this survey? 
The survey, conducted in mid-June 2020. Exploring how small businesses handle payroll and other functions, the survey included 300 Canadian small business owners, CEOs or General Managers of companies with between 2 and 99 employees.
76% had less than 10 employees and 24% had between 10 and 99 employees.
Companies with more than 100 employees were excluded from this survey in order to focus on small businesses that are the ideal fit for small business payroll software.
Most were located in Ontario.
Geographically speaking, 50% of the SMBs were in Ontario, 20% were in British Columbia, 23% were in the Prairies and 7% were in the Atlantic Provinces. This is fairly consistent with the November 2019 numbers reported by Statistics Canada. (Note: This survey was only conducted in English-speaking provinces, which is why Québec is not represented.)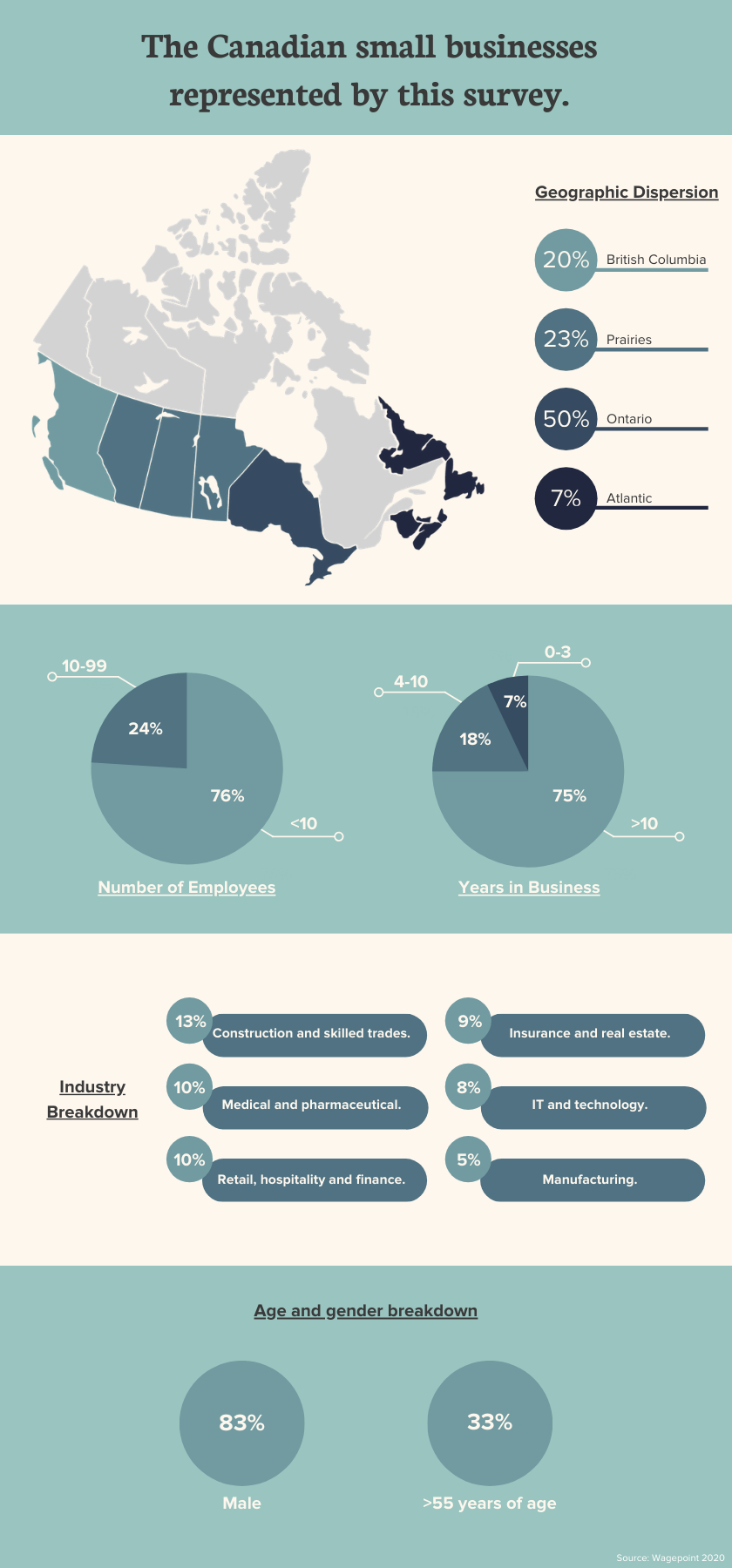 A majority of these business owners were males over age 55.
Even though it's 2020, the sample had a heavy gender skew with 83% of the respondents being male and 33% being over age 55. According to Statistics Canada's 2017 numbers on ownership, 87.7% of incorporated SMEs had a man as the majority owner. Although, women and other underrepresented entrepreneurs were making progress. Millennials are also starting to make their mark in the small business world.
13% of respondents represent the construction and skilled trades industries.
In response to the question, "In which industry do you business operate?" — the following industries represented 55% of the total respondents:
Construction and skilled trades — 13%
Medical and pharmaceutical — 10%
Retail, hospitality and finance — 10%
Insurance and real estate — 9%
IT and technology — 8%
Manufacturing — 5%
Again, this aligns with Statistics Canada, which finds that construction, retail trade, professional, scientific and technical services, other services (except public administration) and health care/social assistance account for 55% of all small businesses.
75% have been in business for more than 10 years.
A majority of the small businesses in this survey, 75% have been in business for more than 10 years. Another 18% have been in business for four to 10 years and 7% for up to three years. 
Related studies and supporting evidence.
When looking at the results of our study, naturally we were curious about what others in the industry had found.
Canadian Chamber of Commerce and Statistics Canada — Impact of COVID-19 on Small Businesses Report
On May 11, 2020, Statistics Canada and the Canadian Chamber of Commerce published the results of their collaborative Canadian Survey on Business Conditions. More than 12,600 SMBs participated in the online survey, which determined:
Businesses with less than 100 employees were more likely to have seen a 20% drop in revenue during the first quarter of 2020.
Businesses with 1 to 4 employees saw the most dramatic impact with 60% of these firms showing a 20% drop in revenue.
Businesses with less than 100 employees laid off at least one employee.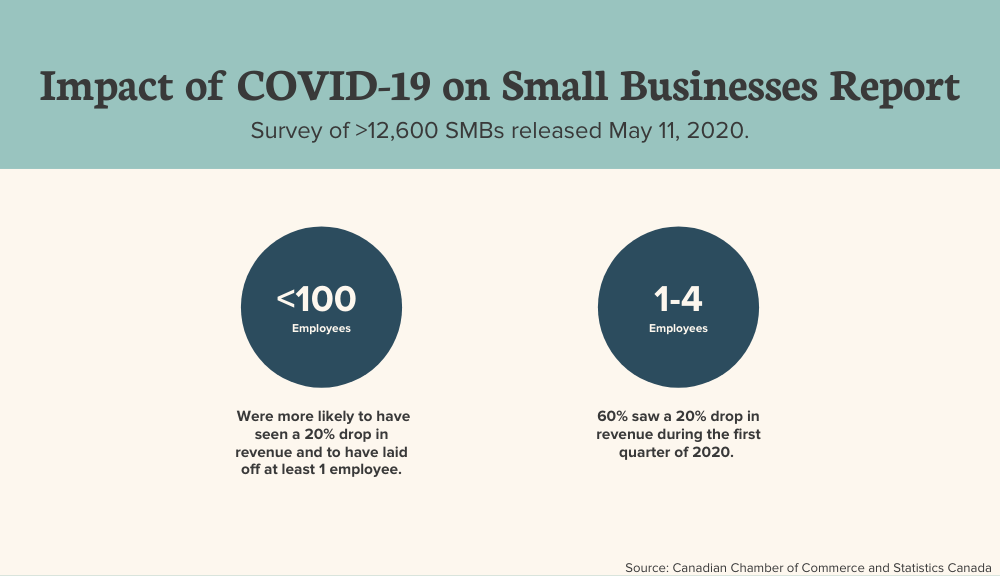 CIBC Canadian Small Business Operations Study
A May 2020 poll of 1,020 small business owners, conducted by the Canadian Imperial Bank of Commerce (CIBC), found:
81% said COVID-19 had negatively impacted their operations.
54% said sales had dropped.
20% worried about being able to pay employees.
Optimism was strong with 76% feeling confident that they would rebound.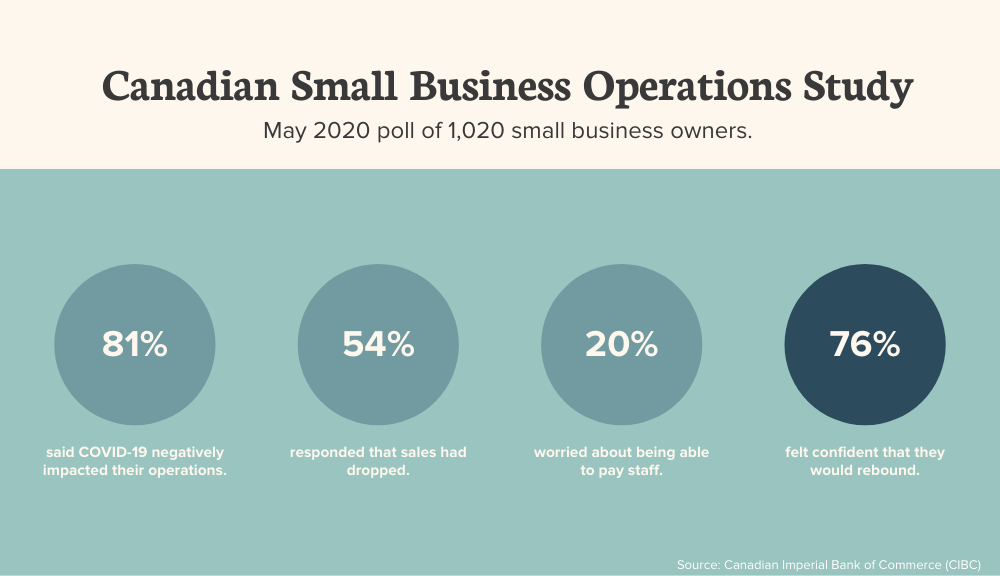 CFIB — State of Small Business Survey
Each week, from March 15 to June 29, the Canadian Federation of Independent Businesses (CFIB) surveyed its members to see how the pandemic was affecting them. According to the June 29 survey of 4066 small businesses from across the country:
58% were fully open.
33% were at or above their normal staffing level.
53% believed it would take more than six months to return to their previous profitability.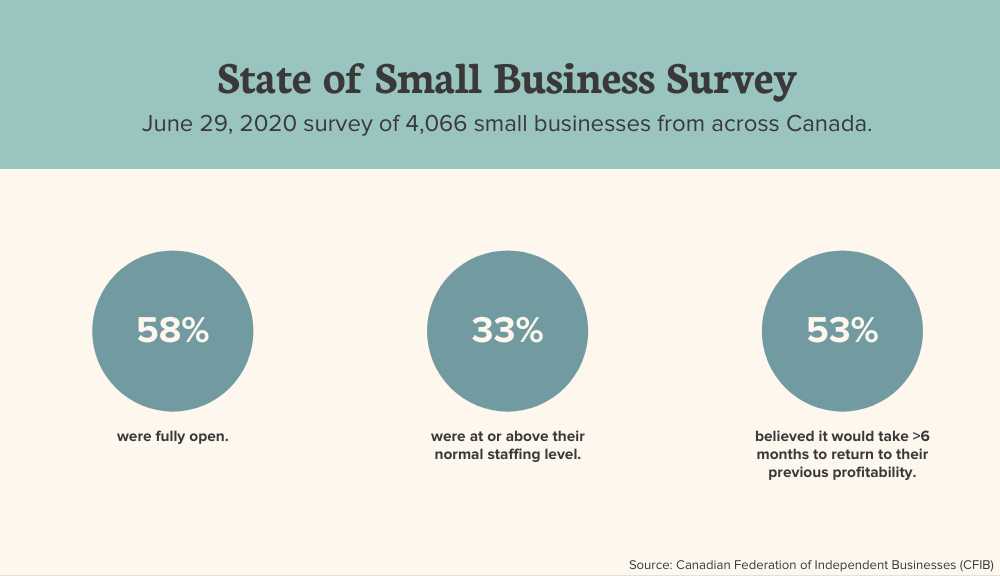 Change happens — we choose how we respond.
As an entrepreneur, you'd like to think you're prepared for anything. But, the truth is, we're all humans and the world is an imperfect place. All we can do is our best.
Thankfully, cloud-based, Software as a Service — which you'll often hear abbreviated as SaaS — has leveled the playing field for small businesses in terms of technology. Software, like Wagepoint, makes it easy for small businesses to automate time-consuming processes, such as payroll.
During normal times, this frees the business owner or manager to focus on other areas of the business. When the unexpected happens, it's a valuable tool that helps them respond quickly and effectively.
Contact us.
For more information on this study or to request a quote or further comments from Wagepoint, contact the Wagepoint Marketing Team. We honestly welcome your questions to help further the discussion of small business payroll and the forces that affect the small business community within Canada. If you're a Wagepoint customer who also wants to share their story, please also feel free to reach out.
Press release.
View the official press release announcing the findings of this survey.