Become an insider!
Get our latest payroll and small business articles sent straight to your inbox.
Anyone running a business knows that hiring and paying employees — which we lump together into the category of labor costs — are some of the largest kinds of business expenses. From scheduling and tracking hours to approving and importing those hours into payroll, even the process of managing timekeeping can be unwieldy.
Your ability to record and track labor costs directly impacts your bottom line. Trading in manual data entry on spreadsheets for automated timekeeping software cuts down on the time you spend managing labor costs. Automating these processes also helps prevent potentially costly data entry or compliance mistakes.
The facts about timekeeping and payroll.
Everyone likes a good statistic (especially our accounting friends). Here are a few useful stats that show the relationship between timekeeping and payroll.
80% of employee timesheets have to be corrected
That's a lot of time re-doing something that could've been correct the first time.
More than 1 in 3 time-tracking systems is outdated
We'd prefer to see paper spreadsheets go the way of the floppy disk.
Some of you are spending up to 10 hours a month processing payroll alone
Too many, in our opinion. There are better ways.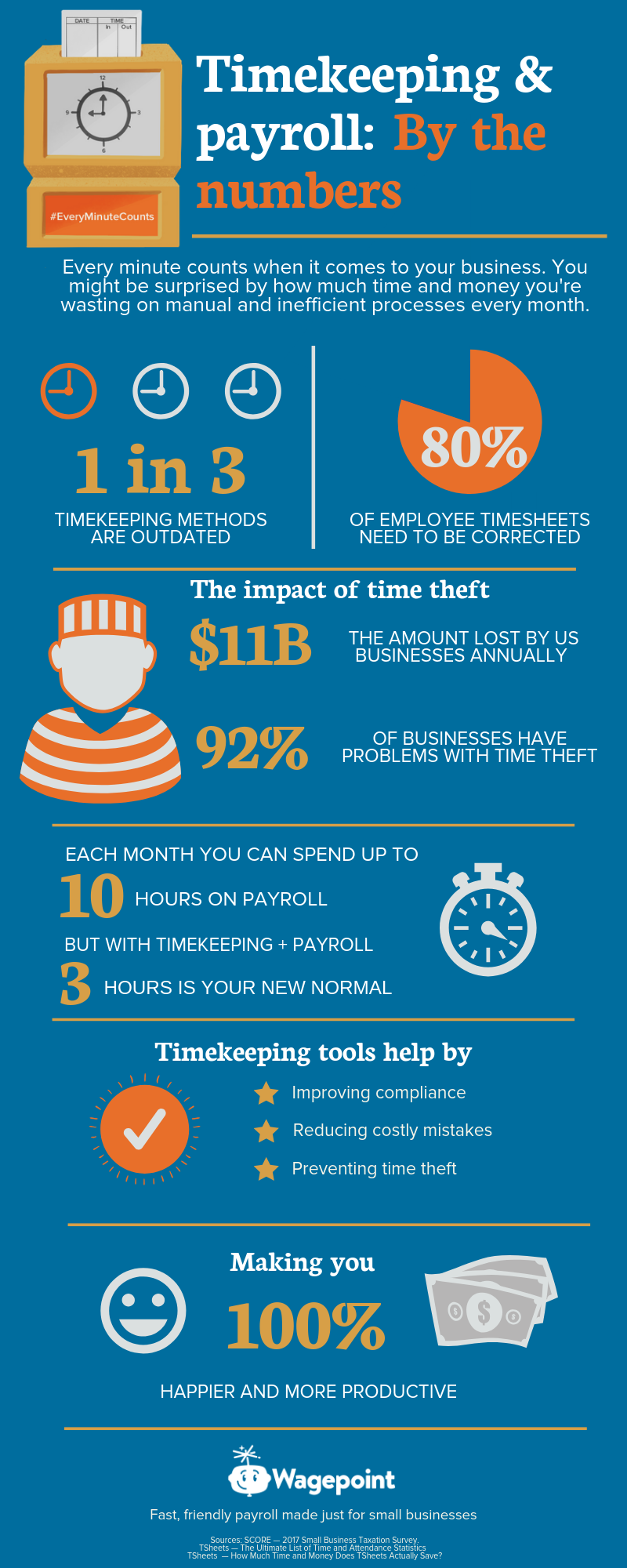 The percentage of labor costs that make up business expenses.
As we mentioned before, businesses spend a lot of money on their workforce.  Labor costs can be up to 60-70% of their expenses depending on the industry.
Plus outside of labor expenses, you can incur extra costs from lawsuits and penalties (even if you're breaking the rules unintentionally). In fact, 43% of US employers don't even know what the Fair Labor Standards Act (FLSA) is, even though it outlines labor laws and covers things like minimum wage and overtime violations. It's no wonder then why 83% of all money recovered by the US Department of Labor comes from overtime violations by employers.
Saving money any way you can to curb these labor costs seems only logical. That's where timekeeping software comes into play.

3 ways timekeeping software helps cut labor costs.
About 38% of US employers and 58% of Canadian employers are still using manual ways of tracking hours, like manual punch cards and spreadsheets. Eliminating these time-wasters lets you get back to focusing on bigger picture issues, like growth.
Along with making time tracking simpler and faster, most timekeeping software has features that further help you out — namely things like scheduling capabilities and integrations into payroll and accounting platforms.
You might see business apps as a fancy luxury not to be afforded by your small business, but you'll find that these three benefits more than makeup for the cost:
1. Compliance with labor standards
While timekeeping tools help you save time on your labor processes, like scheduling and recording hours, it can cut down on the chances of a lawsuit as well. Time tracking apps can help you adhere to labor standards by checking how many hours your employees are working, accounting for overtime and additional pay if necessary.
2. Reducing costly mistakes
Tracking labor costs is only half the battle. Having a system in place that is consistent and accurate also saves you time and money by reducing the likelihood of mistakes.
Most systems allow for easy changes to employee time cards and timesheets so hours are approved correctly by administrators, but are also accurate for payroll. Plus, when you know an employee is headed for overtime pay, you can easily anticipate the extra cost instead of scrambling to re-schedule your workforce.
3. Preventing time theft
Time theft is a widespread problem that can be especially detrimental to small businesses. With 49% of US employees and 62% of Canadian employees openly admitting to time theft, your business is likely a victim.
Employers can't afford to have tasks not be completed on the clock. Even something as small as punching in five minutes early can add up to a lot over the course of the year.
Timekeeping apps can help prevent time theft with several different features. Rounding punch times can disincentivise employees from coming in late or leaving early. Specific employee logins can prevent buddy punching — and with some apps, photos can be required at clock-in as well.
One of the coolest features of some timekeeping apps is the ability to limit where an employee can punch their card. This can be done by IP address gating (meaning employees can only clock in/out on specific devices) and by mobile tracking. The latter is especially useful for employees that travel to different locations for their work, like electricians or other home service technicians.
How timekeeping and payroll fit together.
We keep singing the praises of timekeeping, but how does it relate to payroll? Good question.
In short, employee hours are a necessary part of running payroll. Without knowing how many hours your employees work, it's pretty difficult to figure out how much to pay them! Having an accurate system for tracking those hours is crucial to a smooth payroll process.
Bonus points for a timekeeping system that integrates with payroll, because that cuts down the need for manual entry of hours into your payroll system each payroll run. Good thing we're covering a few of those systems during the rest of the webinar series — and they all connect with Wagepoint payroll with one click.
We'll address some industry-specific needs and present solutions during the next few webinars, listed below.

Learn more about timekeeping and payroll.
We've covered general timekeeping and how it works with payroll, and now we're going to dive deeper into specific solutions you can implement in your business. Sign up to access any and all of the following webinars left in the series.
Small Business Time Tracking — June 12 at 1 pm EST
Get to know Wagepoint's own timekeeping tool, Track. It's perfect for any small business looking to move away from manual spreadsheets. Learn how to track and approve employee hours and import them right into payroll with our live demo.
Multi-Function Time Tracking — June 26 at 1 pm EST
Need more bells and whistles? No problem. Get additional features with TSheets, who provides time tracking and targets businesses with traveling employees like contractors and home technicians. Another plus, TSheets integrates directly with Wagepoint payroll, too.
Restaurant Time Tracking — July 10 at 1 pm EST
The 7shifts "chef's special" includes simple scheduling, overtime notifications, and tracking by department. Our live demo shows you how it works, plus how to import hours into Wagepoint in one click.
Signing up for the webinar series gives you access to all the webinars, including downloads of their recordings so you can watch or recap individual topics on your own time.

The advice we share on our blog is intended to be informational. It does not replace the expertise of accredited business professionals.