Become an insider!
Get our latest payroll and small business articles sent straight to your inbox.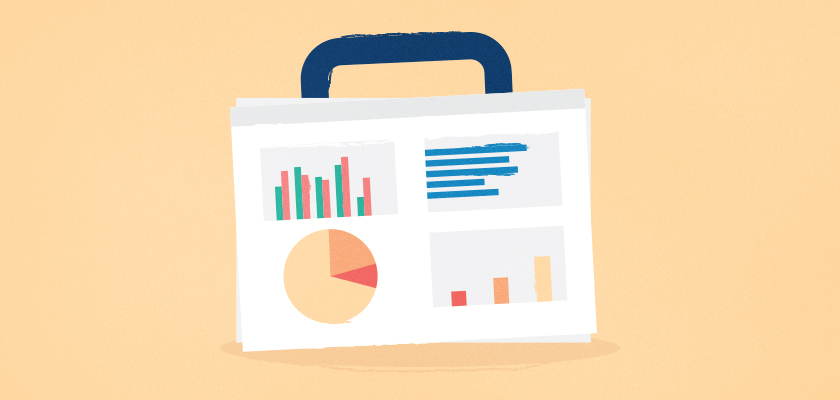 For many small business owners, bookkeeping is considered a necessary evil that is often ignored until the end of the fiscal year. Luckily, there are a few simple steps you can take to simplify your day-to-day bookkeeping processes — giving you more time to focus on growing your business.
1. Open Dedicated Bank and Credit Card Accounts for Your Business
One of the easiest ways to simplify your bookkeeping process is to open a checking and credit card account specifically for your business. This is beneficial, as it ensures all transactions within the account are business oriented — meaning you no longer need to review each transaction on the bank statement to differentiate between personal and business expenses.
It is also considered a fundamental best practice. Co-mingling doesn't just sound bad, it makes for an administrative nightmare that you can easily avoid.
Research the different options available before opening an account. Many banks offer unique fee structures and packages based on your transaction volume, monthly revenue, and more. Once you have made a decision, meet with an advisor to determine what documents are needed in order to open your account.

2. Track Your Expenses
The foundation of a strong bookkeeping system stems from the ability to accurately track your business expenses. By developing a strong chart of accounts and allocating information correctly, you are able to build financial statements, keep track of deductible expenses (tax deductions), and have a real-time view of your finances. This also helps to reduce the year-end tax return fee as there will be less time needed for the accountant to prepare and finalize the return.
There are many tools available that will help you track expenses more efficiently. As a first step, look into Xero or QuickBooks Online (QBO), which are cloud-based accounting tools that help with the entirety of the bookkeeping process, like syncing with your business checking and credit card accounts. You can further automate your back office functions by connecting Xero or QBO with third-party apps.
3. Simplify Your Payroll
Another area where you can streamline your small business bookkeeping is by automating your payroll.
Tools, like Wagepoint, let business owners easily pay employees and contractors — while following the required payroll regulations in Canada or the United States. Wagepoint even integrates with Xero and QBO to ensure all of your financial information can be found at the tip of your fingers.
If you use timesheets, your connect your payroll and your time tracking through integrated apps, like Deputy and TSheets.

4. Get Paid, Faster
As your business starts to generate sales, you will need an efficient way to accept payments from your clients. Selecting a payment processing application can be difficult as there are many alternatives available.
As a first step, we recommend that you develop an understanding of your clients, and how they would ideally pay for your product or service. Based on your findings, you can choose an application that simplifies this process.
As a starting point, Plooto is a payment processing application that lets clients submit payment online using their bank account, credit card, or debit card.
For businesses that are interacting with clients face-to-face, Dream Payments lets you charge clients using a debit and credit card reader and sends transaction information directly to QBO.
5. Review, Repeat, Review, Repeat…
Developing a bookkeeping process for the first time can be challenging — especially when you may not know the specific needs of your business. The good news is that your processes can be continuously updated and altered to reflect the status of your business.
As your operations grow, it is important to continually reassess your processes — and more importantly, review and analyze the reports that you have worked so hard to maintain.
There will also be a time when you need a helping hand. Whether it's day-to-day bookkeeping tasks or help with generating and analyzing monthly reports, there are a number of outsourced bookkeeping service providers available to help.
In fact,  Xero and QBO even have referral sites. You can even just call a local bookkeeping firm. For instance, if you're in Vancouver, you could contact Enkel. You can tell a lot about the service you'd be likely to receive, just by how welcome you feel when you call to connect. And, if for any reason their firm isn't a fit, they'd be able to refer you to a firm that was.
6. Continually Improve Your Own Financial Literacy
An understanding of your business finances is one of the most empowering tools for a business owner. Not only does it provide an insight into what has worked in the past, it also generates a picture of what the future holds and allows for you to make fact-based decisions that can grow your business.
Balance sheets, cash flow, business costs and margins, and tax liabilities are some of the financial concepts that should be reviewed and understood.
As mentioned, there are many resources available for business owners that would like to improve their financial literacy. As a starting point, a knowledgeable bookkeeper or accountant can be a great companion when it comes to understanding your books, and any questions that you may have. While this process may seem daunting at first, consider this as one of the most important investments that you will ever make for your business.
We'd like to thank Vancouver-based Enkel Backoffice Solutions for their expert insights provided in this post. If you have any questions or comments, please share them below. 

The advice we share on our blog is intended to be informational. It does not replace the expertise of accredited business professionals.