Become an insider!
Get our latest payroll and small business articles sent straight to your inbox.
In the business world, time is a valuable resource – and a scarce one at that.
Are you spending it wisely? Are you completing tasks day in and day out that eat up time, which could be better spent planning and using your vision to further the company's goals?
Businesses of all sizes – with a few employees or a few thousand – can benefit from automating certain activities. Just as the CEO doesn't do tasks an intern could, you shouldn't waste valuable time on activities a computer can accomplish in a fraction of the time.
After all, being a great leader is all about proper delegation of tasks, and there's nothing wrong with delegating some of them to a computer.
Automation is easier than ever in today's business world and it's not only for technology mavens and Fortune 500 companies.

Make the changes that can save your business time and money by automating the key areas outlined below, both for the sake of the bottom line – and your sanity.
If you find a tool you're interested in using, take advantage of some awesome discounts – like extended free trials and discounted monthly subscription rates – offered for a bunch of the tools below, exclusively for readers of the Wagepoint blog.
Aspects of your small business to automate.
There are many places where your small business or startup could benefit from automation. Some are obvious, but some are less so.
Here are the basic areas where you can implement automation, according to Practical Ecommerce contributor Armando Roggio:
Easy workflow: Begin with the easiest tasks first, like ensuring that the marketing team has automatic replies ready to send to subscribers or offers to sent out to consumers.
Repetitive tasks: Repetitive tasks are the easiest functions to automate. They require little effort and a human employee adds no value to the process over a machine (i.e. there is no "personal touch" involved). "Tasks like email marketing, report creation, certain accounting functions, auditing, and similar responsibilities are typically repetitive tasks that you can use software or other technologies to automate," says Roggio.
Specific tasks: Instead of using sweeping strokes such as automating feedback on all employee activity, choose specific tasks, like automating how often employees access certain functions like training videos.
Time and money wasters: You should see a savings of either time or money in your automation. Choose measurable tasks that either take up a lot of your time or cost you money. (An employee replying to emails who is paid by the hour is an example of both.)
Daily tasks: Automating daily tasks means two things: 1) Having a system in place which takes care of day-to-day things like managing employees clocking in; 2) Batching activities that you might do too often, like checking mail, into a once-a-day function to save time.
Tasks that won't scale: If your business is growing rapidly, you might have to automate some processes. Roggio gives the example of checking competitor prices: a small business employee may only spend a few hours doing this for a few products. But, if the business grows and begins selling more and more products, an employee checking competitor prices for a few hundred items is a waste of time and a task that automation could handle instantly.
7 small business activities you should automate.
Now that you know the types of processes you can automate, you'll need to find the exact areas of your business where automation can be applied. Here are seven areas that all small businesses could benefit from automating.
1. Social media
Social media can be a huge time suck for a small business, where even figuring out your target demographic can be a challenge. That's why so many large businesses and corporations have entire teams dedicated to managing their social media presence.
Creating posts that look professional, while maintaining some degree of engagement with your followers can be very time-consuming. Automating your social media is a great way to leap that hurdle. Here are some common automation goals – and the best tools you can use to achieve them.
The Goal: Complete automation
If spending as little time as possible on social media solutions for your business is your top goal, then you're not alone. Luckily, there are tools out there that can post to your social accounts on your behalf every single day.
The Tool: $99 Social | Discount: 14-Day Free Trial for Wagepoint readers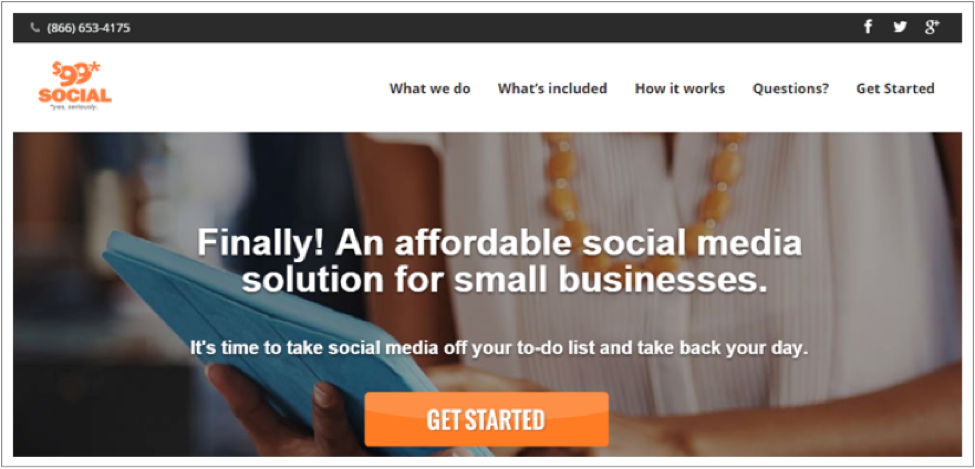 $99 Social is a great all-around tool that maintains social media accounts for small businesses. Simply plug in your business info, and let the 99DS team do the work. They will hand-curate relevant content to your social sites, helping you build consistency, credibility, and relevance – and all without a minute of your valuable time spent.
The Goal: Automatic publishing and scheduling
Automatically scheduling and publishing your social posts – at the times when they'll be most effective – can be a real challenge. Lucky for you, that's completely achievable with a tool like Buffer.
The Tool: Buffer | Free to $399 Per Month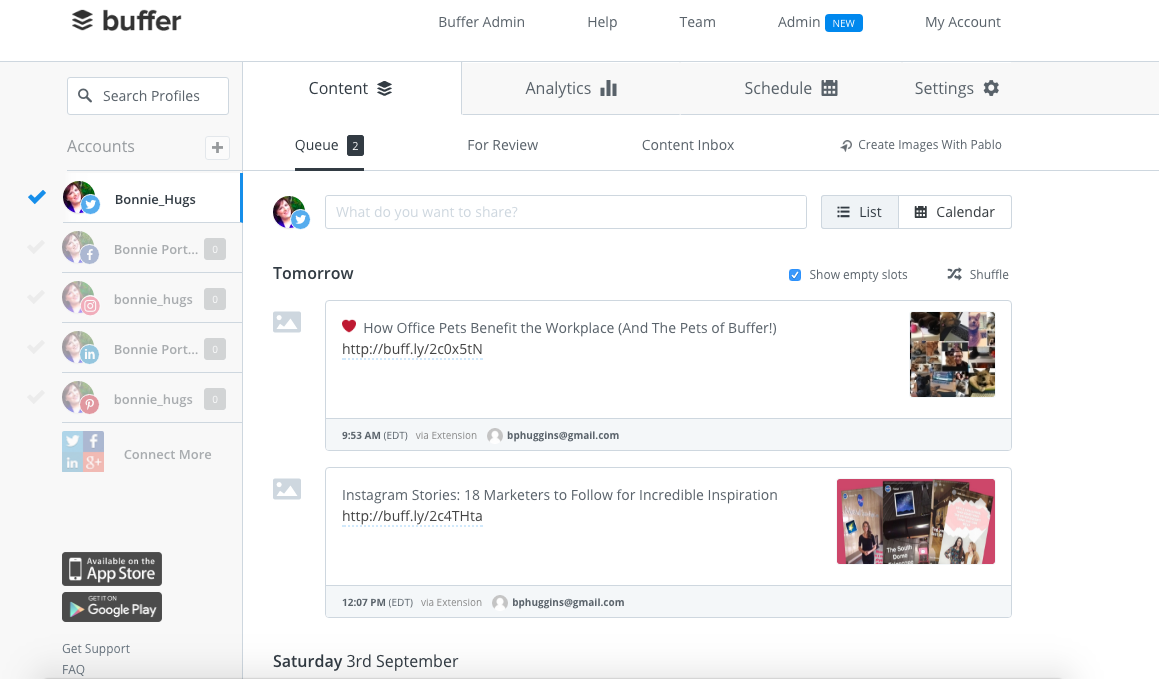 Buffer shares your content throughout the day to engage the maximum number of followers without you having to manually update your status each time. It allows you to focus on other tasks, while all of your social accounts are continuously updated with content you can create at any time it's convenient.
The Goal: Content curation
One of the most time-intensive parts of maintaining a social presence is finding relevant content to post. If this is what you need, consider using a tool that can help you find content based on criteria that you set.
The Tool: Quuu| Free to $10 Per Month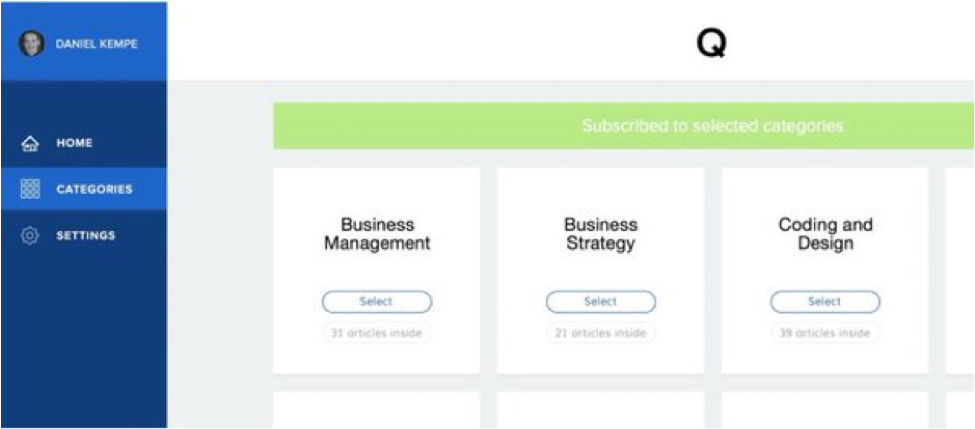 Quuu is a tool that makes finding relevant content effortless. It hand-curates content suggestions for social media and automatically sends them over to Buffer where they get scheduled to be posted throughout the day.
The Goal: Targeted audience building
While all of the tools above can be used with a variety of social accounts, Twitter can be a real challenge to automate. However, it's also one of the most lucrative sites for social marketing. To help make your Twitter account more effective, use a tool that can work specifically with the site to grow your presence.
The Tool: Narrow.io |  $19 to $99 Per Month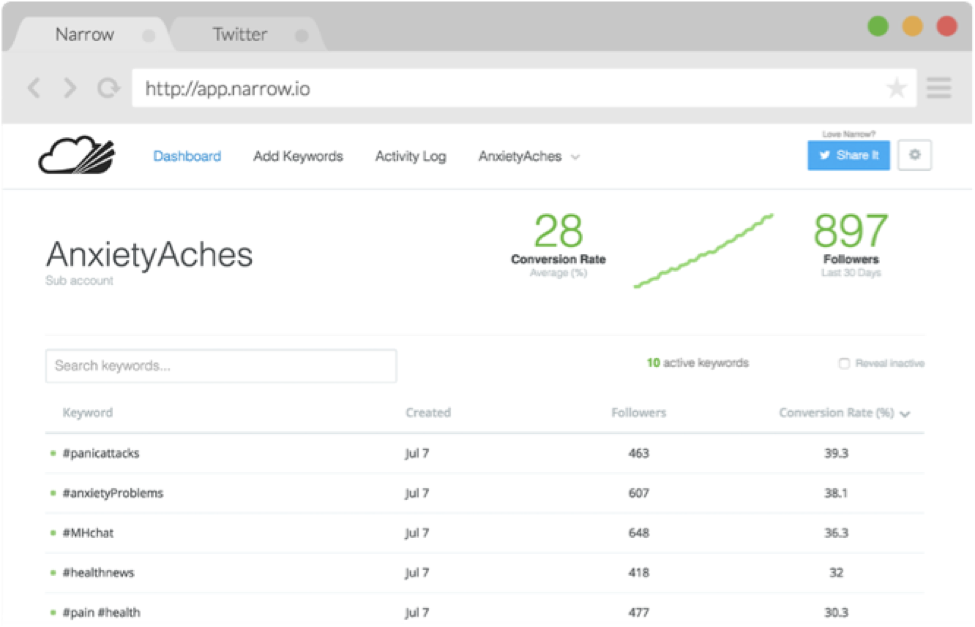 Narrow.io allows you to grow a targeted Twitter following by recommending an audience based on the keywords and hashtags you include in your posts. Though Twitter has almost eliminated the ability to automate an account, Narrow.io still lets you automatically target posts to the audience they'll be best received by.
The Goal: Automated digital advertising
If you're looking for a tool that will serve as a de facto social media ad agency, completely automating almost every aspect of your paid social media marketing efforts, then you'll need a tool that handles every function from ad creation to targeting to analytics. Fortunately, such a tool exists.
The Tool: Needls. |Discount: Lifetime $25 Per Month Savings. Code: wagepoint25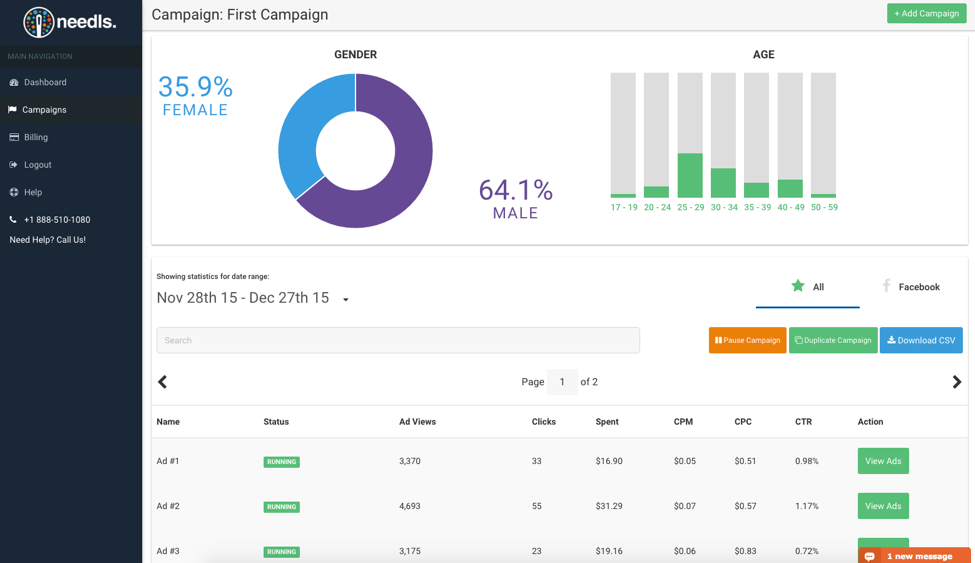 Needls. is the Internet's first RoboAgency, an automated advertising platform that creates, targets, and optimizes ads on Facebook, Twitter, and Instagram. It is the easiest and most effective way to advertise online. Features include automated ad creation, key audience creation, targeting using a purchase intent engine, 24/7 optimization and retargeting, landing page creation, simple reporting, and analytics. It even has a feature that interacts with social media to find trending content that's helpful for your business.
Depending on your needs, all of these tools mentioned above are great solutions for automating all or part of your business's social accounts. If you're looking for a way to save valuable time – and money – social media should be one of the first things you automate.
2. Digital marketing
Digital marketing includes a lot more than just social media. But with so many of the functions involved with digital marketing, such as creating and posting ads, being so repetitive, they are prime candidates for automation. Even content marketing – an inherently un-automatable activity – has some repetitive, time-consuming tasks that you can automate to save time and money.
The Goal: Blog automation
If you prefer to automate your digital marketing functions while maintaining a slightly more hands-on approach, consider blog automation software to help you with this very important – but very time-intensive – task.
The Tool: Spokal | Discount: 30-Day free trial. Code: Wagepoint30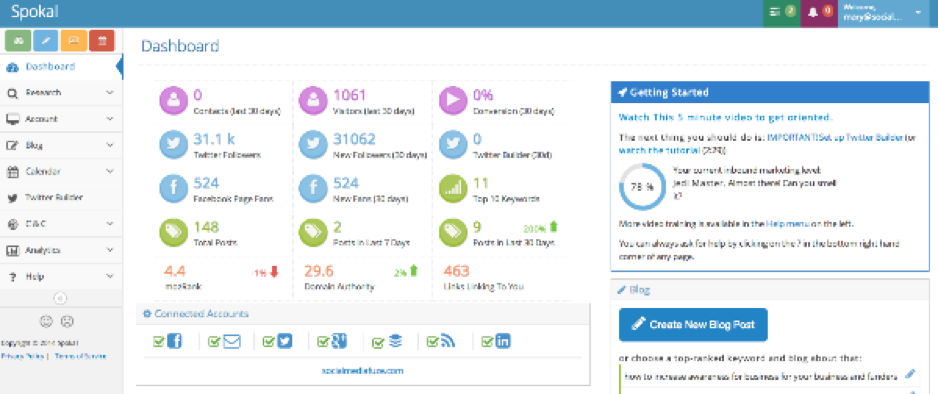 One great option for blog automation is Spokal. It promises to make you into a better blogger and content marketer while driving more sales for you and your clients. This tool is particularly helpful if your website is powered by WordPress. With Spokal, you can automate social media, rotate and republish old blog posts, easily edit your content, and get SEO advice as you type your posts.
The Goal: Finding viral content
Getting eyes on your content is the very heart of content marketing – and the best way to do that by far is to publish the type of content that people are engaging with and sharing on social media. Finding viral content can be a guessing game, but, fortunately, there is a tool that gives you a constant stream of trending topics.
The Tool: Buzzsumo | Cost: $99 to $999 Per Month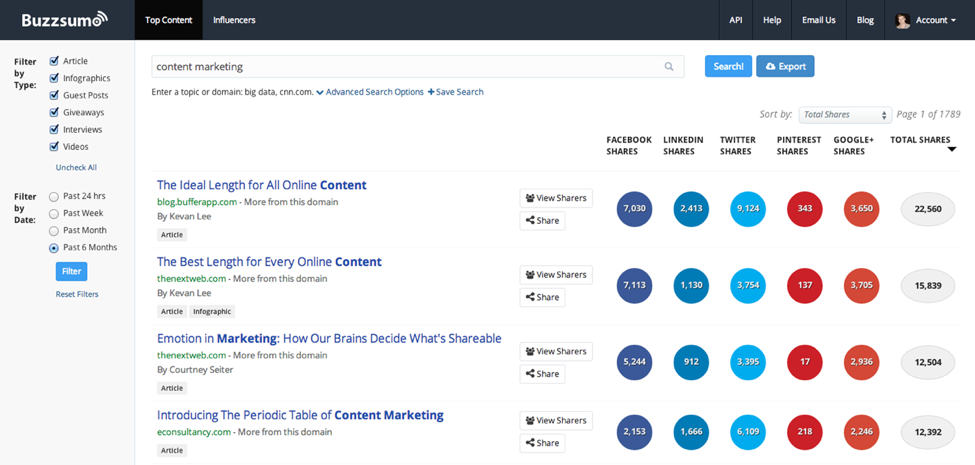 Buzzsumo "Gives you insight into what content is working, and the influencers amplifying it." Its automation software lets you know what messages are working and which ones are falling by the wayside, saving you countless time in research.
The Goal: Finding content relevant to your audience
Chances are, your business has a niche. Finding a constant supply of content that's relevant to that niche (and therefore relevant to your audience) can be time-consuming, to say the least. To help with this task, consider our next tool.
The Tool: drumup.io | Discount: 20% Off Monthly Plan: email support@drumup.io with the code "WGPTDU"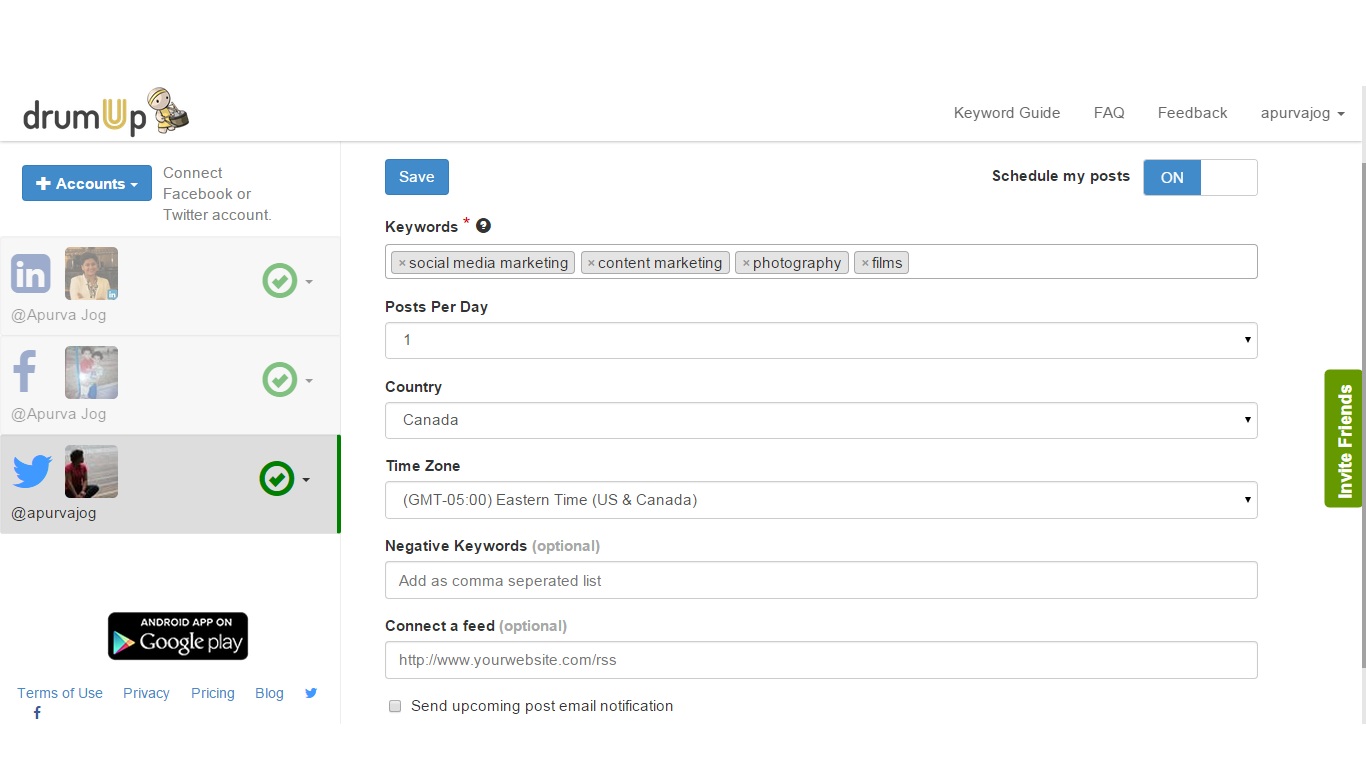 DrumUp mines through tons of content online, and then uses algorithms to recommend fresh stories most relevant to your audience. The tool claims to cut social media management time by 90%, and can be a great way to find fresh new content for your business.
By using tools like DrumUp to automate your content marketing functions, you can drastically cut down on the time necessary to perform what has traditionally been a very time-consuming task, allowing you to create big content with a small team.
The Goal: Email marketing automation
As a small business, you've probably encountered the challenges of email marketing automation: keeping track of relevant details about customers in your database, creating targeted content to meet their individual needs, and finding automation software that's built to fit your needs – not a big corporation's.
The Tool: Infusionsoft | Cost: $1,378+ Per Month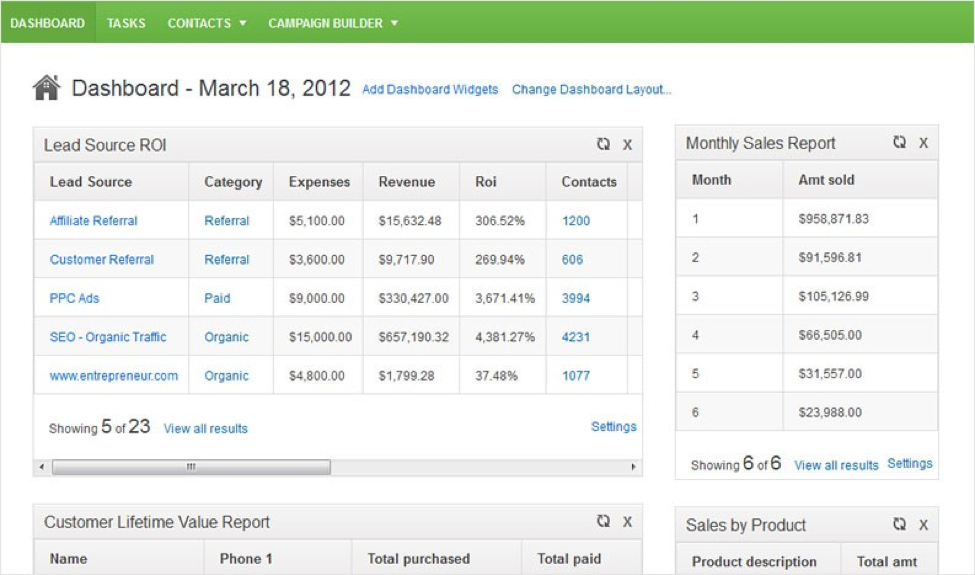 Infusionsoft is email automation software that's specifically designed for small businesses. Infusionsoft's custom, behavior-based CRM lets you segment contacts into lists far beyond typical demographics. This software helps you send personalized, relevant, and on-target messages from behind the scenes – all automated to make your life easier. It also offers consulting and training services and full marketing and sales automation.
Digital marketing is an essential task, and automating it allows you to do an even better job with reaching out and gaining new customers – a powerful advantage for any company.
3. Sales
When it comes to work that can be automated, sales isn't necessarily the first area to come to mind. Sales definitely requires a certain level of human interaction, but there are still a lot of repetitive tasks that can be made much simpler and less time consuming with the right tools.
The Goal: Automated sales department
If you'd like to take many of the tasks typically reserved for an entire sales department and fully automate them, you're in luck. There are tools available that can help you achieve this, like Salesforce.
The Tool: Salesforce.com | Cost: $25 to $300 Per Month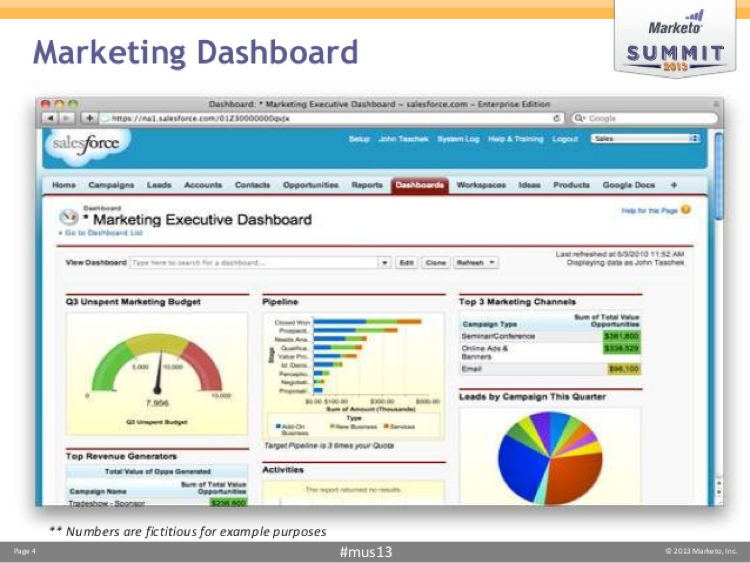 Automating your sales department as much as possible will save you a ton of time and money. Salesforce has a variety of functions that will help you do this, including the ability to track potential and current customers, connect to your Gmail or Exchange account, keep everything current with your selling, and generate automatic quotes, estimates, and contracts.
The Goal: Automated signups, registration and billing
Automating signups and registrations allows you to generate new business even when you're not available. Automating payment collection allows you to run your business without worrying about making sure everyone (including you) gets paid on time. For these tasks, consider our next tool.
The Tool: PaySimple

PaySimple allows you to generate signups, registrations, donations and even appointments with its collection of service commerce features, including recurring billing, customizable payment forms, and online scheduling.  These features are provided with a payment collection platform (with credit card or echeck processing), including automated receipts and follow-ups, giving you a constant revenue stream and fewer headaches.
By automating as many aspects of your sales strategy as possible, not only can you make it less time-and-money draining, you can also make it far more effective, leading to more sales for your company.
4. Internal Communication
Interdepartmental communication is critical for an effective business, but it can also be cumbersome and frustrating without the right organization in place. Luckily, there are plenty of fantastic ways to automate all of your internal communications, putting them all into one spot and greatly streamlining the process.
The Goal: Streamlined communication
The most difficult part of interdepartmental communication is that everyone in the department must be contacted at separate phone numbers and/or email addresses. With automation, you can streamline contact info so that everyone in the department is just a few clicks away.
The Tool: Slack | Cost: Free to $15 Per Month 

Slack puts your entire business' communication onto one dashboard. It is an online social messaging platform for groups, where collaborators can create a team, then have group or private discussions, share materials, or just chat. Everything is in one place, saving you time and money.
The Goal: Automated project management
If your business juggles a lot of projects, keeping everyone involved on the same page can be a challenge. In order to drastically reduce the possibility of costly errors and save you valuable time, consider automating your project management.
The Tool: Asana | Cost: Free For Up To 15 Team Members ($8.33 per team member per month for every team member after that)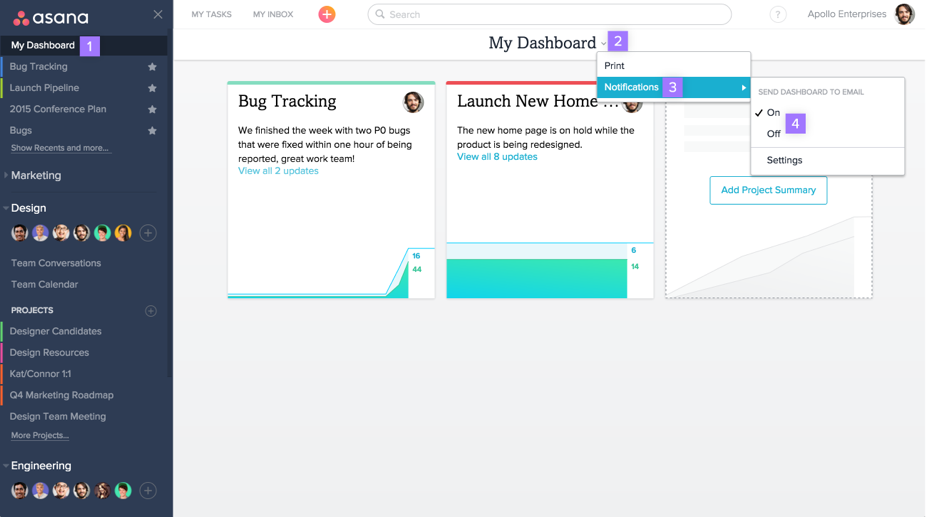 Asana lets you create tasks and assign them to various members of your team. Within these tasks, files can be uploaded, comments directed at various team members, and progress updates given. It's the ultimate communication tool for business that can handle a large number of tasks and projects.
With options like these, there's really no excuse not to update how your department communicates. Automating your communication not only saves time, it will also drastically cut down on miscommunications and mistakes.

5. Customer Service
Automating customer support is essential for a growing business (one of the "tasks that won't scale" mentioned earlier). Rather than creating an entire job that revolves around customer support, automate what you can to save time, hassle, and money.
The Goal: Automated help desk and ticket resolution
Just keeping track of all of the issues that need to be addressed can sometimes be painstaking. For automating this task, check out our next tool.
The Tool: Groove | Discount: Free 60-Day Trial (2X as long as their regular trial)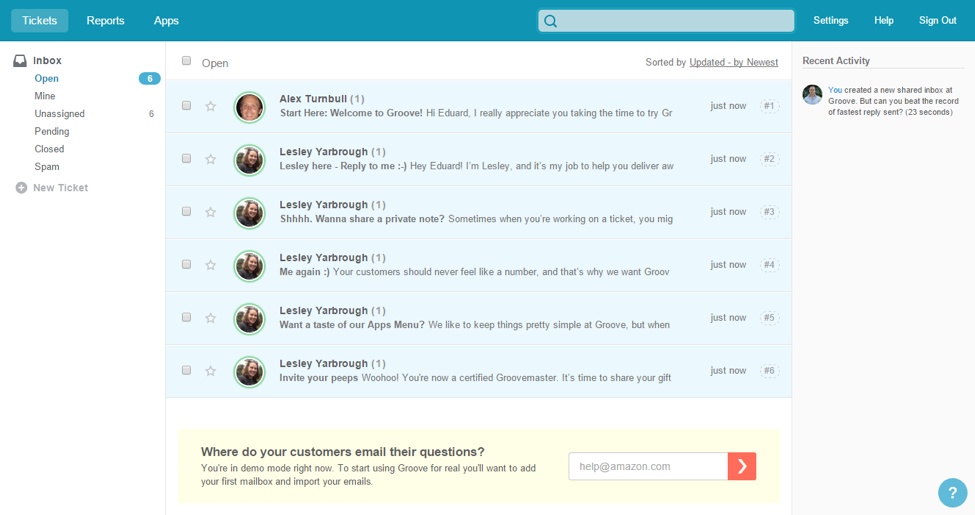 Groove is a simple help desk that makes it easy to deliver awesome, personal support to every customer. It looks and feels just like regular email to your customers, but it comes with collaboration tools that let you assign support requests, add private notes to tickets and always see who's responding to what. Plus, Groove has automation features to make you more productive, and customer support metrics to help you track, set goals and improve service levels.
6. Human Resources
One of the hidden time-sucks for small business owners is human resources – paying bills, managing expenses, invoicing clients, scheduling employees… It's absolutely vital to your business, but it also pulls you away from other vital tasks. Gone are the days of excel spreadsheets, manila folders, and overstuffed office cabinets. There are some great automation options out there.
The Goal: Streamlined scheduling
Keeping up with the schedules of all your employees can be a nightmare. Not only do you have to keep from making errors on your end, you have to make sure they are informed and make no errors on theirs. Fortunately, automation can take much of the hassle out of scheduling and allow you to greatly streamline the process.
The Tool: When I Work | Discount: Free 30-Day Trial + 2nd Month Free When You Activate (No code required — contact your scheduling coach after you activate)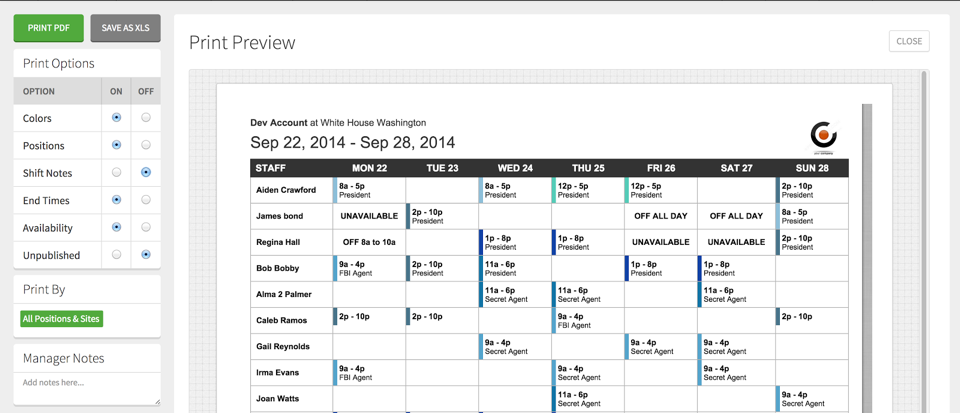 When I Work allows scheduling managers to place their employees where they need to go in the schedule, and review and approve employee requests in real-time. It also lets employees view their schedules, trade shifts, and request time off – all from the convenience of their smartphones.
The Goal: Document Signing
Sometimes there's nothing that can hold up a workflow or a transaction like waiting around for document signatures and approvals. That's why electronic signature services can be such an incredible asset to your business.
The Tool: DocuSign | Discount: 10% Off Any Annual Plan. Code: WAGEPOINT10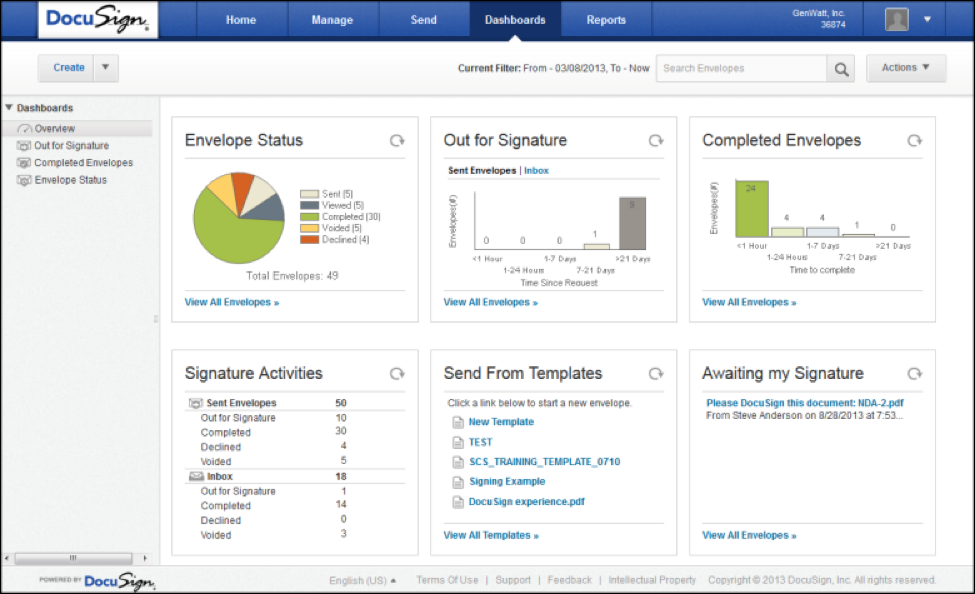 You don't have to be a businessperson to love the efficiency of DocuSign. Anyone can use it, including individuals. DocuSign automates workflows and allows you to access, sign, and send documents simply and securely anywhere, anytime, on any device.
The Goal: Simplifying payroll
If you've been gritting it through doing payroll manually, you know how much time goes into filling and reporting the corresponding employer and employee taxes. It also doesn't help that you have to do this on a federal, state and local level — above and beyond the basics of calculating how much and when to pay everyone.
Using a payroll software designed specifically for small businesses can help take this world off your shoulders. It will also help ensure that your employees' checks are correct and that your business is in good standing with the tax authorities.
The Tool: Wagepoint |Discount: Free to Sign Up – You Don't Pay Until You Run Payroll!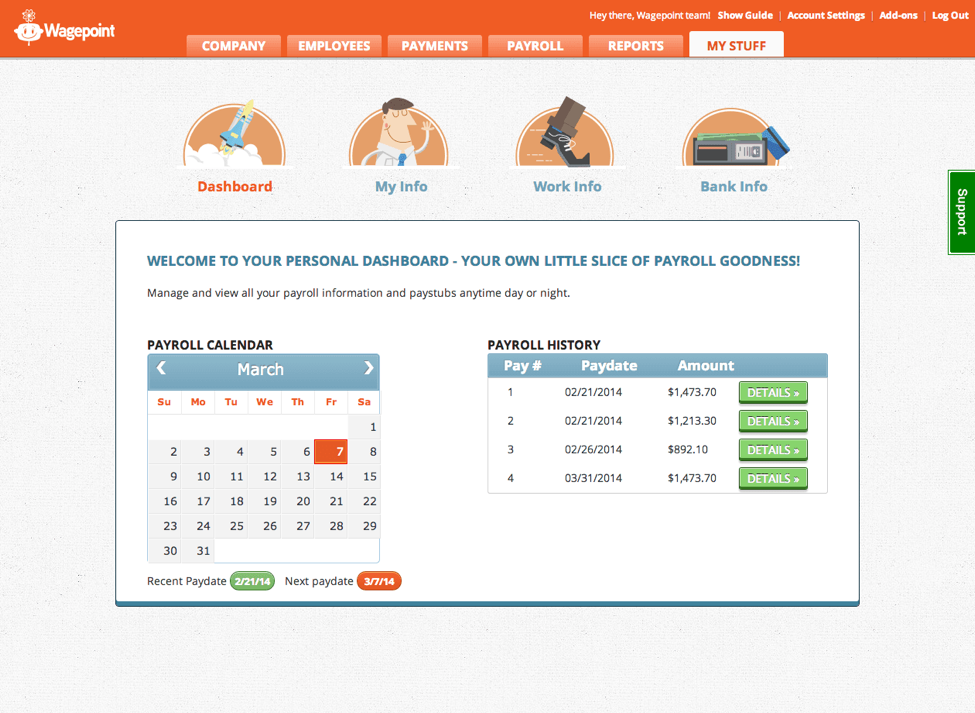 Wagepoint takes the drama out of payroll with features that let you pay employees hourly or salary, process employees and contractors, issue direct deposits and comply with federal, state and local tax requirements. It'll even tell employees when their paychecks are ready and provide them with a portal where they can review their information.
7. General automation
Sometimes you need a tool that can perform a number of generalized tasks that may not necessarily fall under any one category. Depending on your goals, we recommend filling your general automation needs with one of these great tools.
The Goal: Manage all your tools
Sometimes you just want to see all of your data in one place, at one time. Logging in and out of six different programs to check your metrics is a recipe for wasted time and money.
The Tool: Cyfe | Lifetime 20%  Savings on Cyfe Premium | Code: WAGEPOINT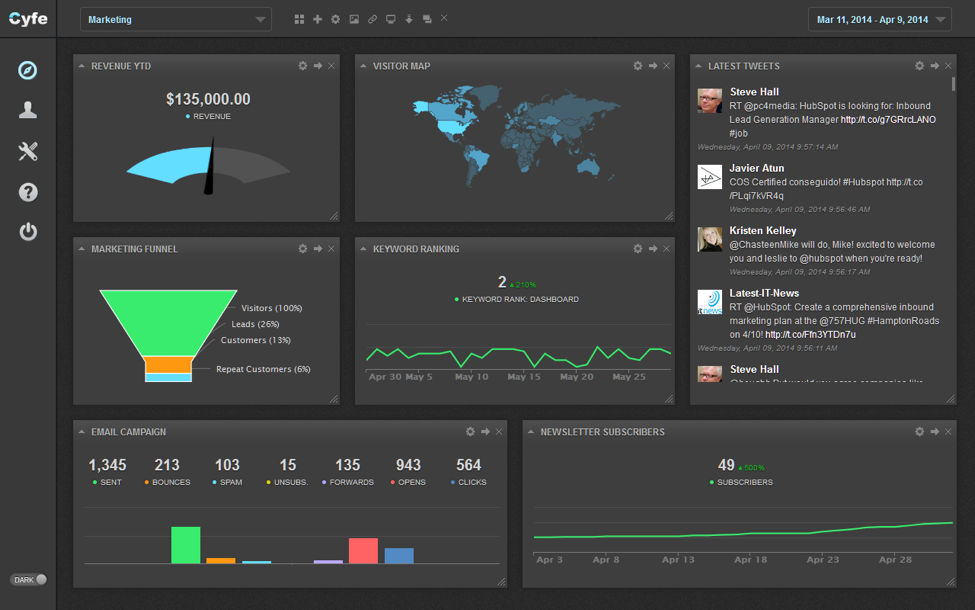 Cyfe will help you manage all your business tools and data under one easy-to-read dashboard. You'll get real-time data on key performance indicators, your business' Facebook demographics, number of Twitter followers, and much more. Another great perk of Cyfe is that project management for your business is carefully organized for easy viewing, along with sales and finance.
The Goal: Connecting your apps and tools
One of the best ways you can save yourself time is by automating your workflows – and the key to that is connecting your apps and tools to work in conjunction with each other. Do-it-yourself automation can cut back on redundancy and busywork, freeing you up for more important tasks.
The Tool: Zapier | Cost: Free to $20 Per Month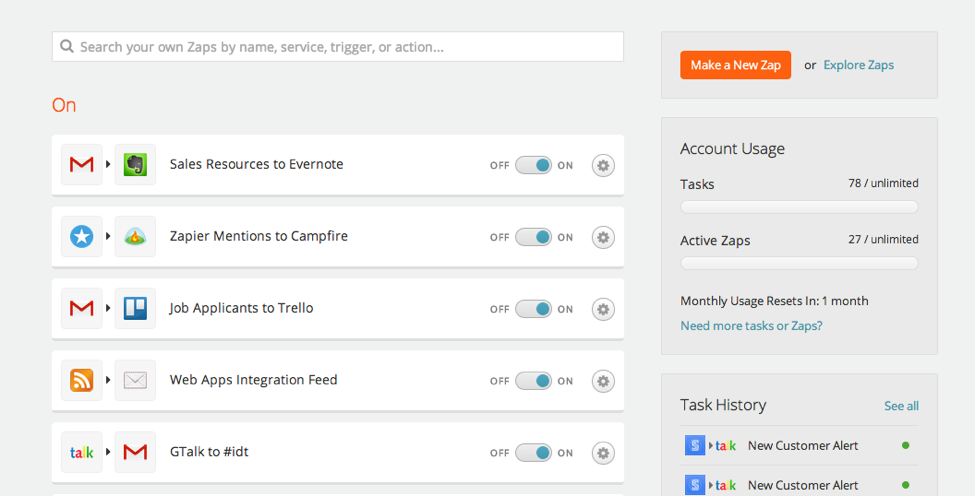 Zapier connects all your apps and streamlines web app data so that you can operate your business more efficiently. Zapier takes care of all of the mundane and time-stealing tasks so that your time and energy can be put toward more important efforts. For example, set up a workflow so that when you receive an email, the attachment will automatically save to Dropbox – and then send an alert in Slack about the new Dropbox file. It's "Easy automation for busy people."
Are we missing any tools? What tasks does your business automate and how do you automate them? Let us know in the comments below.