Become an insider!
Get our latest payroll and small business articles sent straight to your inbox.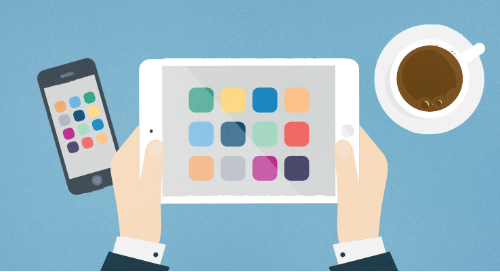 Businesses today come in all shapes and sizes…
Some are brick-and-mortar organizations, with everyone working in-house. Others employ remote workers from all over the world.
But regardless of how your business operates, it's imperative that you communicate clearly… manage workers, projects, and routine tasks effectively… and keep everything organized and running smoothly.
For that, you need a stack of tools that help you overcome these common challenges of growing your business. Here are 8 apps we recommend.
Wagepoint is an online payroll software that automates and simplifies payroll. With this app, it's easy to pay your workers accurately and on time because it takes a lot of the grunt work out of the equation.
Wagepoint not only helps you take care of everything that has to do with a paycheck, but it also makes it easier for you to generate your annual tax, file your documents and make your reports.
So your attention and worries can be directed at making your business grow instead of on payroll processing or tax filing.
Slack is one of the best team messaging apps on the market. Chatting, collaborating on projects, and sharing important documents is easy and convenient.
You can create channels for anything you want, be it conversations or files. Create a "watercooler" channel for everyone to hang out and relax. Create one for each major project or each team in your company.
With Slack, you can keep files and communications in one place. Keeping track of them or searching for them is extremely easy since they're always available whenever you need them.
For project management, Trello is your go-to choice.
The card-based design of Trello makes it easy to learn and use. Each card contains a list of tasks that can be arranged to suit your priorities.
You can manage the whole of a project by simply creating boards that track who's handling what task, as well as its status and deadline.
Surprisingly, you can use the basics of this indispensable tool for free.

4. Asana
Asana is another task management platform that lets you handle complicated projects or simple everyday tasks such as creating a user account for each of your employees, assigning tasks, tags and due dates to them, categorizing tasks or commenting on them.
It also allows you to fully oversee everyone's tasks without having to contact any of them for updates — which means tracking tasks couldn't be easier.
While larger teams can access the app at a minimal cost, it is free for a specific number of users. To start using Asana, either download the mobile app or connect to the web application.
Asana's user interface is very simple, and you can use it to run your entire business effectively.
The importance of video chat and meetings with employees and remote workers cannot be overemphasized.
Communicating through a video app lets you see the reactions and facial expressions of employees and team members — things you might miss if your conversations are limited to email.
This being the case, Zoom is an app you'll be glad you've got.
On Zoom, you can hold a live conversation with up to 500 people at the same time, and you can also make a free video call for as long as 40 minutes with up to 50 people.
While you're on call, you can also message other people in the meeting, making it easy to share links and URLs, asides, and extra information. Best of all, you can schedule calls ahead of time, share your screen, and record full-length video calls, making it a useful tool for every occasion.
Truly valuable apps automate your tasks, so you don't have to think about them. And that's just what Everlance does.
This mileage tracking app is effortless to use. Its intelligent drive technology detects your trips automatically, so all you have to do it classify your trip and generate reports when you need them.
And since most trips involve expenses, Everlance also lets you track expenses, so you can toss that shoebox full of receipts.
Today, no business can survive without a social media presence. For that, you need HootSuite.
It lets you manage all your social media platforms in one place, so you can monitor mention of your brand, engage easily with customers, and curate fun and useful posts to your heart's content.
With Hootsuite, you can start free and upgrade whenever you're ready. Best of all, it works with all the major social media platforms, so you really can manage it all in one place.
ProofHub is another easy-to-use, feature-rich project management software.
From custom workflows and kanban boards to dedicated spaces for real-time discussions and built-in chat applications, it brings all the features a growing business needs for project planning, collaboration, communication and seamless delivery of their projects.
ProofHub offers simple, no per user pricing making it a highly cost-effective solution for growing small businesses.
Bottom Line
It doesn't matter how you operate your business — whether your team meets face-to-face every day or clocks in from different parts of the world. These 8 tools will no doubt, make it easier to manage and grow your business.

The advice we share on our blog is intended to be informational. It does not replace the expertise of accredited business professionals.