Become an insider!
Get our latest payroll and small business articles sent straight to your inbox.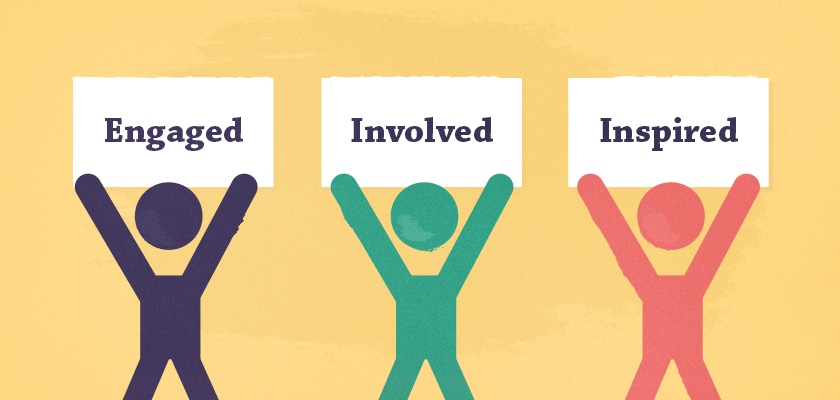 Creating a culture of learning is stressed as important at the start of childhood development, but continued education is also vital to professionals — especially on a personal level.
A culture of learning provides a rich and dynamic environment that affects employee happiness and productivity — how they innovate, create and why.
When employees feel stuck and unhappy, their professional and personal lives suffer, ultimately affecting the employer.
Instead of letting the mind waste away on worries, cultivate a culture of learning in the workplace. You want to empower employees to grow on multiple levels as they develop new skills and reinforce their relationships with themselves, co-workers and you, the employer.
Here are a few tips on how creating a positive culture of learning that boosts happiness, performance and retention:
1. Provide Regular, Interactive Reviews and Feedback 
Cultivate a culture of learning by giving regular, interactive reviews. Your employees want to know they're doing well, but they also earnestly want to improve at what they do.
This leads to increased happiness in the workplace:
60% of employees crave regular feedback, weekly or monthly.
This increases to 72% for millennial employees under age 30.
Another 45% of employees desire feedback from clients and peers.
92% of employees agree regular feedback is effective in boosting performance.
Regular reviews give employees the opportunity to take proactive steps toward improving their work efforts and fosters an environment that encourages achieve higher productivity and greater work-life balance. Employees want to grow, and regular, interactive reviews make them more open to taking constructive criticism in a positive light.
While annual, formal reviews are typical of most businesses, employees need a change of gear to better both themselves and the employer. Formal reviews can feel like going to court as you wait to be sentenced, but regular reviews foster an environment where the employee relaxes and is open to learning more about themselves as professionals. Employees crave more intermediate and direct interaction. These reviews also present opportunities to talk about growth down the road and where they see themselves.
Formal annual feedback is typically the only kind employees get, but they tend to desire more direct, meaningful and intermediate interaction. Do annual reviews accurately reflect employee contribution or recognize that? Regular reviews will make employees feel more engaged and happy at work as they excel.
Better yet, reinvent the idea of the traditional review beyond frequency. Make it more casual — check-in via AI that finds a time slot for you both to meet up. Take it a step further and help your employee network with someone in another department by setting up a meet-and-greet to exchange info.

2. Don't be Afraid to Get Personal 
Communication gaps happen when employees and employers don't have an understanding of one another beyond a functional level — what can this employee do for me, and why are they doing it this way? While that represents an extreme, it's understandable that most people go to work and become so busy that they just want to get through the day. Professional relationships take on a functional priority, rather than a developed interconnection.
Nurturing interconnection is a vital key to developing better communication skills. Boosting your company culture will improve retention — millennials especially look for companies that offer team-building and learning opportunities through these extracurricular activities. Team sports get bodies moving, while trivia and team mental challenges keep minds fresh. Let employees participate in skills and activities they like on the job so they get to know each other and you get to know them.
Don't slip into treating employees like worker bees — which many employers fall victim to from time to time, even when that's not their intention. Individuals have specific talents to offer, but you may not see the whole spectrum due to maintaining a functional relationship. Open up, and the team will follow your lead.
Individuals also have their unique weaknesses and strengths, as well as lives, outside of work. What if Joe from accounting is an excellent salsa dancer and wants to teach a mini-class one day? That's an example of co-creative skill-sharing on a level that balances the personal and professional while exposing talent.
Your employees will learn more about each other and rise to the occasion to help with conflicts or be more fully aware of helping each other through stressful moments in the workplace. Creating a culture of learning deepens employee wellness and happiness in ways not directly measurable — but they're still valuable.
3. Offer Innovative Workspaces and Solutions
A lack of creativity and greenery in the office can stagnate productivity and happiness when employees stare at the same four walls every day. What makes it worse is when that environment is a typical office filled with gray cubicles and motivational posters. Sometimes, those motivational posters get you through the day, but employees need more green in their lives to heighten their creativity and spark new ideas.
Learning and working spaces that include
natural elements
cultivate a 15%  increase in creativity and 6% rise in productivity. There's a growing number of studies showing that
simple choices
, like plants, light, colors and shapes influence the way people work and think.
Other trends of note, include:
• Tinkering spaces: Let employees use 3-D technology or Legos® to create and get their minds moving. Surround employees with plants to combine the best of nature and technical learning tools — which can sometimes include a few ages-and-up toys.
• Large drawing boards: Either make it dry erase or use chalkboard paint to make the brainstorming area more organic and fun. Visual learners and thinkers will love this idea, while those who prefer stats can see the bigger picture at work once sketched out.
•
Meditation spaces:
Launch a meditation and mindfulness program and provide an open space with natural elements, either indoors or outdoors, for employees to clear their minds from stress and open their minds to learning experiences. Many Fortune 500 companies have such programs. For example, employees of BlackRock's
meditation program
experienced real results: 46% boosted creativity and innovative thought while 91% felt the program boosted company culture.
•
Remote flex-time:
Sometimes, you need a literal change of scenery. Give your employees flex-time for when they're not feeling themselves fully or need a slower working pace in their habitat at home. Perhaps they want to head to a coffee shop and work or conduct a walking meeting with a client at a nearby greenway. Open your mind to the possibilities. More and more companies are shifting their workforce to
remote
full-time, so imagine the benefits of remote flex-time!

4. Give Employees Room to Grow 
Do employees feel they can climb the ladder at the company, or do they feel like they're settling? Do they have opportunities to learn new skills, or do they stick with the same old ones? Even when employers assign new tasks, they may not think about an employee's existing workload. Employees who quickly adapt to shifting situations and requirements at work are valuable assets, but learning new skills takes time. Hang-ups happen.
Employers must give their employees space when trying to broaden their horizons, especially new hires. In one survey, it took employees two to three months to feel like themselves on a new job, and up to a year for others — signaling a need to feel fully comfortable at a task before workers can contribute at their best. Don't contribute to an employee's feelings of inadequacy.
So many employees feel they have to "fake it to make it" or have a professional face they wear on the job. What does your professional face look like? Does it often wear a frown because it can't be open or real? Different roles have faces associated with them to match their expectations — think about it. Even in senior roles, professionals are under immense pressure and are always learning. Give employees space to be, and they will thrive as they learn and grow.
5. Develop Mentorship Programs
Don't discount the importance of mentorship programs for employees of all ages and stages. Let senior-level employees mentor new hires. Allow members of various departments to trade spaces for a day to pick up new skills and build new relationships on the job. Bring in youthful, career-minded high schoolers to freshen up the place. This creates a dynamic and innovative work culture where employees will develop the ability to think across departments and appreciate each of the roles they play — instead of blaming one department for slow paperwork out of assumption, for example. What seems quick in this world isn't, especially in the business world.
Where does happiness come into play? It's in giving back — doing good for others makes you feel good. From career development to leadership mentoring, 71% of Fortune 500 companies provide mentorship opportunities — and the success is witnessed in the resulting positive chain reaction of productivity and joyful work culture. Employees are engaged and feel happy teaching what they know and what they love to do. It reminds them of how they fell in love with their work in the first place, which will also boost retention.

6. Encourage Continuous Learning 
It's one thing for employers to encourage continuous learning, but not put into practice what they are preaching. Back it up by offering opportunities for continued personal and professional development. Take part in these opportunities, too — be the leader.
What about language classes? The world is increasingly multilingual: 25.6% of millennials speak another language outside of the home, and nearly half of millennial are minorities. This generation is poised to shortly become the largest workforce — offering language learning programs at work would appeal to many. Those who speak multiple languages are also more likely to be known as creative thinkers.
Continual certification for many job roles is expected, but it's also good when expectations of oneself as a personal and professional are more natural.
That authentic experience translates over to performance, happiness and retention in the workplace. One study found 61% of workers stay for at least five years with their existing employer when they received continued mentoring, training or reimbursement for educational credits. Experts believe continued education empowers employees and allows them to clarify the purpose behind why they do what they do, deepening their retention of skills and happiness due to greater understanding.
Life is too short to go to work, pay bills and die.  Ensuring that your employees feel valued cultivates an extra level of engagement. Broaden horizons by creating a culture of learning to boost happiness, which ultimately affects performance and retention.
Work-life balance can be achieved when employees are free to be themselves at all times. Take off the mask. Open your mind, and they will, too — your company will be better for it in the long run.