Become an insider!
Get our latest payroll and small business articles sent straight to your inbox.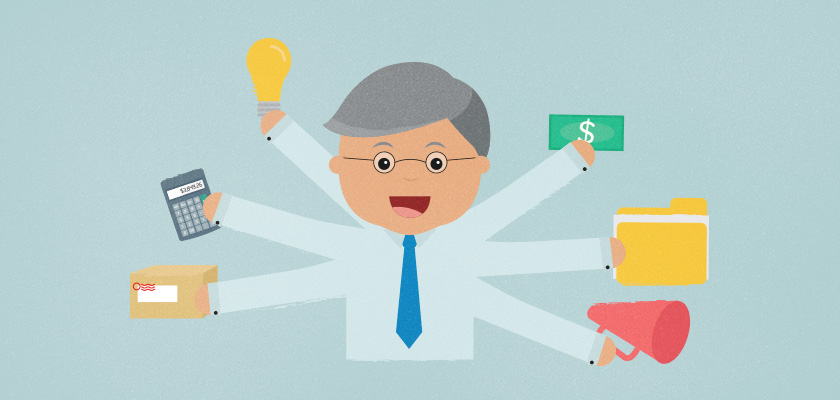 As a small business owner, you may not have an HR department.
That's not a problem, per se…
But it does mean you occasionally need to wear the HR manager hat — among the many others you already wear.
With that in mind, let's review the basics of human resource management — simplified so even an HR newbie can get it right.
Why Human Resource Management Is Critical
An HR department helps you manage people effectively and establish a positive workplace culture. Not to mention their legal responsibilities for issues related to compensation, safety, employee benefits, and more.
This ensures your business sets the right expectations and runs smoothly. As Chris Lennon, VP of Product Management at Bird Dog HR, explains:
"Companies without formal HR departments rely on their management teams to establish workplace norms, oversee hiring and promotions, and ensure ethical behavior. But if management goes off the rails and there is no HR department that can (or is willing to) step in, the entire company can suffer,"
As a small business owner, you are the HR department.
That means it's time to study up with this crash course on what you need to know first and foremost.

Labor Laws
Complying with labor laws is one of the most important tasks of an HR department. It ensures your employees get the benefits they've been promised and that everyone is safe and has a hospitable environment to work in.
For instance, in the US, workers' compensation is required by most states, allowing you to provide monetary and medical benefits to employees who are injured while on the job.
Workers' compensation is not only mandatory in most states, it's something you want to have, even if it feels like just one more thing to pay for. According to one Workers Comp Insurance guide:
"This type of coverage exists to protect you, your business, and your employees in case any of them get hurt or sick while working for you."
Outside of worker's comp, there's plenty more to know about legal requirements and regulations. As you dive in, some of the topics you'll cover will be:
Health and safety
Workers' compensation
Health Insurance
Minimum wage/overtime
Payroll and income taxes
Anti-Discrimination Issues
While there are too many regulations to list here, you can start by reviewing the following resources:
United States Department of Labor: Here you'll find a guide that includes a regulatory library, forms, and workplace posters. Don't miss the fact sheets, which make it easier to understand some of the complicated regulations.
Start a Business Guide (IRS): This is a great initial resource for diving into tax regulations. Take advantage of the printable checklist, which you can keep nearby as you ensure every last detail is taken care of.
Industries/Professions Tax Centers (IRS): Break down tax regulation for your specific industry to avoid information that doesn't pertain to your business.
We also have a US payroll tax map and corresponding guide to payroll taxes.
Federal Labour Standards (Government of Canada): This is a great place to learn about the minimum standards expected of employers in Canada.
Payroll (Government of Canada): This page is jam-packed with information for employers, including payroll overview and details, explanation of income laws, and links to forms and helpful guides. Prefer to listen instead of reading? Check out their section of informative podcasts.
Tools like payroll software also ensure you're compliant with all current and new regulations, which are easy to miss as a busy business owner.
Hiring Employees
Your business can't function without its employees, which is where the human resource department comes into play. In larger companies, HR is responsible for hiring all employees, even interns.
In lieu of an HR team, you'll be responsible for:
Identifying hiring needs
Developing job descriptions
Placing ads
Interviewing applicants
Completing background checks
Following up with references
Onboarding
Once new employees are hired, it's up to you to successfully onboard them, which sets them up for success in their first few days and weeks with the company.
One of the most important — and less glamorous — aspects of onboarding is the paperwork, payroll set-up, etc. It's important to get your new employees set up quickly, so you remain compliant and they get compensated correctly.
There are many tools available to help you streamline the process, including recruiting platforms that keep everything in one place. This makes tracking the details easy when you're wearing both your CEO and HR management hats.

Employee Handbook
You may assume you don't need an employee handbook as a small business, but written documentation is key to good management — not to mention stress reduction.
A good employee handbook clearly and effectively outlines all company policies and procedures, allowing you to set expectations and outline legal requirements.
Be sure to include state policies and other legal content correctly. According to HR.BLR.com:
"A properly drafted employee handbook can be a valuable communication tool provided that employers take steps to avoid the legal problems that can arise when the handbook is not properly drafted."
To get all the details, head to HR.BLR's Employee Handbook page and choose your state in the top right corner.
NOTE: Use your employee handbook to communicate about company culture, mission, and values, in addition to showcasing employee benefits.
Human resource management doesn't stop there. This department is responsible for building and communicating your company's workplace culture, which encompasses the values and behaviors that make your company unique and competitive:
"Company culture is a blend of the values, beliefs, taboos, symbols, rituals and myths all companies develop over time." Entrepreneur
While this may not seem important, establishing a positive workplace culture increases employee satisfaction by making employees feel connected and passionate about the work they do, which leads to less turnover and more productivity.
Building company culture can include:
Investing your employees with learning opportunities.
Bringing everyone together for a weekly team lunch.
Hosting holiday events for employees with gifts or fun awards
Making employees feel valued
Implementing a reward system
Get HR Ready
From onboarding employees and ensuring legal compliance to building a positive workplace culture, human resource management takes a lot of work.
If you're hiring someone for this role, use this guide to put together your job posting and ensure you're hiring the best person for the position.
If you're going at it yourself, let this be a jumping off point for you. We've given you the basics, but there's so much more to learn.
The good news is, with everything in order, you can avoid potential compliance issues and fines while helping your employees feel welcomed and comfortable.

The advice we share on our blog is intended to be informational. It does not replace the expertise of accredited business professionals.