Become an insider!
Get our latest payroll and small business articles sent straight to your inbox.
In the 1950s, checks were a really popular payment instrument with about 28 million checks being written daily. But as consumer preferences moved towards electronic payments that allowed them to pay for point-of-sale purchases faster, the popularity of checks started to plummet.
According to the recent Direct Deposit and Check Statistics report, released by the Social Security Administration, 98.7 percent of 59 million Social Security beneficiaries were paid via direct deposit. That is a 12.4% increase in direct deposit payments since 2010.
While employees certainly have a say in how they would like to get paid, i.e. Direct deposit vs checks, there are a number of reasons why more employers are moving towards direct deposit payments instead of checks.
These are the top four ways that direct deposit benefits your business:
Minimize instances of check fraud
The Association of Finance Professionals (AFP) published the results from their 2015 AFP Payments Fraud and Control Survey recently, and the findings show that checks continue to be the most vulnerable payment type when it comes to fraudulent attacks.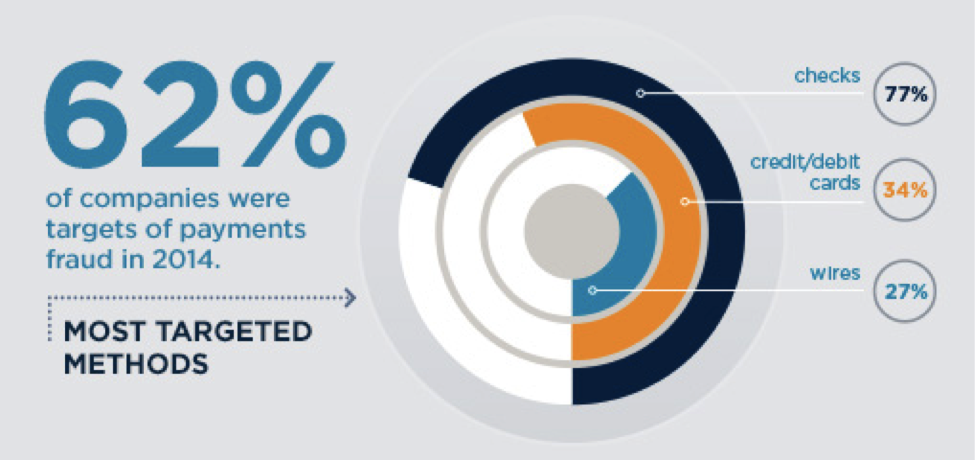 Check fraud is an expensive problem that affects financial institutions, businesses and consumers alike, with industry sources estimating losses at $10 to $14 billion each year!
Forged signatures, forged endorsements, counterfeit checks, altered checks and check kiting are all different types of check fraud.
What you need to be concerned about as an employer is reducing any instances of forged signatures/endorsements, in cases when an employee misplaces/loses a check.
Direct deposit ensures that funds are deposited into an employee's bank account. It is precisely the nature of direct deposit that makes it a safer and more private alternative.
There are fewer opportunities for con/scam artists to get their hands on your company's banking details through a direct deposit transaction. All your personal information stays confidential with your payroll provider and/or your financial institution.
Cost and time-saving benefits
Signing, printing and delivering payroll checks can be a time consuming and costly affair for employers. Even though estimates show that it only costs $1.30 / per employee to print and deliver a check, it doesn't account for all the unseen costs around errors, new hire onboarding, etc.
Companies can save $2.87 – $3.15 using Direct deposit with each paycheck. In fact, small businesses with <2,500 employees can save up to $1,200 a month by using direct deposit instead of checks.
It's probably why the American Payroll Association recommends direct deposit as a way for business owners to cut down on payroll costs.
And let's not forget the cost and time savings for your employees.
According to a study conducted by NACHA, employees can save up to $5.88 in both direct and indirect costs of depositing checks.
Think about all the time and energy they save by not having to take time off work to go to the bank / ATM to deposit their paychecks. Employees can also get their money sooner by not having to wait for their checks to clear with the bank.
Encourage money management
Direct deposit provides employees with an easy way to manage their money more responsibly.
Most payroll providers allow you to split paycheck deposits into two or three bank accounts, which means employees can save a portion of their paycheck to go into a savings account or a joint expense account.
By allocating deposits at the time of payroll, employees can create a "set it and forget it" saving mentality and in the process stick to their financial budget.
Go paperless and be a friend to the environment
Direct deposit payroll is an environmentally friendly payment solution for small and big businesses alike, it is also beneficial for their employees. Depending on your company size, the environmental impact of using checks can be quite drastic.
A 10-person small business that pays employees twice a month using checks produces 10.7 pounds of greenhouse gases each year, which is the equivalent of driving 37.9 miles in your car or eliminating 4.6 sq ft of forestland!
In the same example, a 10-person small business can positively impact environmental resources by moving to direct deposit.
| | |
| --- | --- |
|  Resources |  Conserved |
|  Paper |  3.7 pounds of paper saved |
|  Water |  35.7 gallons of wastewater  prevented from discharging into  lakes, streams and rivers |
|  Gasoline |  1.4 gallons of gas saved by switching  to electronic Direct deposit |
|  Solid Waste |  4.3 pounds of waste prevented |
|  Greenhouse Gases |  10.7 pounds of greenhouse gases  prevented |
Source: Pay it Green calculator
Still, considering checks? We hope you found these four reasons persuasive enough for you to make the smart switch to direct deposit for your small business.