Become an insider!
Get our latest payroll and small business articles sent straight to your inbox.
In their webinar on the future of digital technologies in the restaurant and hospitality industries, Deloitte predicts, "Restaurants will become tech companies."
There are two ways in which this will take place — through the technology that delivers the kinds of experiences and services that customers want and the software that streamlines and simplifies day-to-day management and operations for independent restaurants.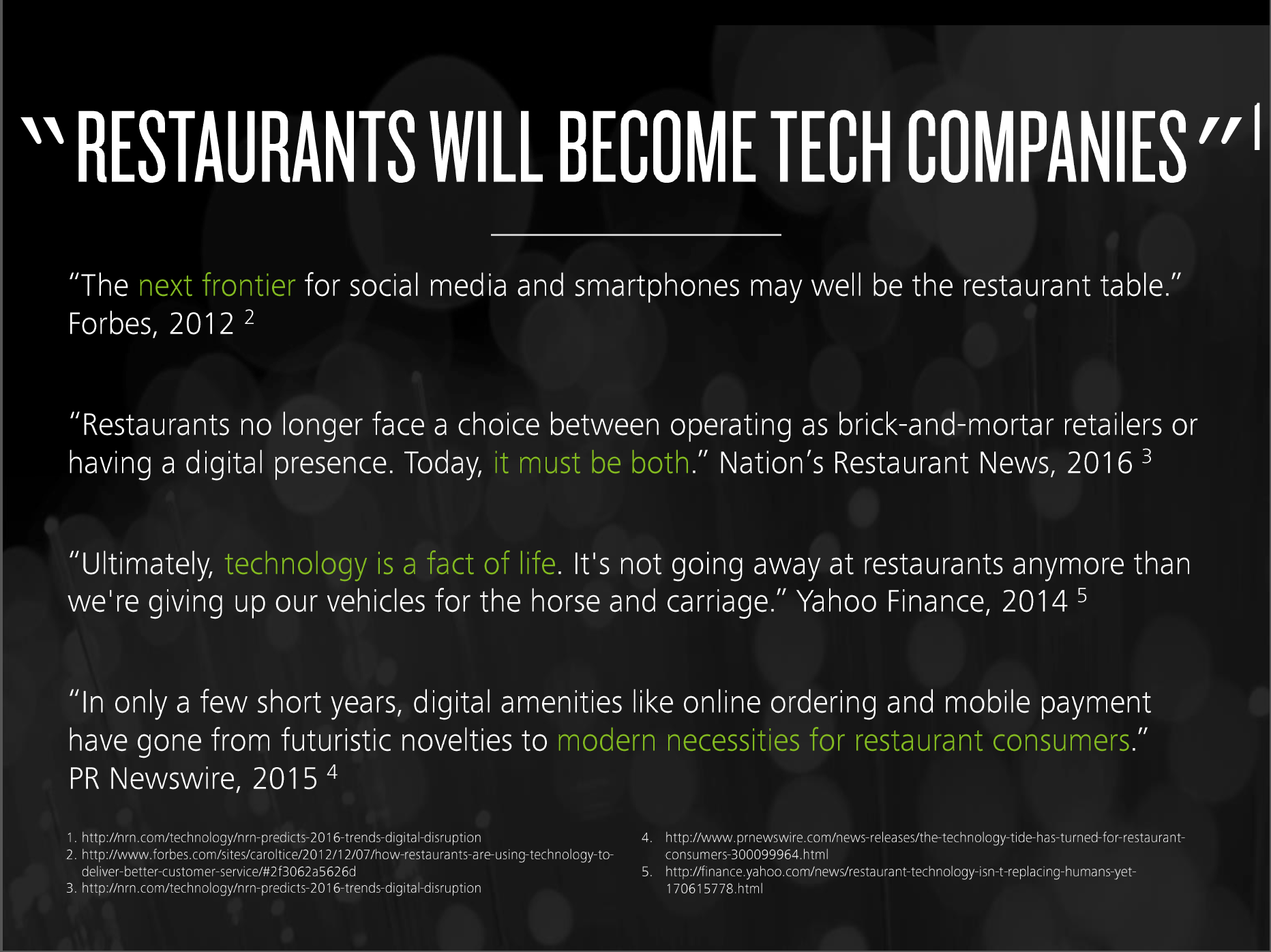 Source: Going digital: Strategies for creating competitive advantage in restaurant and hospitality companies | Deloitte 2016
Why do restaurant software and apps matter?
If you're thinking, "I run a restaurant, not a startup." — think again:
Margins can make or break you — With operating margins ranging from 4-5%, every minute spared and every dollar earned counts.
Time is money — In its blog, restaurant software platform PeachWorks states that "17 minutes out of every hour is lost to back office tasks."
Food is only 1/3 of the fight — According to Bodellconsulting, "Having good food and service is only 1/3 of the battle — the other 2/3 includes marketing and managing."
A pen and paper (or spreadsheet) will only take you so far.
In their blog post and panel discussion, Adapting Your Business to a Changing Restaurant Industry, OpenTable states, "To put it simply, restaurants have to be more things to more people to keep up with rising costs and competition."
While it's incredibly important to focus on the quality of food and experience at your establishment, the quality of your processes can make the difference between profitability and potential disaster.
Level the playing field.
While there are more independent restaurants than chains, Greg Starzynski, the Director of Product Management at NPD Foodservice comments, "Independent restaurants are historically less stable, not having the same resources as chains to get through more difficult times."
With the availability of online, cloud-based, software as a service (SaaS) technologies, the same types of powerful tools are no longer out of reach for small business owners.
Get your front end talking to your back end (and vice versa).
(Is this some urban cowboy or country music metaphor? No, we promise. And nobody's dog dies either.) While point-of-sale (POS) systems forever changed the way orders were placed from the dining room to the kitchen, other areas of operation are poised to experience the same levels of innovation.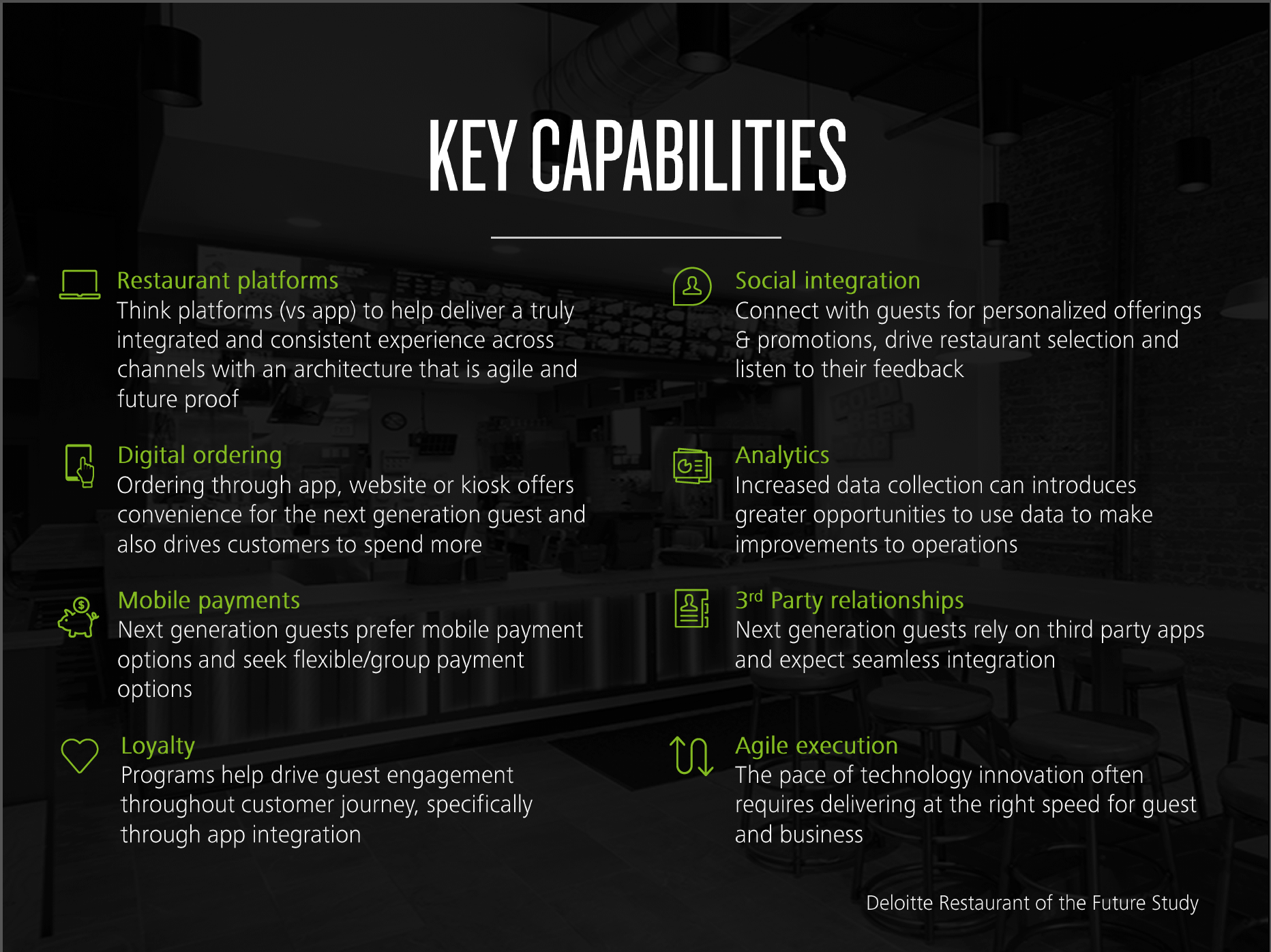 Source: Going digital: Strategies for creating competitive advantage in restaurant and hospitality companies | Deloitte 2016
THE Power List of Restaurant Software and Apps
If you're skimming the article to see where the list starts, it's right here. We've organized this list of the best restaurant software according to function with each category and software provider in alphabetical order. For providers who wear many hats, we've done our best to place them in the category that makes the most sense. (If there's an amazing restaurant software or app you like that didn't make the list, please tell us about it in the comments at the bottom of this post.)
Accounting
The difference between well-managed companies and not so well managed companies is the degree of attention they pay to the numbers.

Harold Geneen, Former Chairman, International Telephone & Telegraph
Accounting, invoicing, expense tracking, budgeting, bank reconciliation and reporting aren't necessarily the first things you think of in terms of running a restaurant. However, as RestaurantOwner.com states, "Your restaurant isn't just a restaurant, it's also a business."
Small business accounting software, Xero, notes five essentials for restaurant accounting software: It should be online, accurate, easy-to-use, smart and flexible. In the same blog post, it's also recommended that your accounting software integrate (work well) with your POS, payroll and other key operational systems.
Below is a list accounting software that are good choices for small businesses, including restaurants.
Software
Pricing
Additional
Features
Integrations
(Add ons)
Freshbooks
$12.95-$39.95 per month/tiered
Also offers time tracking and mobile payments.
Many
LessAccounting
$20-$54 per month/per business size
Also offers a team of bookkeepers if needed.
Easily integrated with other software and technologies.
QuickBooks Online
$27-$40 per month
One of the most widely used accounting applications.
Many
Sage
Varies by solution
Also offers human resources, payroll and time/attendance.
Many
Sassau
$9-$40 per month
Also has inventory functions.
Many
Wave  
Free
Also offers payroll.
Limited, mostly targeted at retail.
Xero
$9-$70 per month
Also offers payroll, inventory and payment.
Many
Bar inventory and compliance
If you have a bar in your restaurant, you know that alcoholic drinks can be highly profitable. The challenge is preventing any practices, like poor or inaccurate inventory, that can eat away at the bottom line. Fines or legal actions as a result of failing to properly identify patrons are also costly. While there are certain things you can't control, like the basic costs of beer, wine and spirits, there are tools that can help you take charge of inventory and compliance.
| | | |
| --- | --- | --- |
| Software | Solution(s) | Cool Factor |
| Bar & Club Stats | ID scanning (iOS and Android) | Will also help you track gender split, average age, patron flow, distance traveled and return customers. |
| BarCop | Offers inventory and POS systems. | A more traditional approach for those who like things the way they are. |
| Barkeep | Tablet and mobile phone-based bar inventory. (iOS) | Scan bottles and add them to your inventory with your phone. |
| BevSpot | Ordering, inventory and reconciliation. | Take inventory and order 3x faster. |
| Bouncer | ID scanning. (iOS) | It's called Bouncer! |
| Partender | Inventory management designed specifically for bars. | Uses smartphones to help you work smarter. |
| SteadyServ | Wireless draft beer usage management. | Integrates with 40+ POS systems. |
Employee training/process creation
Every day at a restaurant there are a million things to do from kitchen prep and food safety to customer service and operational routines. As it's fairly rare for an expert to walk in off the streets, training and process creation are a key underpinning of how your business runs.
In its blog post, 3 Ways Custom Elearning Can Improve Restaurant Training, Learnkit, states, "Whether you are an independent operator that does not currently deliver training courses, or a multi-chain, multiple-location franchise, custom e-learning can deliver consistent, high-quality training to all your employees, quickly and effectively. Elearning also allows you to cater to each individual learning style, so while the delivery is cast wide, each experience is personalized to the learner."
| | | |
| --- | --- | --- |
| Software | Solution(s) | Cool Factor |
| CoInspect | A tool for food safety compliance, quality assurance and brand excellence. (iOS and Android) | Perform inspections, customize checklists and create beautiful reports. |
| Food Safety Exam Prep | An app that helps individuals prepare for industry standard food safety tests. (iOS and Android) | Take practice tests and review answers. |
| Jolt | Simplified information interfaces including checklists/to-do/process lists, scheduling, time and attendance, communication logs, resource libraries and date code labeling. (iOS and Android) | You may never stop wanting to make checklists. |
| Learnkit | Custom elearning. | Available on demand. |
| Restaurant Rockstars | Online server training. | Complete online academy and even a podcast. |
| Squadle | Checklists for automated accountability. | Low cost and made for restaurants. |
| Waitrainer | Online server training. | Includes content from RestaurantOwner.com. |
Transforming training and knowledge sharing
The attention span of the next generation of young restaurant workers is 50% shorter than that of the generation before them. They will also have a greater aptitude for tablets and smartphones.
Jolt Senior Marketing Manager, Kelin Crane, explains how restaurant software is responding to this shift, "Jolt's ecosystem provides just-in-time training for each employee's most relevant needs in ways that no other ecosystem comes close by delivering video training on location, content that requires passing a quiz to prove understanding and a role-specific library of information."
Integrated solutions/platforms
Software companies like the ones below realize that restaurants need more than a one-off solution. POS systems need to talk to inventory and accounting systems. Table and waitlist management impacts scheduling and labor forecasts, etc. PeachWorks Founder and Chief Product Officer, Jeff Schacher, explains, "Consistency and efficiency are the two things that keep a restaurant in business."
The PeachWorks website further elaborates on the benefits of a platform and technology strategy, "When most restaurants create their technology strategies, they quickly realize they have lots of things they'd like to do, but only have time to do one or two to start. But while choosing one or two apps may seem simple today, they realize that if those apps can't be easily integrated with other solutions and restaurant systems or customized to meet new requirements down the road, they'll quickly find themselves unable to have their technology keep up with their business needs.
Software
Solution(s)
Cool Factor
Aloha
(NCR)
POS that also includes takeout and delivery, guest management, kitchen management and mobile.
Created for the restaurant industry.
HotSchedules
Everything from scheduling to back office.
Give up the clipboard forever.
Maitre'D
(Posera)
POS and back office, including inventory, scheduling, loyalty and more.
Backed by 20 years of hospitality experience.
PeachWorks
Platform includes inventory, recipes and nutrition, analytics, POS hub, communication logs, team chat (social networking) and a growing cadre of back office functions.
Their tagline is "Restaurants made easy."
POS Sector
POS and back office, including, inventory, mobile ordering, reporting and more.
Their back office system is used by more than 4,000 managers worldwide.
QSROnline
Inventory, accounting, payroll, scheduling and reporting.
Used by 3,000+ restaurants.
Restaurant 365
Accounting, back office, above store reporting, catering, franchising and dashboards.
Desktop and mobile applications with many integrations.
Inventory/ordering/sourcing
Orderly notes that with a single restaurant producing 25,000-75,000 pounds of food waste per year and inventory representing nearly 1/3 of your budget, tools like the ones below can be your best friend for preventing waste and controlling costs.
According to Simple Order, "Your restaurant or food service business should aim to keep its food cost between 28 and 35 of the overall operating budget. The smaller your business is the closer you want to keep your food cost to 28 percent you budget. Once food cost starts to exceed a third of your budget it's time to take action."
If point of origin and serving local/seasonal items are priorities of yours, there's software for that too.
| | | |
| --- | --- | --- |
| Software | Solution(s) | Cool Factor |
| BlueCart | Online and mobile ordering for your kitchen and bar. (iOS and Android) | It's free! |
| CostBrain | Food costing that connects invoices, ingredients and recipes.(iOS and Android) | Create exclusively for restaurants. |
| FoodLogiQ | Cloud-based food origin traceability. | Trace the origins of your ingredients from farm to fork. |
| Key Ingredient | Search recipes by key ingredient. | Available online and for mobile. |
| Locavore | Seasonal, local food network. (iOS and Android) | Pinpoint nearby farmers' markets and farms. |
| Orderly | Online ordering, inventory and invoicing. | Get full visibility of your purchasing process. |
| Plate IQ | Snap a picture of your invoice, send it in and have it tracked to your general ledger codes. | Get real-time data on food costs. |
| SimpleOrder | Online ordering, real-time food and menu costing, inventory tracking. | Integrates ordering, inventory and costing. |
| Spoiler Alert | Waste prevention and surplus notifications connecting restaurants and suppliers. | Get deals from suppliers and give back if you have too much. |
Music streaming
Music definitely helps set the mood and atmosphere. But as a business, your restaurant may be subject to licensing fees. In order to help restaurants avoid this issue, services like the ones below make it simple to keep things up-tempo, without getting into any trouble.
| | |
| --- | --- |
| Software | Cool Factor |
| 8Tracks | A smaller selection, but it's free! |
| CustomChannels | Create and manage your own custom channel. |
| Dozmia | If a customer likes your playlist, they can take it with them. |
| MoodMedia | Choose from an extensive catalog of 150+ programs. Has also partnered with Pandora for commercial use. |
| Virtual Jukebox | Like a classic jukebox only better. |
Online ordering
Online and mobile ordering services make it convenient for customers to find the foods they crave. For independent restaurants, they're also a cost-effective way to get noticed and drive sales.
| | | |
| --- | --- | --- |
| Software | Solution(s) | Cool Factor |
| ChowNow | Online ordering built just for your restaurant. (iOS and Android) | Lets customers place orders directly from your website. |
| Eat24 (Yelp) | Online ordering and reviews. | Extensive market coverage. |
| GloriaFood | Online ordering system designed to help restaurants gain an online presence. | It's free! |
| GrubHub | Online ordering and delivery. (iOS and Android) | Also lets customers place reviews. |
| JustEat | Online and mobile ordering. (iOS and Android) | The world's leading online and mobile marketplace for takeout. |
| OrderAhead | A free consumer app that lets customers order and pay before coming in. (iOS and Android) | One more way to reach consumers. |
Payroll
In its blog post, Common and Costly Payroll Mistakes Restaurant Owners Make, scheduling software ShiftPlanning, notes, "Ask ten small business owners what the worst part of running a business on your own is for them, and chances are that a majority of them will say "payroll." Unless your payroll process is automated, it can be incredibly tedious and time-consuming. If your current software solution or technology strategy calls for payroll software, they following providers can help.

Related: Payroll For Restaurants: Keeping Things Simple With Software
Software
Pricing
Integrations
(Add ons)
Gusto
$39 per month + $6 per employee
Ingrates with many small business applications.
OnPay
$39.95 per month for 10 employees (Additional employees $1 per month)
Not listed on their website.
QuickBooks Payroll
$31 per month + your subscription to QuickBooks Online.
Integrates with QuickBooks Online.
SurePayroll
(Paychex)
Request quote.
As a subset of Paychex they likely integrate with other apps.
Wagepoint
U.S. ($20 base fee + $2 per employee) per payroll.

Canada ($20 base fee + $2 per employee) per payroll.

Ingrates with many small business applications.

Pay-at-the-Table (PATT)/mobile phone payments
In its article Investing in the Future, Full Service Restaurants states, "One segment where many operators are boosting spending involves computers and smartphone technology, including POS devices, labor management software, guest-centric mobile applications and tablets for various purposes."
Example: A guest wants to order dessert, but the server is helping another table. Table 5 is ready to pay and the guest at table 10 is about to request a substitution. Traditionally, all of this responsibility would fall on the serve, who would then have to work as quickly as possible to take the orders, note special requests, run the tickets to the kitchen, pass the drink orders to the bar and bring the check at the end of the meal.
Enter the tablet at the table that allows guests to order and pay whenever they are ready — freeing up the server to be more of a brand ambassador for the restaurant.
Software
Solution(s)
Cool Factor
Apple Pay
Apple's mobile phone payment system. (iPhone 6 and above, iPad and iWatch.)
Accepted at over 1 million locations and counting.
eZee iMenu
Menu and table-top ordering app. (iOS and Android)
Turn any tablet into a digital menu and POS.
FreedomPay
Mobile phone-based payment system.
No POS hardware required.
Menuat
Digital menu board software.
Go way beyond the chalkboard.
MyCheck
Mobile phone-based payment system.
Integrates with many existing POS systems.
Presto
(ELaCarte)
Tablet-based ordering, entertainment and payment. (Custom tablets)
Developed at Massachusetts Institute of Technology (MIT)
Split
Mobile phone-based payment system. (iOS and Android)
An app targeted at consumers that can be used by restaurants.
TabbedOut
Mobile phone-based payment system. (iOS and Android)
Downloaded by the customer, it can be used at any restaurant or bar.
TableSafe
A touchscreen bill folder.
Works with many existing POS systems.
Ziosk
Tablet-based, at table ordering and payment system. (Supports Apple, Android and Samsung Pay.)
Allows for surveys, social media interactions, loyalty programs and more.
What tabletop restaurant software can do.
Speaking on the potential of Ziosk, CEO, Austen Mulinder notes, "Ziosk is the industry pioneer, having founded the tabletop tablet industry, currently commanding 95% of the deployed tabletop market in the U.S. Our disruptive technology is giving dining an edge in a competitive restaurant segment by enabling our restaurant partners to digitize their business in order to improve the overall customer experience at their locations, grow their business and strengthen their position in the industry, all while helping servers earn higher tips."
Mulinder also adds that customers are responding well and quickly adapting to this technology with 80% of guests are using the payment function and the number of guests completing surveys after payment is rapidly increasing.
Point-of-Sale (POS)
One of the first technologies to transform restaurant management, POS systems continue to evolve and bring further to sophistication owners and operators.
In a blog post, Toast CEO, Chris Comparato, writes, "46% of restaurant operators look at business reports and metrics every day. Restaurant sales used to be the primary benchmark for restaurant operators. And while that's great… That's not all there is. Now advances in technology enable restaurant owners to see so much more: labor cost percentage, food cost percentage, specific menu item sales, the list goes on and on." He also adds that restaurant owners and managers are using this information to make smarter decisions on everything from menu options to shift changes.
Alex Barrotti, TouchBistro CEO and Founder, states, "Mobile tablet technology has revolutionized POS systems and processes in restaurants, allowing waiters to input food and drink orders right at tableside — sending these orders directly to the bar and kitchen. And tableside payments can be processed quickly and securely as well. Restaurateurs using mobile tablet POS systems have estimated it saves between 7 to 15 minutes per table turn and have dramatically increased their sales."
Getting strategic about increasing sales can help offset the rising costs involved in running a restaurant, especially when it comes to labor. According to 
The State of Rising Minimum Wage for Restaurants
 research report, 77% of restaurant owners surveyed have seen shrinking profits because of the minimum wage increase — which means restaurateurs can't ignore the advantages of new technology.
Software
Solution(s)
Cool Factor
Ambur
Flexible POS with front and back of house capabilities.
At its best when you're at your busiest.
Cake
(Sysco)
Ordering, payment and reporting/analytics.
It is rapidly evolving into a fully integrated platform with marketing, time tracking, tip sharing and other back of house capabilities.
Boxy
Online and mobile ordering, reporting/analytics and time tracking.
It's free!
Clover
On-site and mobile solutions.
Also offers reporting and several back office functions.
Lavu
Ordering, payment and reporting. (iPad only)
Integrates with PayPal.
Lightspeed
Management, ordering and reporting.
Options for a number of settings from café to pizza place.
Revel
Payment, ordering, inventory and analytics. (iPad only)
Also has delivery management that tracks driver performance.
Square
Payment, ordering, inventory and analytics. (iPad only)
You can also set up an online store with Square.
Toast
Additional features include loyalty, gift cards, online ordering and customer database. (Android)
Offers digital as well as real-world gift cards.
TouchBistro
Order-taking, quick counter and bar, table organization, communications and checkout.
The #1 Restaurant POS in 37 countries.
Scheduling/Time tracking/Attendance
You know the expression a picture is worth 1,000 words? This video from Deputy pretty much sums up the need for scheduling, time tracking and attendance.
When you run a restaurant, you have to be flexible. But you also don't have time to make phone calls to track down employees, arrange shift trades, etc. This is why it's only natural that software has stepped in to provide solutions.
Jordan Boesch, 7Shifts CEO, also cites the benefits of the reporting and forecasting capabilities these applications bring. "By knowing the number of hours worked each shift, you can accurately project future needs, preventing you from being over or understaffed. And you'll be acting no real numbers, not just a hunch."
| | | |
| --- | --- | --- |
| Software | Solution(s) | Cool Factor |
| 7Shifts | Cloud-based and mobile scheduling and communication. | They focus 100% on restaurants. |
| Deputy | Scheduling, time tracking and payroll. | Deputy customers have time to do amazing things. |
| ShiftBoard | Scheduling, reporting and communication. | Accessible 24-7 online. |
| ShiftPlanning | Create your schedule auto-magically. | 2016 top-rated, simple, employee schedule maker. |
| Sling | Includes shifts, tasks, messages and a newsfeed. | It's free! |
| SwipeClock | Time tracking, scheduling and attendance. | Used by nearly 30,000 employers. |
| TSheets | Time tracking, scheduling and shift management. | The top-rated timesheet app for QuickBooks. |
| When I Work | Scheduling. | Saved one restaurant owner 3 hours a week. |
| Ximble | Employee scheduling and time tracking | On average 40% time saved on scheduling |
Table/Reservation/Customer Management Systems (CMS)
The dreaded waitlist. For customers, it's the ultimate question of how long will this take? For hosts, it's a matter of making sure that everyone's on the list and working as quickly as possible to get people seated.
If you're still working with a laminated table chart and dry erase marker, you may not be managing this process as efficiently as possible. The rise of table, reservation and waitlist software makes things easier for everyone and offers restaurateurs the added value of developing detailed customer databases.
Heath Wechter, Vice President of Sales at DineTime notes, "With the right solution restaurants can gain immediate access to guest information as well as key performance indicators (KPIs). At the same time, it can provide a convenient way for guests to interact with the restaurant, by either getting on the waitlist via an app or website and/or communicating with the host desk via text messaging."
Software
Solution(s)
Cool Factor
DineTime
Reservation, waitlist and table management. Also includes analytics and customer tracking.
The fastest growing network of restaurants offering a waitlist and reservations app for consumers (iOS & Android) available at www.dinetime.com.
NextTable
Cloud-based table management. (iPad)
Integrates with reservation services/sites like OpenTable.
NoWait
Reservation, waitlist and table management that works with a consumer-facing app.
After two weeks their wait algorithm can predict wait times more accurately than most hosts.
OpenTable
(Priceline)
An online reservation system with a customer-facing website and simple on-site tools for restaurant owners/managers.
Add online mobile payments, gift card capabilities and promote your business to event planners.
Reserve
Reservation, waitlist and table management. (iOS and Android)
Lets guests book through your website, Reserve.com and/or third-party sites.
Table8
An exclusive dining club for upscale restaurants.
Perfect if upscale is your angle.
Tock
Lets customers book unique experiences at restaurants around the world.
Ideal if you have a niche market or dining experience.
Seat Me
(Yelp)
Reservation, waitlist and table management.
Access a network of 80 million diners.
Upserve
Guest, employee, customer, purchase and review tracking, shift preparation and planning, daily summaries and reporting, loyalty and payments.
Blend reservations, POS, marketing and guest feedback into a single Guest Book.
Venga
Reservation and table management with predictive marketing mixed in.
Push relevant customer data to the team before each shift.
Waitlist Me
Tablet and phone-based waitlist system. (iOS and Android)
They are growing and adding services like table and resource management.
Zomato Table
Offers table status, reservation management, team management, customer database and online reservations. Works with Zomato Base (POS) and Zomato Order (online ordering).
List your restaurant and promote your restaurant in the Zomato database.
Tip reporting
In the United States, tips earned by restaurant employees are considered taxable income, requiring tipped employees to report this income to their employers each month. The following apps also make it easier for tipped employees to know how much they're earning each month.

Related: How to Manage and Pay Tipped Employees in Restaurants
Restaurant software makes a difference.
Commenting on the benefits of technology in restaurants, Matt Millsaps-Brewer, Owner and Engineer at Lotus Apps, creators of Tip Counter, states, "I'd encourage restaurant owners to think of investing in technology to better analyze and benefit employees as a unique perk, to improve employee retention in an industry traditionally known for a high turnover rate."
What restaurant customers want to see next.
With the rise of restaurant tech, WebstaurantStore gathered some facts on what kinds of tools and technology restaurant goes would like to see in their favorite dining establishments. The infographic is below.

In the service industry, it's all about listening to your audience and understanding the needs of the people or businesses you serve. In the case of software and apps for restaurant owners and managers, we'd like to thank 7Shifts, DineTime, Jolt, Orderly, PeachWorks, SimpleOrder, TipCounter, Toast, TouchBistro and Ziosk for taking the time to speak with us and provide insights for this post.
Knowledge is a shared experience. Please let us know if there's a restaurant software we've missed or tell us your restaurant software story. To learn more about Wagepoint and our simple, fast and friendly payroll for small businesses, request a free demo.  
Slideshow
For a visual recap of the companies listed in this piece, see our accompanying SlideShare.