Become an insider!
Get our latest payroll and small business articles sent straight to your inbox.
Watch the full interview with AMLB CPAs and Consulting Co-Founder, Ally Ladha
AMLB CPAs and Consulting isn't your run-of-the-mill accounting firm. With the stories of immigrating to Canada and a business-building work ethic inspired by the founders' parents in its DNA, making financial health achievable is this company's goal.
They describe themselves as a virtual Chief Financial Officer (CFO) business. Helping businesses and non-profits across Canada, AMLB CPAs and Consulting offers a full service package that allows them to meet with their clients and share financial advice to drive growth and reduce costs.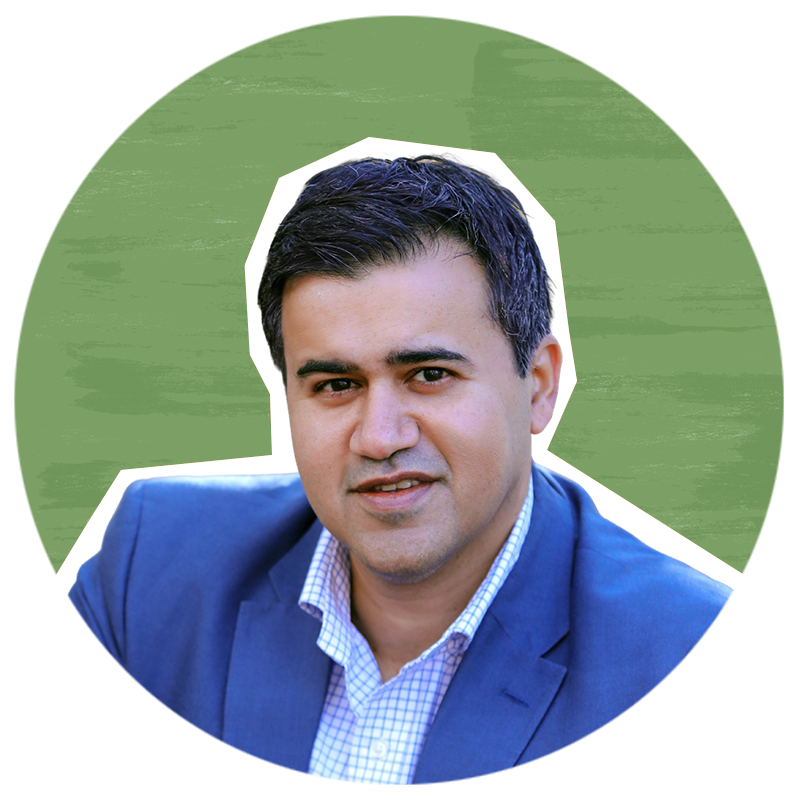 Ally Ladha, Co-Founder, AMLB CPAs and Consulting
AMLB CPAs and Consulting Co-Founder, Ally Ladha, shares his firm's story with us, including an on-video interview with Wagepoint Community Manager, Bianca Mueller. You'll see quotes and clips from Ally as you continue on with this blog, and you can also watch the full interview from the above video.
Multiple platforms to run payroll? No thanks.
In the "Before Times," pre-Wagepoint, Ally says they were completing payroll manually and then using four different platforms to execute client payroll needs. This meant a lot of time and effort spent that could be redirected elsewhere.
All-in-one payroll with Wagepoint.
When Ally came across Wagepoint, eliminating the need for multiple platforms for a single pay run was a big draw. With this all-in-one payroll software option, tasks have become much easier.
Wagepoint simplifies payroll. The user interface is intuitive, it's an end-to-end solution, and there's no friction when adding and removing employees.

— Ally Ladha, Co-Founder, AMLB CPAs and Consulting
Wagepoint keeps clients happy!
Because of the difference Wagepoint makes, Ally says they use it for all their clients that have payroll. It's a cost-effective solution for them that also keeps their clients happy.
He shares this story of a recent onboarding experience he had with a client who is on a weekly payroll.
Prior to transitioning to Wagepoint, our client was using four applications to execute their payroll. Wagepoint can now fulfill all those needs in one app and our client is now saving two hours a week.

— Ally Ladha, Co-Founder, AMLB CPAs and Consulting
Ally shares how automation in particular has been a game changer for his clients.
Onboarding a new client: What's it like with Wagepoint?
If you've ever wanted insight into what onboarding a client is like with Wagepoint, Ally took the opportunity to share what it's been like for AMLB CPAs and Consulting.
To start, he says his clients enjoy the way Wagepoint works and how it has the power to save them time with running payroll. Here's an example of how onboarding a recent client, TreeFrog, went.
Ally also touched on onboarding a client part-way through the year. He says while it's easier to onboard at the beginning of the year, it's not impossible to do it part-way through. This is thanks to Wagepoint's option to enter year-to-date (YTD) totals in the employee setup.
If you're onboarding clients midway through the year, it's not impossible. Wagepoint makes it easier for you because it allows you to import the year-to-date information. Which then gives you some peace of mind at year-end because Wagepoint takes care of all the reports that are needed for year-end.

— Ally Ladha, Co-Founder, AMLB CPAs and Consulting
Payroll year-end guidance keeps things simple.
When it comes to year-end… well, Ally says it best. He also shares how Wagepoint has made a difference for this busy time of the year for accounting and payroll.
Payroll at year end can be quite daunting and involved. Wagepoint created a year-end package that was quite easy to follow that contained all the necessary information we needed to complete our year end payroll requirements.

— Ally Ladha, Co-Founder, AMLB CPAs and Consulting
Saved time? Fewer errors? Plenty of benefits? We love this for you, Ally! We're honoured to call you a
Wagepoint Partner
. Thank you so much for sharing AMLB CPAs and Consulting's story with us and diving into working with Wagepoint in your practice. We're thrilled to have you and your clients among our amazing community.
⚡ Don't forget! You can watch the full video interview at the very beginning of this blog!
👉 Want to know what other Wagepoint Partners have to say about us? Check out The Payroll Art Form With The Art of Accounting.