Become an insider!
Get our latest payroll and small business articles sent straight to your inbox.
When Dubbeldam Architecture + Design isn't running payroll (which is a lot of the time!), they're taking on design projects that bring sustainable approaches to the forefront. This Toronto based architecture and design practice is a multidisciplinary studio, so you might catch them putting their magic touch on residential, hospitality and commercial spaces or even landscape and product design and architectural installation.
Since its inception in 2002, the company has amassed over 70 awards for design excellence, practice and advocacy. If you're looking for an architecture and design studio with the chops to back up creating a beautiful space or product, Dubbeldam and its staff have you covered.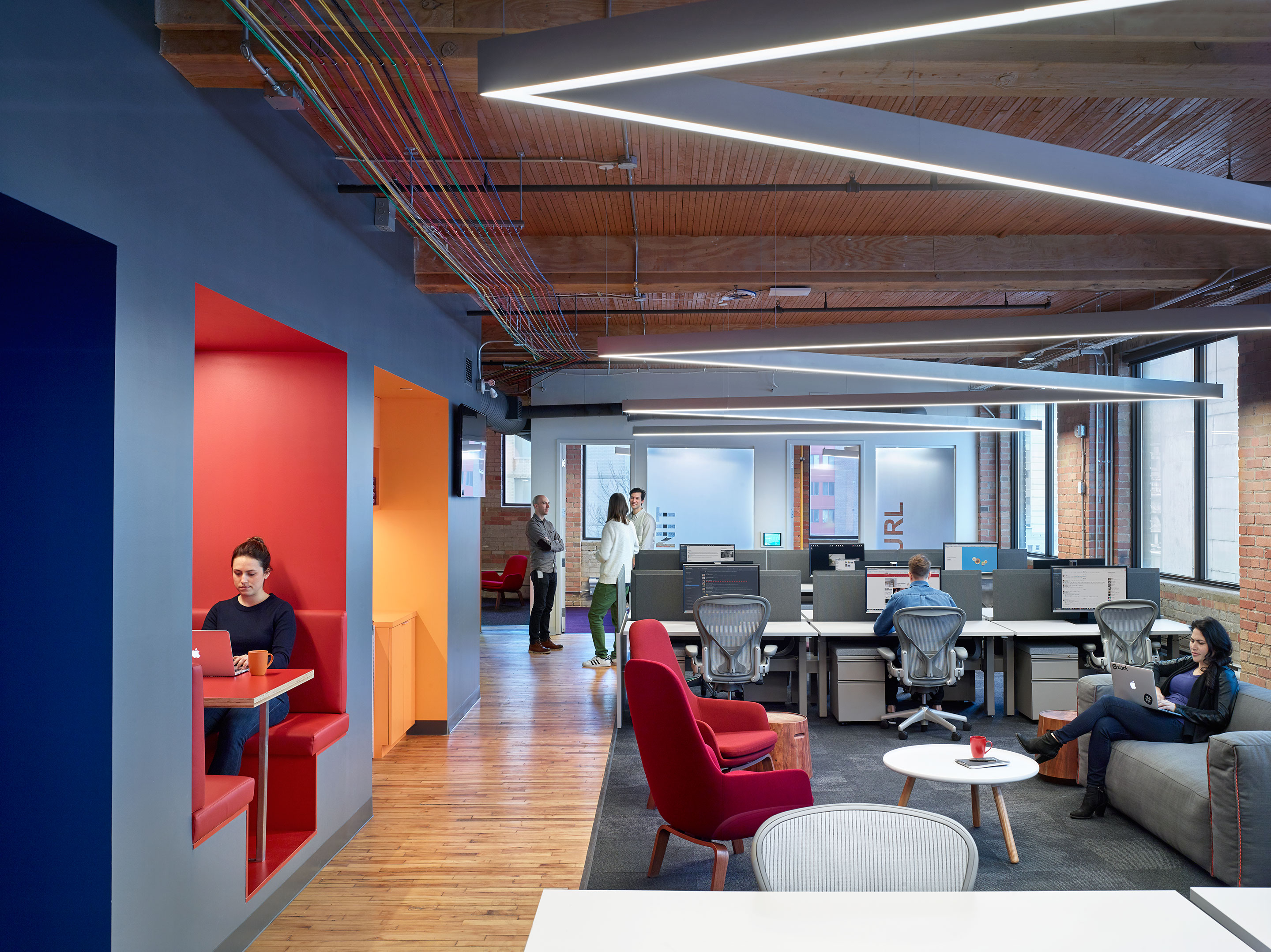 Dubbeldam project for the Toronto Slack offices.
Payroll processing foundations: Where Dubbeldam got started.
Kevin McIntosh, Business Manager at Dubbeldam, says the company's journey with payroll didn't start out quite as smoothly as they would have liked. The service they were using had a complicated interface that slowed down their payroll processing to the point he refers to it as being "burdensome." Not to mention the regular need to touch base with support over hiccups they ran into along the way.
He says when using the other service, they'd need to call support every other week and then wait on hold. A good month would mean spending only 30 minutes to do payroll for their then three to four staff. When they needed to get support involved, that would shoot up to an hour.
Blueprint for a well-designed payroll software.
With that experience as the building block for working with payroll, it was time for a change. An architectural and design business doesn't want to spend so much time thinking about processing payroll, after all.
When the company came across Wagepoint, Kevin says there were a few key standout aspects of what the payroll software brought to the drawing table.
Simplicity and functionality at a competitive price equals good value. Wagepoint knows how to balance user experience with complexity. Reporting met our needs.

— Kevin McIntosh, Business Manager at Dubbeldam Architecture + Design
Building blocks for successful pay runs.
Switching to Wagepoint has given Dubbeldam a much better experience with payroll than the foundations they started with. Kevin says that the key isn't just being able to run payroll for their full- and part-time employees (and, on occasion, contractors), but having the building blocks and tools for different kinds of pay runs.
Think about it: running payroll for an employee looks a bit different than running for a contractor, and Dubbeldam sometimes works with both! Then there are other types of pay runs to take into consideration, such as vacation pay. For Kevin, working through these is a breeze.
After moving to Wagepoint running payroll, even when there is vacation pay involved, payroll takes 15 minutes max for now twice as many employees as we had when with our old service. In the years we've been on Wagepoint, I think we've called support once and service was prompt.

— Kevin McIntosh, Business Manager at Dubbeldam Architecture + Design
All of this means they spend less time on payroll and more time focusing on their masterpieces. And, if they do need to check up on payroll, Kevin says the information is right at their fingertips for them. Easy access to whatever they need to know!

Automation and employee access designed to save time.
How do these built-in features for payroll software sound: Automation and employee access? Thanks to Wagepoint, these two features are saving a ton of time for Dubbeldam, especially during year-end processing.
We barely notice year-end when it comes to payroll. With automated T4 generation for our employees we simply review the data before the February deadline. Employees can access their T4 directly from the portal, saving us time and effort.

— Kevin McIntosh, Business Manager at Dubbeldam Architecture + Design
Simple payroll software you can recommend to other small businesses.
Seeing the positive impact that Wagepoint has had with payroll processing at Dubbeldam firsthand, Kevin says that this isn't something he keeps to himself.
I have recommended Wagepoint to other small business owners. I tell them Wagepoint is great with assisting on the initial set up and training, then super simple to use.

— Kevin McIntosh, Business Manager at Dubbeldam Architecture + Design
This is also an option he recommends picking over manual payroll because of how cost-effective it is, how it frees up time, reduces frustration and pretty much takes potential manual errors out of the equation.
Time to focus on the design work.
It sounds like switching to Wagepoint has really scaled down the time needed for handling payroll, and we love that for you, Kevin! Thanks to you and Dubbeldam for sharing your love of Wagepoint, and we can't wait to see what designs you'll bring to life in the future!
👉 Ever thought about grading your payroll software? Check out Wagepoint's glowing report card from The St. Lawrence Academy!