Become an insider!
Get our latest payroll and small business articles sent straight to your inbox.
Venom Classics is all about revving up engines and memories. This auto shop specializes in customizing and repairing American classic and muscle cars and trucks between the 50s and the 80s.
Co-owner Mary Hinton says the core of Venom Classics is integrity and honesty. Whether doing minor repairs or major overhauls, keeping their clients' classic and muscle cars on the road with miles stretching before them is their ultimate goal.
Located in Arizona with a team of nine employees, Venom Classics brings dream rides to life with reasonable prices.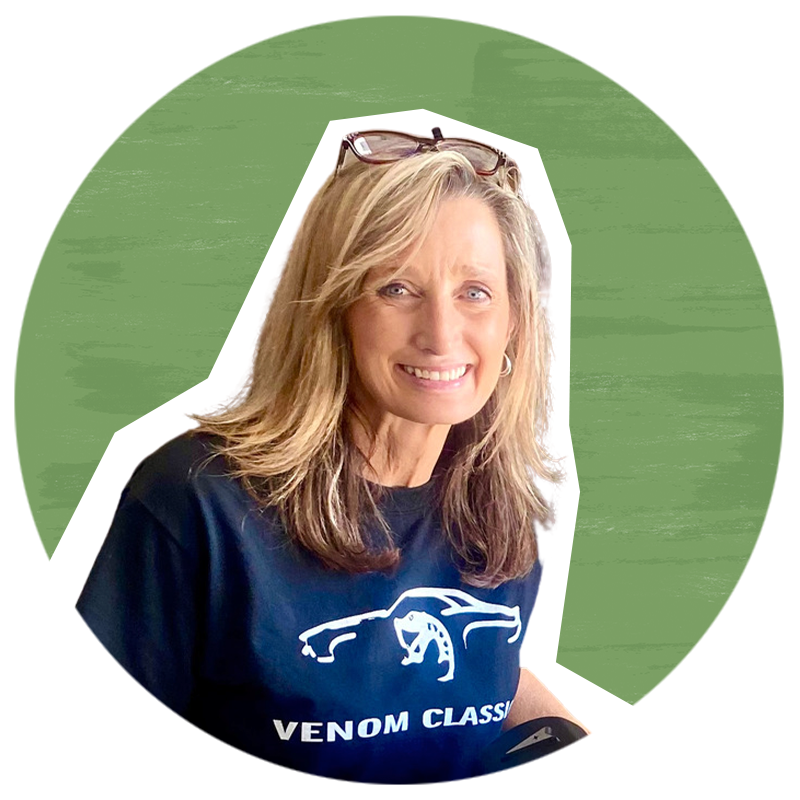 Mary Hinton, Co-owner, Venom Classics
Small business bringing passions together.
On top of her passion for cars and the automotive industry, Mary is passionate about people and making connections. Over her career, she's honed her customer service and hospitality skills, which she uses every day when working at Venom Classics.
Co-owning this small business has given her the opportunity to lean into both of these areas she's passionate about, which she loves.
My favorite part of owning a small business is having our customers turn into friends.  We have been blessed to meet the most wonderful people, and they have turned into life-long friends.

— Mary Hinton, Co-owner, Venom Classics
Finding a solution to avoid stalling on payroll.
Like many small business owners, Mary says she tried to manually take on handling the company's payroll needs. It wasn't long before she started looking into other solutions to find something that would simplify the process, improve accuracy and save time.
I tried doing my own payroll and quickly realized that there is too much room for error, and I don't have time. I looked over multiple providers and saw that Wagepoint made it simple for me.

— Mary Hinton, Co-owner, Venom Classics
Putting the pedal to the metal with Wagepoint.
Wagepoint won a lot of points with its simplicity and time-saving features for Mary and Venom Classics. The easy-to-use payroll software interface makes a huge difference when running payroll, and one of her favourite things is how clear the tabs are for navigating the program. Payroll isn't something she stresses about anymore.
The website is clean and intuitive. I can run payroll in a snap. As a small business owner, I don't have enough time in the day as it is. I'm glad payroll isn't something I have to worry about.

— Mary Hinton, Co-owner, Venom Classics

Looking under the small business hood.
When deciding what tools to add to your tech stack, or just your small business in general, ease-of-use and time-saving capabilities aren't the only things to consider. A small business budget also weighs on the decision, and Mary was happy to find a software with the features to support her payroll needs without breaking the bank.
In small business, you have to be thoughtful with your finances. Wagepoint provides everything I need for my small business, without the price tag of the large competitors out there.

— Mary Hinton, Co-owner, Venom Classics
Manual or automatic transmission automated payroll?
While standard transmission might be a favourite for many car lovers, when it comes to the manual payroll versus taking on a payroll software for automation, Mary recommends going the software route. Even when you're being extra careful, there's a lot of room for error when manually calculating and processing payroll, and it takes up a lot of time to do so. Then suppose you do make a mistake, that just means more time you have to take away from running your business to try to find and fix the error.
Mary puts it this way:
If you barely have enough time in your day as it is and you mess it up, when will you have time to do it over?

— Mary Hinton, Co-owner, Venom Classics
Perfection not required for excellence in business.
Small business owners have a lot on their plates, from the day-to-day business tasks to the behind-the-scenes tasks that customers don't see or think about. That's a lot, and something that Mary understands.
With her experience, she has this advice to share with others in the small business sphere, especially owners:
Don't try to do everything yourself. Focus on your customers, and do your best in whatever service or product you offer. You'll have a lot of spinning plates in the air. Get help with the other stuff, like payroll, bookkeeping, taxes, et cetera. You don't have to be perfect to be excellent.

— Mary Hinton, Co-owner, Venom Classics
Continuing down the open road.
Thank you so much to Mary and Venom Classics for trusting Wagepoint with your payroll and sharing your story with us! We wish you nothing but the best as you continue to make people's classic and muscle car dreams a reality.
👉 For another small business case study, check out how Flux Connectivity optimizes running payroll for contractors and employees with Wagepoint.