Become an insider!
Get our latest payroll and small business articles sent straight to your inbox.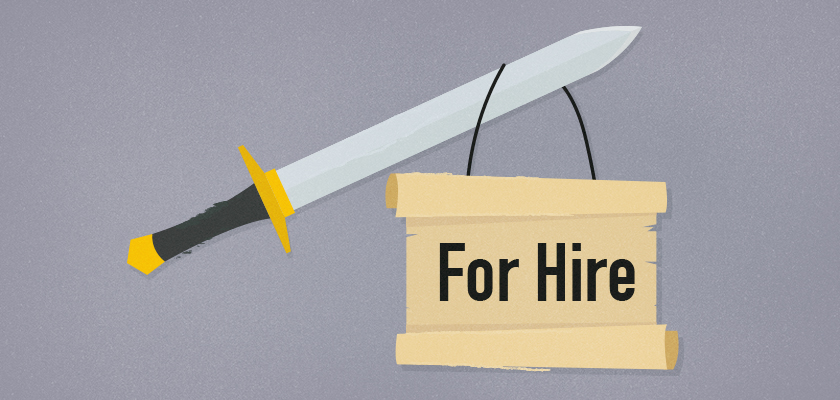 This article is a helpful guide on the best ways to find great freelancers — including strategies to ensure the decision is right based on project and business needs.
Working with freelancers lets businesses tap into a range of specialized skills, without having to commit to a full-time salary to do so. In other words, you can expand your workforce and capabilities, without having to up your phsysical headcount.
Freelancing (the Gig Economy) is a Growing Trend
Finding freelancers online is becoming a popular trend for start-ups, small businesses, and even large organizations.
According to a 2016 report conducted by Upwork, "One-third of companies utilized freelancers. Of these, 55% expected to employ more freelancers in the following year."
The report concludes the reason organizations work with freelancers is because most possess high quality, in-demand skills, which is a helpful solution when there are challenges finding qualified employees.
A History of the Word "Freelance"
Did you know the word "freelance" dates to the 1800s? The term is in a book called Ivanhoe written by Sir Walter Scott that states:
"I offered Richard the service of my Free Lances, and he refused them — I will lead them to Hull, seize on shipping, and embark for Flanders; thanks to the bustling times, a man of action will always find employment."
The present definition of a freelancer is someone that works with an employer of their choice as an independent (contract) worker. During the 12 – 14th centuries freelance soldiers were hired by the military. The word freelance was replaced with stipendiary which meant soldiers received a stipend (compensation) for their efforts in the wars.
Whether an entrepreneur or an employee searching for talented freelancers, here are the best ways to find qualified freelancers online:
1. Determine Your Project Needs
Before working with a freelancer, it's essential to determine a budget, project scope, required turnaround time, and the experience or skills required.
The confirmed rate to pay a freelancer is different than an hourly rate for an employee because most freelancers charge by the project. It's important to figure out what the minimum and maximum rate are based on the compensated rates for freelancers in the area.
Also, if you decide to hire international freelancers, an online search based on the project needs can identify the rate based on that freelancer's location.
If the intended goal is to pay low rates with an expectation of receiving high-quality work, it is best to pay the freelancer what he or she deserves.
There's truth to the expression, "You get what you pay for."
From an ethical standpoint, full-time freelancers are self-employed.  While it can save money to haggle a little bit, you don't want to go too far and jeopardize the relationship you're building with the freelancer.  Trust goes both ways. If you make the freelancer uneasy, that person may not "be available" for your next project, which means you're starting from scratch all over again.
Once the freelancer is selected, ask the individual to send an estimate of payment that includes a work order, an outlined freelance contract, number of revisions included in the pricing and preferred method of payment.
2. Ask the Right Questions
Get to know each freelancer's background. Before you agree to work together, set up a screening interview.
Before you chat, provide an overview of the project. See how much research each freelancer does before the call. This shows how hungry or interested they are in your assignment.
You can also:
Discuss why they choose to freelance and how long they've been doing it.
Ask them if they have experience with similar projects.
Clarify how they prefer to communicate while working on a project — email, phone, online chat, etc.
It's also perfectly acceptable to request samples and references.
3. Set Clear Expectations 
Time is a limited resource and it shouldn't be wasted.  For projects with a large scope, try a three-month contract to test for fit.
During the first 90 days, pay attention to:
• Timeliness — are milestones met on time?
• Communication — is it really a two-way street?
• Quality — is the work meeting your standards

Where Should You Post Freelance Opportunities?
This is where you can be old-fashioned by using a traditional job board or new age by testing out freelance websites.
Traditional Job Boards
Designed more for standard job postings, many of these sites don't have the screening and communication features available on dedicated freelancer websites. You can try posting a freelance assignment this way. However, once you've experienced the depth of resources on today's freelancing websites, you may reconsider your decision.
Freelancing Websites 
Some of the best freelance sites to check out include:
Don't Forget the Value of Word-of-Mouth 
In the end, finding the right freelancer is all about building a relationship. If you have colleagues in the same industry who've used freelancers, ask for contact information for the people that have stood out the most. It's also not uncommon for established freelancers to rely on referrals more than freelance sites.
More and More Small Businesses are Using Freelancers
Studying trends in small business hiring, SCORE has found that that there has been a noticeable rise in the number of small businesses using freelancers (independent contractors).  Here's more of what they found:
Freelancers are the new "go-to" resource, showing a 37% increase over other hiring categories.
The biggest deciding factor for choosing a freelancer is for specialized expertise.
Technology, accounting/bookkeeping, marketing, manufacturing, sales, strategic planning and logistics were the areas most likely to get outsourced.

Are Freelancers the Right Choice for Your Business?
In an insightful article, RecruiterBox outlines some of the pros and cons of hiring freelancers.
The pros:
A cost savings of 20 to 30% for project-based work — due to the fact that you don't have to provide them with equipment, office space, benefits or pay employment taxes. You don't even have to take out income tax when you pay a contractor — it's all the freelancer's responsibility.
If it doesn't work out, it's easier to end a relationship with a contractor. You simply pay the bill and move on.
You can find a freelancer very quickly. Hiring someone takes a lot more time.
The cons:
The freelancer is working for his or herself. Therefore, their main focus is growing their own business.
Even the most dedicated freelancer won't be as invested in your business as an actual employee.
Freelancers are not always 9-to-5 workers. This can be a bit of a hitch if you need someone during a specific part of the day.
Other things you should consider are that there are legal and tax implications that separate freelancers and employees. If you hire someone as an employee, you must follow all the labor laws and administer income and payroll taxes. Additionally, if the skill you need also requires in-depth knowledge of your business, you either want to establish a long-term relationship with a freelancer or consider hiring an employee.
What's your experience with hiring freelancers? Tell us in the comments below.