Become an insider!
Get our latest payroll and small business articles sent straight to your inbox.
Not every business is the same, so each business's workflow can vary greatly from the next.
There's one thing we know for sure, though: Anyone can benefit from having timekeeping software. In general, it allows you to spend less time on spreadsheets and more time on the more important tasks in your day.  In fact, using timekeeping software can cut your payroll processing down by 3 hours each month. On top of that is the ability to save money by reducing time theft and preventing costly payroll mistakes.
What small businesses need in a basic timekeeping tool.
On a very basic level, your time tracking software of choice should check some key boxes. These are the ways software elevates and streamlines your process compared to those, um, tedious manual spreadsheets.
Ability to handle time cards and timesheets
No matter the way your business structures its time requirements, your timekeeping tool should be able to handle it. Understanding the differences between time cards and timesheets is the first step in making sure that happens.
Time cards refer to the traditional way of tracking time, where employees punch in and out using some kind of clocking device. This can be with physical punch cards (talk about old-school), clocking stations with fingerprints or PIN entry, or even through an online app if you're more tech savvy. Work hours are recorded down to the minute based on the punch time. Time cards are popular with shift-work industries, like restaurants and retail.
Timesheets, on the other hand, leave recording hours up to the employee. Total hours for the day are written down on the timesheet by the employee, without much detail of when they started or stopped. Since there isn't a by-the-minute breakdown like time cards, timesheets are usually popular with hourly office workers who have a consistent work schedule.
Time approval by administrators
No matter your recording style, the ability for administrators to review, adjust, and approve employee work hours is crucial. Administrators and managers need to be able to see hours at a top level to review how much employees are working, when, and how accurately their time is recorded.
When an adjustment does need to be made, timekeeping software should keep it simple — once a change occurs in the system, it should automatically re-calculate things like regular and overtime hour totals and the resulting pay rates. Adjusting manual spreadsheets means you're left to do this math yourself.
Clocking restrictions to prevent time theft
We've mentioned it before, and we'll mention it again: Time theft is no joke. 49% of US employees and 63% of Canadian employees openly admit to time theft, clocking in early or leaving late to get a few extra minutes of pay each day. Though it seems harmless in small doses, this adds up to about 11 billion in lost revenue for businesses each year.
That being said, timekeeping software should include prevention features to make sure your employees are clocking hours accurately. This can be anything from time rounding to prevent late punches to location restrictions to prevent clocking off-site. The features your business will use will depend on your preferred clocking processes for your employees.
Built-in rules to assist in compliance
When it comes to employee hours, overtime law compliance can be a big concern for some businesses. Automating timekeeping should also factor in compliance regulations as well. Your timekeeping system of choice should at the very least alert you when an employee is edging into the overtime zone, and help you calculate what that means for your payroll.
Mobile-friendly
As the workplace becomes more mobile-friendly, it helps to have tools that can follow you wherever your office may be. Especially with timekeeping, it's helpful to able to get into your software and make any adjustments from anywhere with an internet connection.
Integration with payroll
This one is an added bonus. Integrations with other business platforms — especially something directly related like payroll — can save you time by reducing the need to manually enter data from one system into the other. Once your timekeeping software tracks your employee work hours, your payroll system should be able to pick up that information with ease.
When deciphering what system works best for your small business. keep these basic features in mind. Each of them can be found in Wagepoint's own timekeeping app, Track, which is an available add-on for all of our customers.

How Track can streamline timekeeping and payroll.
Let's say you're currently using a manual spreadsheet to track employee hours. That means every pay period, you have to manually gather your employee's work hours (either from a timesheet or a clocking system), write them down, do the math on how much each employee should be paid, and then enter those hours manually again into your payroll system.
And if you're not using some kind of payroll software, the laundry list gets even longer when you have to figure in doing payroll tax calculations. For some of you, that adds up to you spending 10 hours a month on payroll alone.
As we mentioned before, adding a time tracking system will cut that time down significantly. Adding a time tracking system that also integrates with payroll is even better.
Enter the solution: Track by Wagepoint is a tried-and-true solution for small businesses that already use our payroll software. Track simplifies timekeeping in the same ways Wagepoint simplifies payroll. It works best for small businesses looking to move away from tedious manual processes that slow them down but don't necessarily need an array of complex features.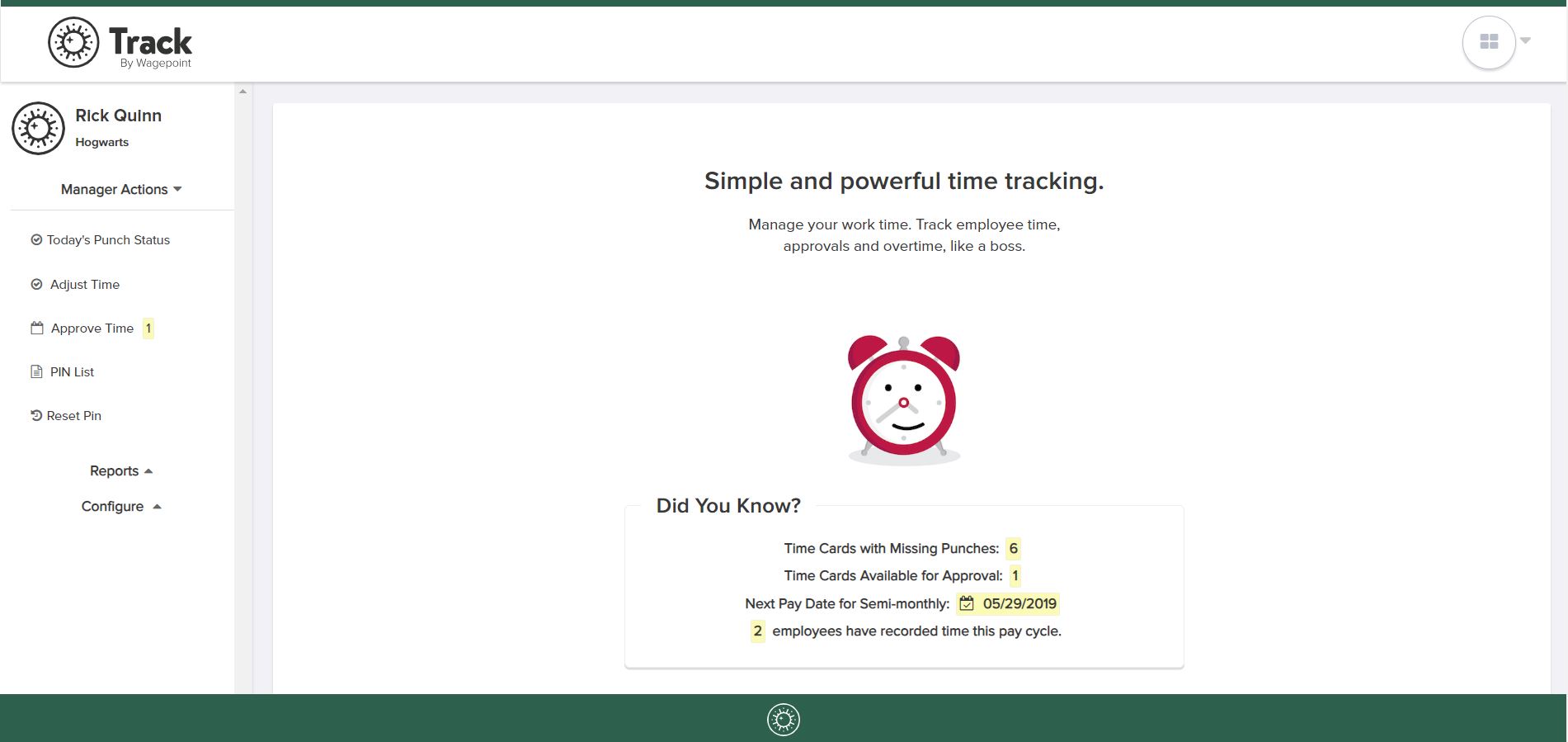 If you're skeptical, take it from GnarlyBooks — they're a cloud accounting team that uses Track and Wagepoint to help some of their small business clients streamline payroll:
"For us as a firm, Track has enabled us to take on more clients because payroll has become much faster." – Markus McDaniel, GnarlyBooks 
4 ways Track automates small business timekeeping.
Manual spreadsheets are all fun and games until you find something better. But not every business needs all the bells and whistles, especially since bells and whistles have an upcharge. Track has a few key features that make it a good choice for small businesses that need a simple, automated tool.
1. Ease of use (no muss, no fuss)
The entire reason you're moving away from a manual process is to get rid of the "manual" part. We get that — which is why Track automatically syncs with the employee and pay period information you already have in Wagepoint.
Import existing employee information
Employees are already populated in Track when you get started since they're already in your payroll portal. That means there's no need to input the same information about their wages and pay periods again.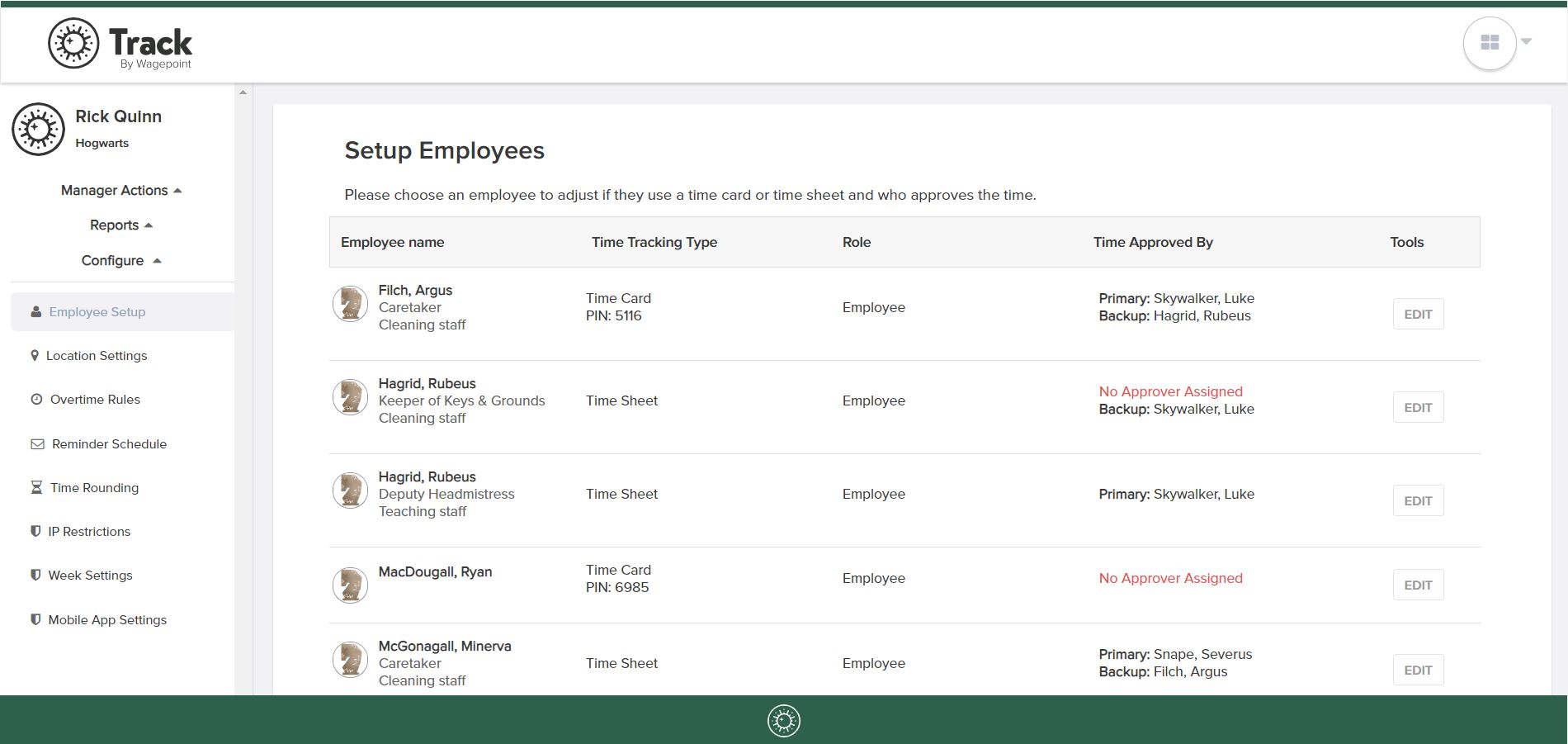 Choose time cards or timesheets
There are also pre-set options for tracking employee time: Time cards and timesheets. Choosing one or the other automatically connects the employee with the type of tracking they need to use.
Apply overtime rules
Overtime rules are also already created in Track. With multiple choices, you can select a company-level rule in accordance with federal or state/provincial regulations and even choose a separate rule for specific employees if necessary.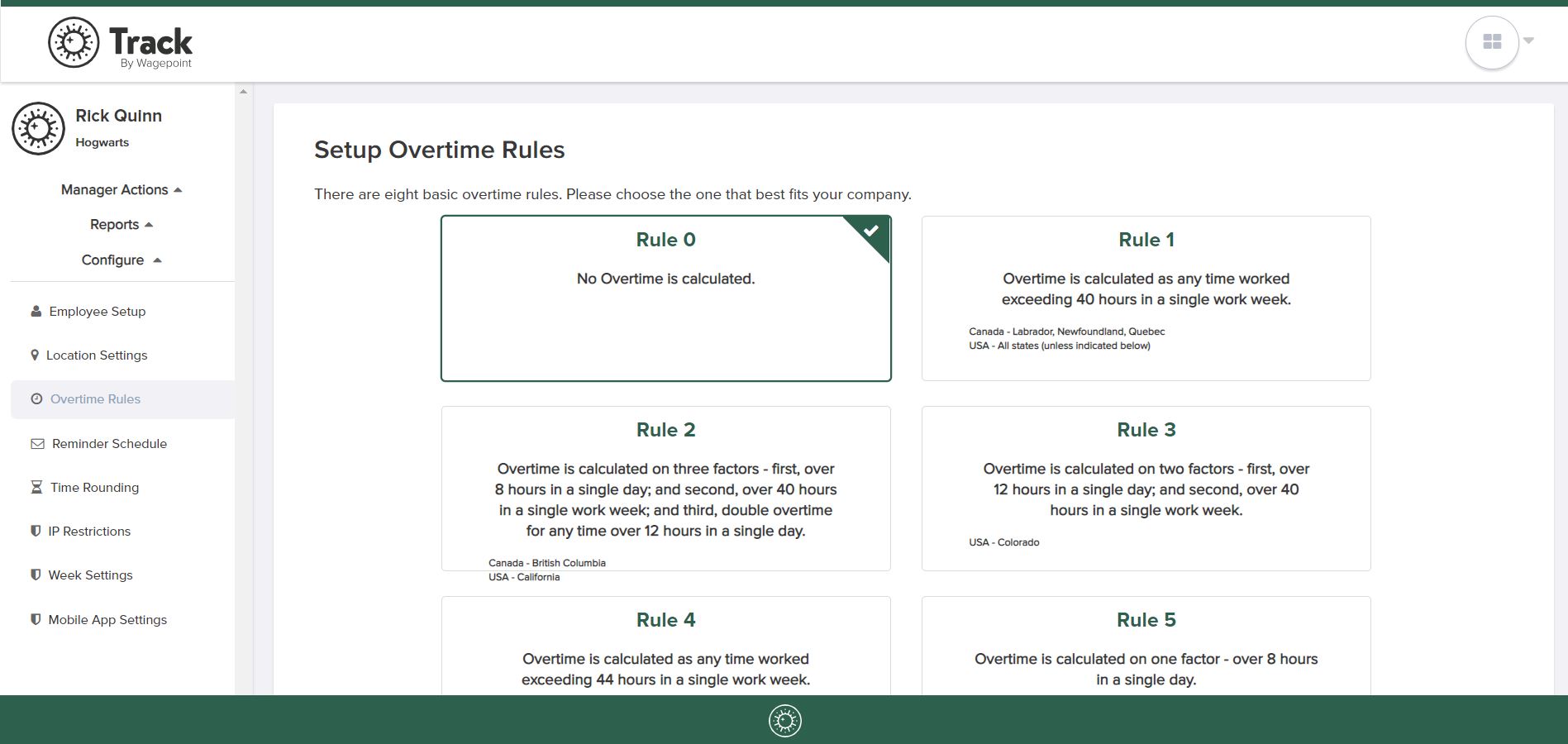 Correct employee hours quickly
When an employee gets their time wrong, you can easily go into Track and make the adjustment as an administrator. Track then does all the extra calculations for you based on the change, so you don't have to do the math yourself.
Automatically import hours
If Track is doing the work to track your employee's hours, it should update payroll automatically, right? We think so. Instead of writing your employee's work hours out again during the payroll process, you can import them from Track by clicking one button.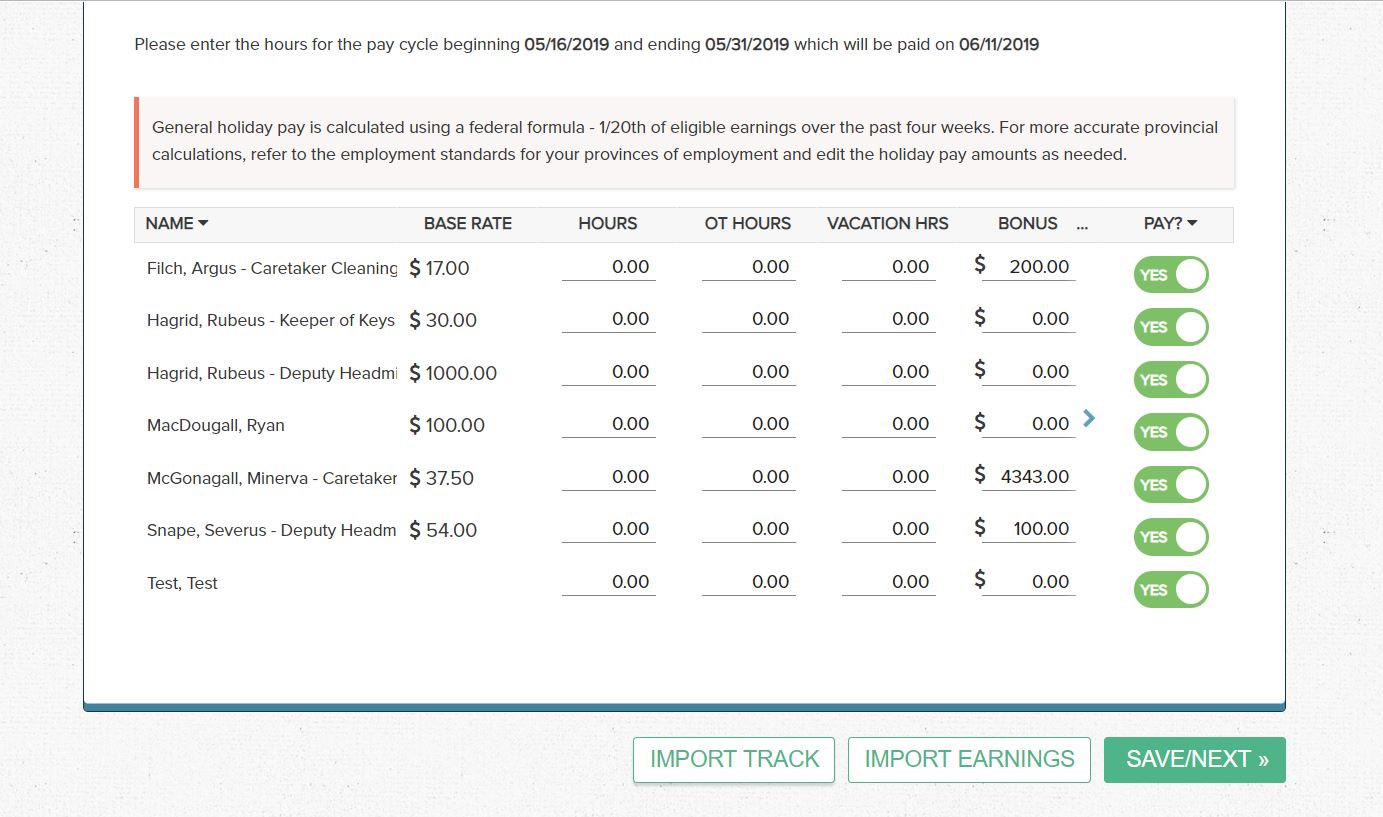 2. Mobile capabilities
Having a mobile timekeeping system allows your business to be more flexible. Have employees who work from home? No problem — they can still clock in and out from their own device. Need to make a time correction when you're out of the office? Easily done since you can log in from anywhere.
As a cloud-based app, Track can be accessed from any device with an internet connection (unless you make restrictions as a business owner, outlined below). This is for both administrators and employees, who can access Track through their existing Wagepoint accounts. Employees can also clock in and out through Track's free mobile app, available for both Apple and Android devices.
3. Clocking restrictions
Knowing time theft is a prominent problem — and one the average small business can't afford to have. Track includes several restrictions that you can employ as a business owner to prevent time theft by your employees.
Location settings
With mobile capabilities can come issues with time theft. Some employees with free range to clock in anywhere may take advantage, counting time not spent on the job. Track has several location features to help prevent this, including location gating (which restricts clocking based on physical location) and IP address gating (which restricts clocking by device using IP addresses and Wi-Fi connections).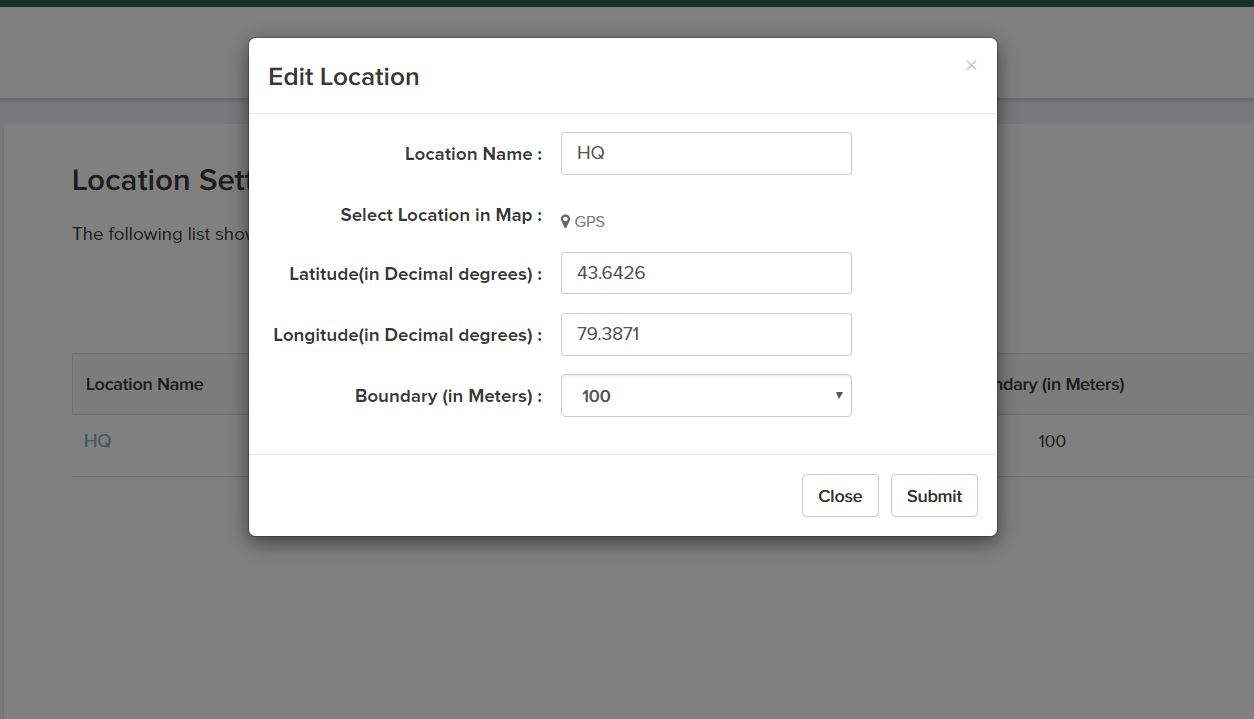 Some existing Track users set up one device for clocking — like a tablet in the breakroom — to ensure employees can only clock in and out while at the job. If you don't need to be this restrictive, some of the other location options may work for you.
Time rounding
Some employees are notoriously late. If you're a gracious manager, you may let it slide. But over time, even clocking 10 extra minutes a day can add up to thousands of dollars in lost profit per year. Multiple that by a handful of workers, and you're out of a substantial amount of money.
Time rounding through Track takes the exact clocking time and "rounds" it to the closest 15-minute interval. You can set when the rounding occurs — anywhere from 1 to 14 minutes late can mean losing 15 minutes worth of pay if that's what you decide. And for employees who clock out late, you can add a rounding feature to round time down within certain parameters.
Clocking photos
When an employee clocks in for their coworker, it's called buddy punching. Buddy punching can seem harmless. But again, it can add up to significant losses due to time theft. Track can curb buddy punching by requiring photos at clock-in, which can then be downloaded by administrators to check that employees are punching for themselves only.
Some Track users have gotten pretty creative with this feature. One employee at a restaurant would even take his clock-in photos from a different angle every shift — once, he even recruited his fellow employees to help him hang upside down for the photo! (Maybe don't tell the workplace safety people about that one).
4. Integrations with small business payroll and accounting software
The more apps that sync seamlessly, the better. If you're using different apps and software to get your business tasks squared away, it makes sense that they communicate data between each other when possible.
Since Track is inherently a Wagepoint product, it imports approved hours right into payroll each pay period. From there, payroll can sync up with accounting platforms like QuickBooks Online and Xero — meaning your labor costs are tracked from start to finish with minimal effort.

Using Track for your small business timekeeping.
When all your small business needs is a basic time tracking tool (in place of those devilish paper timesheets or time cards), Track is a good option for you. With the key features outlined above, you're sure to save valuable time you would've otherwise spent on creating spreadsheets that can be ridden with inaccuracies.
Remember that Track users have to be using Wagepoint for their payroll. This makes the setup process simpler by eliminating the need to enter your employees' information in both portals as they sync up.
In terms of pricing, Track is billed as a separate product from Wagepoint on a monthly basis. The price is determined by how many active users you have on the app, meaning you only pay for the employees that use it to track their hours. If you have administrators or other salaried employees that don't track their time, Track won't bill you for them.
Your first month using Track is completely free so you have time to set up and test things out at your leisure. You can learn more about how to add Track to your existing Wagepoint account here.
Learn more about your time tracking options
Track is a great basic tool to get your timekeeping moving. If you need more in-depth features, you're in luck — the next two webinars in the Every Minute Counts series will delve deeper into the nuances of more complex timekeeping apps. Signing up also gives you access to the past two webinars in the series, including the demo of Track.
Multi-Function Time Tracking — June 26 at 1 pm EST
Get additional bells and whistles with TSheets, who provides mobile time tracking suited for businesses with field technicians like electricians or plumbers. Experts from TSheets will show you the ropes during a live demo. Another plus, TSheets integrates directly with Wagepoint payroll, too.
Restaurant Time Tracking — July 10 at 1 pm EST
7shifts cooks up a timekeeping experience that includes scheduling and labor cost projections for your restaurant. An expert from 7shifts will be doing a live demo to show you how it works  how to import hours into Wagepoint with one click.
Signing up for the webinar series gives you access to all the webinars, including downloads of their recordings so you can watch or recap individual topics on your own time.

The advice we share on our blog is intended to be informational. It does not replace the expertise of accredited business professionals.