Become an insider!
Get our latest payroll and small business articles sent straight to your inbox.
Got a trade show or conference coming up? Whether it's your first or five hundred and first, planning ahead and being prepared are key to getting the most of your experience.
This is why the QBO Connector group held a webinar focused on those final details that go into preparing for a conference.
Your schedule will be packed — but your carry-on shouldn't be
Everyone in the online discussion agreed — you want to plan to focus on your experience. For most one to three-day conferences, try to fit everything you need into a carry-on.
A business-travel must, using a carry-on keeps you from having to check luggage or spend time waiting for your luggage to arrive once your flight has landed. Plus, since your carry-on bag rides in the cabin with you, you don't have to worry about lost luggage.
Conference packing list essentials
What will you need for your trade show? Make your list and check it twice — and don't forget to leave space to bring any new treasures home. Your list of basics should include:
Clothing
Most conferences are casual. Everyone has their own take on casual, but pick the version that looks best on you.
If it's a multi-day event, think about which items you could wear more than once.  If you plan to join after-hours events, consider if you need to slip into anything more comfortable or formal. And, check the weather to see if you need a coat and, if so, what kind.
Basics — Socks and undies are easy to forget, but don't.
Shoes — If there's a lot of walking involved, bring comfortable shoes. (If you have any formal affairs, remember your dress shoes.)
Your "you time" — Like to unwind in your hotel room or hate missing a workout? Put your exercise gear or comfy clothes on the list too.
Sleeping — Bring your jammies if you need them. For those of you who prefer a more natural state, we'll let you keep that to yourself. (Really though, PJs don't take that much room.)
Accessories —  A broad category that can range from glasses and sunglasses to jewelry.
Toiletries
Your credit card isn't the only thing you shouldn't leave home without. Granted, it's not that hard to find a drug store, it's nicer if you don't have to make an unplanned detour. Consider what you use to get ready every day and what you like to have handy, such as:
A toothbrush and toothpaste. (Bonus points if you pack dental floss as well.)
Hairbrush or comb — along with your styling products of choice.
Over-the-counter or prescription medications
Makeup and cosmetic items
Travel-sized products and containers — If hotel shampoo just won't do, use travel contains to bring the shampoo or lotion you just can't live without. Or, check to see if they make a travel size of your favorite items.
Business items
You're not there just to "work the crowd" — you also want to bring your business basics as well. These are things like:
Your phone — Plus your charger, battery pack, etc. Also, consider if you'll need any sort of roaming plan to access data.
Your laptop — Pack your computer charger too. (It's helpful to remember the computer itself as well.)
Everyday basics — Pens, pencils, a notepad or notebook and a water bottle. (Pro tip — having an extra pen handy can help you make a new friend if help an attendee who finds themselves sans writing utensil.)
Business cards — Yes, they are still a thing.
A shoulder bag or backpack — This will be your mobile office. You need a bag that fits easily in your carry-on or falls in the category of an acceptable second bag to have by your seat on your plane, train or preferred choice of travel
If your list is getting long and space is running low…
Don't be afraid to go all KonMari and focus on only what you need. Think about what you wear to as you travel, this can also factor into your wardrobe selection. Multifunction is your friend. Fancy and frivolous are not. Two words — capsule wardrobe.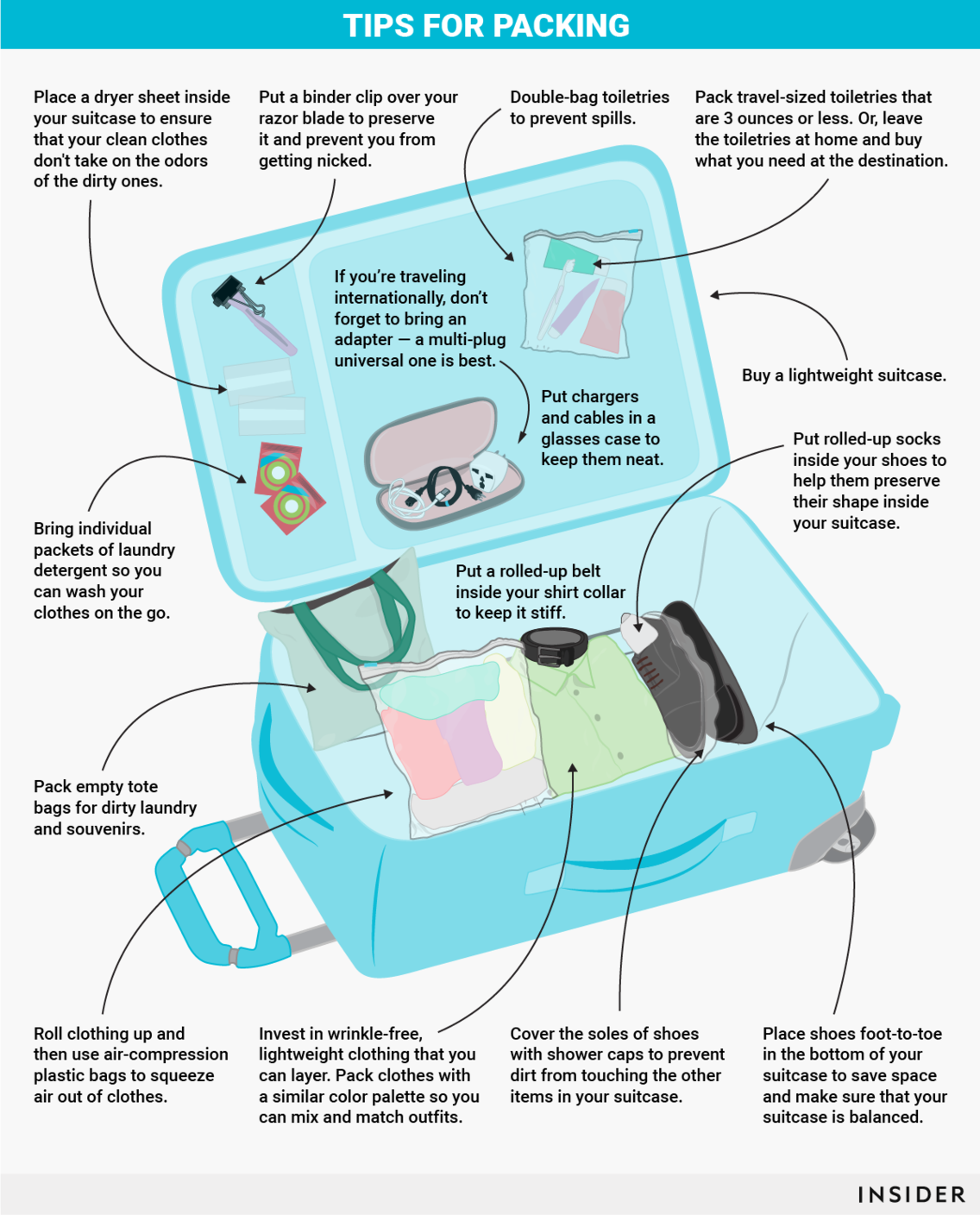 Other items to check for before you head out
If you're flying, taking a train or any mode of transport that requires a ticket, make sure you have your reservation details or sign in details ready to go. You also want to remember any relevant forms of identification, such as a passport, NEXUS card or other travel documents.
While a debit and credit card can get you far, it's also handy to have a little cash on hand. If you're crossing a border, see if you can get a little bit of currency ahead of time. Oh and don't forget your hotel and car reservation information as well. Although most people will have that on their phone. (If we haven't mentioned it already, don't forget your phone.)
Oh yes, earbuds or headphones too. In-flight entertainment just isn't the same without them.
Measure twice, cut once
If you're a list maker, consider using a spreadsheet or app to make your list so that you have it again for future events. Consummate list maker also confessed to having versions of their conference packing lists depending on the type, length and location of the convention.
Set your out-of-office notification
When you're at the conference, you want to focus on the conference. The first step in avoiding the need to obsessively check your email or voicemail is setting an out-of-office message. Again, this includes your business phone and email. Another pro tip is to set your OOO notification a few days in advance as a way to let your clients and contacts know you'll be away.
Prepare your team
If this is your first time away or your team isn't used to you being away, try a dry run before you go. This may also help you become more aware of responsibilities you can hand off or delegate in the future. (Training up is the way to go.)
Plan to be social
This may depend on the size of the conference and your industry, but for accounting and bookkeeping conferences, social media is a huge component. Most events have a specific hashtag.
For instance, the hashtag for QuickBooks Get Connected Toronto is #QBConnect and the social accounts for the organizers are:
Facebook: @IntuitQuickBooksCanada
Twitter: @QuickBooksCA
Instagram: @QuickBooksCA
If there are influencers, peers and customers you want to "tag" — have a list of their handles ready.
Note: Just like almost everything in life, with social media, moderation is key. A few strategic or clever posts will have more impact than a slew of white noise.
Finally, don't be afraid to say, "Hello."
Some people are master networkers for others, it's not quite their forte. Regardless of your networking prowess, a simple smile or friendly hello goes a long way.
If there's someone you really want to connect with, try using the conference networking app to connect. You could also try reaching out before the event. Or, if you really like what a speaker or participant has to say, take a moment to go talk to them after the session ends.
See you soon!
If you're going to QuickBooks Connected in Toronto we'll see you there. Wagepoint will be in booth G2. Happy travels!
Again, we'd like to thank the folks at QBO Connector for hosting such a fun and insightful conversation.