Become an insider!
Get our latest payroll and small business articles sent straight to your inbox.
Take a look at any research released around the world these days on consumer preferences. When it comes to payments, you'll see that debit and credit cards (along with other non-cash methods such as PayPal) tend to make the top of the list consistently.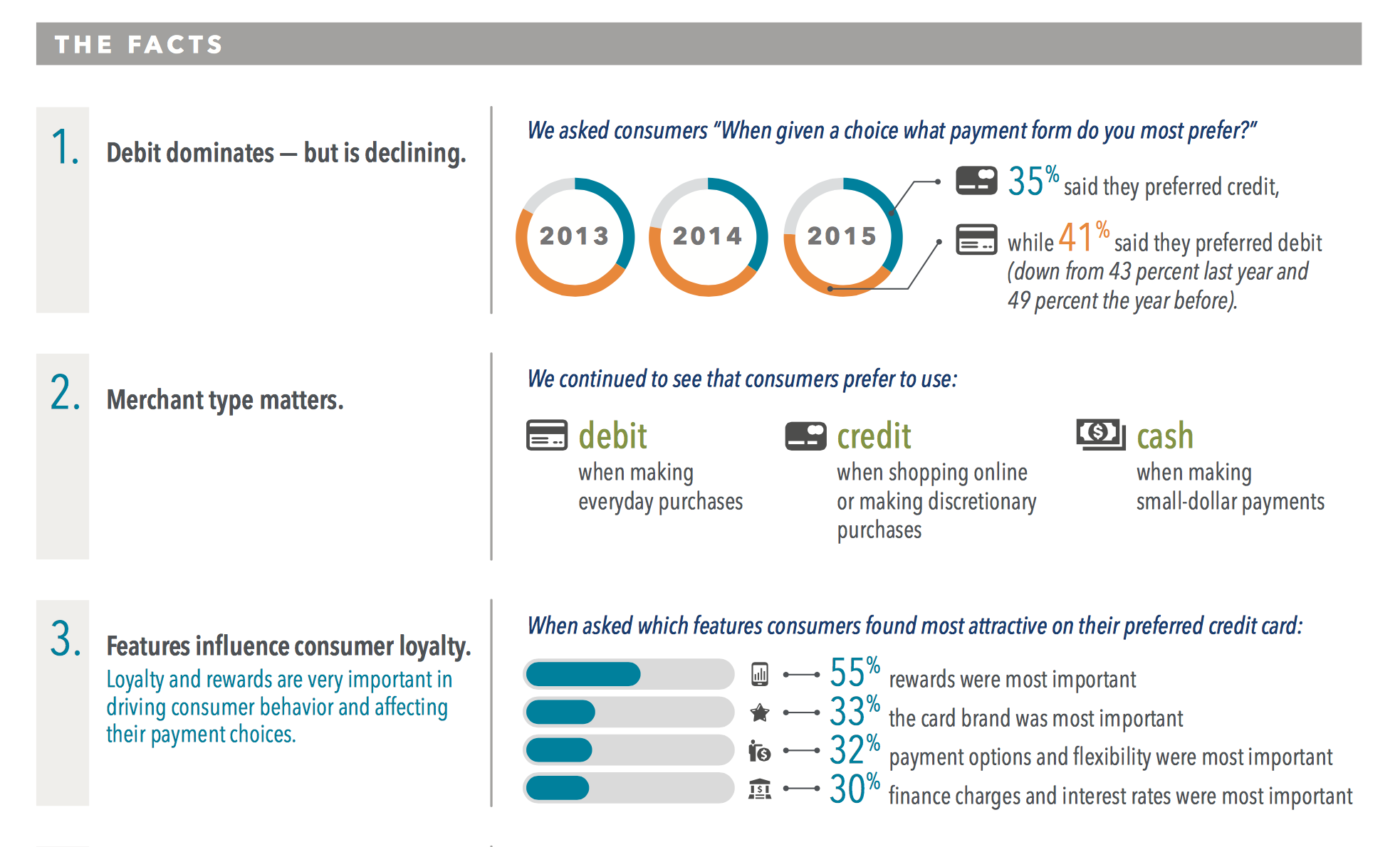 Source: 2015 U.S. Consumer Payment Choice Study, TSYS
Customers like the convenience of using cards, digital wallets and alike when they pay for purchases and they also tend to do more buying online than ever before. With the added convenience, larger selection, and often better pricing that can be enjoyed through digital rather than in-person channels, it's easy to see why the number of online shoppers is set to keep growing.
According to a 2015 study by the United Nations Conference on Trade and Development: We're set to see online shopping numbers soar to 1.62 billion in 2018, up from 1.08 billion in 2013.
However, despite the rising numbers of online shoppers worldwide, it's also true that many consumers are still wary about paying for purchases online or through digital card readers. This is where it's important to choose the right payment processing provider for your small business — and to ensure you do everything you can to help customers feel secure in dealing with you through digital means.
If you're keen to find out everything you need to know about selling digitally over the coming months and years so that you don't miss out on any of those all-important sales, read on for some tips and information you can use today.
The risks of digital payment processing.
The first thing you should consider when looking at going digital with your payment processing is the potential risks and benefits involved. While there are limited risks, which are well outweighed by the benefits, you should be aware that there is the potential for hackers to steal and misuse data online that can occur if you don't take the right precautions or choose a security-conscious payment processing firm. Such breaches can, in turn, lead to bad publicity for your business along with the levy of possible fines.
Also note that if you don't choose the right platform, you could also be faced with potentially high fees and rising compliance costs, as well as bottlenecks in transactions and frustrated customers if your processing firm can't handle your transaction volumes or just suffers from downtime issues. Make sure that you choose the right payment gateway (tips on this to come), and you'll likely not have to worry about these types of issues at all.
The benefits of digital payment processing.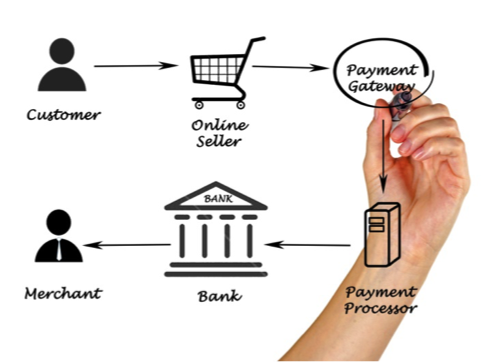 The benefits of digital payment processing are many, happily. For starters, using a digital platform allows you to provide many different types of payment options for your customers, which is a big plus. Most consumers these days expect to be able to pay using the method they choose, whether that's their debit card, credit card, PayPal account, direct check, direct deposit or other. Utilizing a comprehensive digital merchant-services system allows you to provide these choices every time.
In addition, customers tend to prefer having their payment details handled by a third-party service that has many security protocols in place, rather than have their data inputted directly by a business team member. When you use a well-regarded merchant services platform and advertise this fact to your clients, they will feel safer and more inclined to trust your organization with their sensitive information.
Customer retention can also improve when you use a digital payment-processing system.
Since customers can have their purchases transacted very quickly (and often already have their information entered and stored in a system after they've bought from a business once), they don't have to consider their purchases so much or spend a long time in the checkout. This convenience tends to draw them back to the same business time and again.
The different types of payment systems.
There are different types of payment systems you can choose from according to your needs. If you run an e-commerce store, for example, you will probably want to utilize a specialized e-commerce platform that is designed to integrate seamlessly with online shopping carts.
There are simple e-commerce payment-processing systems that only take credit and debit cards, as well as more comprehensive platforms, including those that do all-in-one online processing, also called AIO online platforms. These systems can handle thousands of transactions at once, as well as credit and debit card payments, checks, and direct debit — basically whatever you may need, all in the one, comprehensive system.
Alternatively, you may find that a mobile payment-processing system is the best option for your business. Mobile platforms are perfect for venues such as tradeshows, conferences and other events, like pop-up shops, food trucks and markets, customer homes, etc.
Today you can easily accept payments from your smartphone or via a mobile card reader anywhere and anytime. Mobile payment plans are just as affordable and easy to set up as other digital payment-processing systems, and will help you to increase sales in a flash.
Mobile payments can also be very useful in traditional store environments when times are busy and standard checkouts are full, such as during Christmas, Black Friday, or mid-year sales. As well, restaurants, coffee shops, bars and other hospitality spots that have regularly busy times of day may also like to utilize mobile platforms to help ease transaction congestion and get customers in and out more quickly.
How to choose the right provider.
When it comes time to choose the right merchant services firm for your needs, it can be tough trying to whittle down your list with so many options on the market. However, there are ways you can determine which provider may be the best fit for your requirements. For starters, it pays to be clear about the specific needs and goals of your business.
Keep in mind that not all gateways provide the same services to their customers, and conversely, not all businesses need the same services anyway.
As an example, one venture may only need a simple merchant account with the bare minimum of features (such as the ability just to process debit and credit cards). While a different business may require much more functionality, like inventory management features, the incorporation of a loyalty program, or the ability to process payments on a smartphone as well as via an e-commerce site.
In order to find the best fit for your company, you should sit down and work out what the must-have facilities are that you need from a payment gateway. You should also think about where and how this payment system would likely integrate into your daily operations.
When considering potential payment-processing platforms, you should also examine whether those on your shortlist accept all forms of payment or not, as this is not a given. Remember that it generally pays to be able to accept PayPal transactions, as well as payment from popular credit cards, such as American Express.
The next step to finding the best payment-processing firm for your venture is to analyze prices. This is, of course, one of the most important factors when choosing a provider. But it can be a little tricky when you consider that different companies actually structure their fees in varying ways. To really compare "apples with apples" then, you must analyze pricing closely.
When you're checking out your shortlist of merchant gateways, you're sure to find that some of them charge a flat fee per transaction, regardless of how many payments are handled by the system in a given period (usually monthly or annually). However, other firms have a variable fee structure in place. This may be based on the number of transactions needing to be processed each month or year, or may vary according to the level of overall transaction value in a period.
When it comes to price, be aware too that some companies charge their customers a startup fee to join, while others don't, but may expect businesses to commit to a 12-month or longer contract. As well, some payment gateways charge cancellation fees if you want to exit the service, while others just have a month-by-month setup which doesn't involve any minimum periods at all.
Another area that is very important to examine when you're considering payment-processing firms is that of security. As mentioned earlier, hackers do try to gain access to sensitive consumer data such as credit card details, addresses, phone numbers and the like by attempting to break into websites and payment gateways. As such, it's imperative that you choose a merchant-services firm that places a lot of importance on digital security.
As you analyze potential providers, find out as much as you can about their security protocols.
The most security-conscious and closely-guarded companies are those that take precautions such as having support for the top-end SSL certificates and using only very complex encryption algorithms. It also pays to look for firms which have CVV2 verification, high-level data encryption, and billing address security.
Lastly, you should pay careful attention to the level of customer support offered by each payment- processing firm you consider. The availability of support (for free, rather than as an extra charge) is very important for multiple reasons. For example, you may have an issue with a transaction not going through that you believe should, and need to find out what the problem is. Or you may discover that the gateway is not working at all or hasn't integrated properly with your point-of-sale system.
While you always hope that systems and transactions run smoothly at all times, some technology issues just simply do crop up on occasion.
When this happens, you need to be able to get in touch with your chosen merchant-services firm straight away and get it sorted out. After all, there is nothing worse than stressing about lost revenue because no payments are being transacted, or losing customers because they're frustrated by your system.
To stop this from happening, make sure you choose a payment gateway that provides 24/7 customer support, 365 days of the year. The firm you select should provide support via multiple communication methods too, including emails, phone calls and live-chat conversations so that you can use whichever is the most convenient option for you at the time.