Become an insider!
Get our latest payroll and small business articles sent straight to your inbox.
While Canada has witnessed a surge of entrepreneurs over the last two decades, a lesser-known fact is perhaps how women have been at the forefront of that initiative. They're creating businesses at rates often outpacing men. In fact, women in Canada are more likely to open their own businesses compared to women in other G20 nations.
Entrepreneurship is about providing solutions and does not require gender-specific skills. But how gender influences the solutions makes a difference. A survey from TSheets by QuickBooks uncovers the strengths unique to female entrepreneurs and how there's still much to be done to capitalize on their potential.
Driven by need, powered by technology
According to the survey, 33% of respondents say they find and adopt new business technology on their own and are often self-taught first. Meanwhile, 1 in 10 respondents credits their support network for introducing them to upcoming tech and business apps.
Many female entrepreneurs say their business is often the result of necessity and made possible by technology. But Startup Canada has also found that women business owners are also experiencing more barriers in accessing technology and other resources.
Real-world female entrepreneurs from the Canadian accounting and bookkeeping universe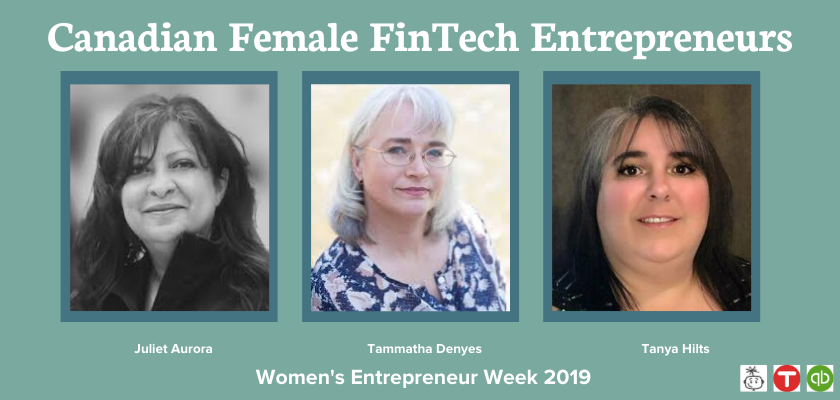 The following women, who are also all certified Intuit QuickBooks ProAdvisors, are case studies in the female entrepreneurial journey.
 2017 Global Firm of the Future Winner — Juliet Aurora
Juliet started her first business in the spare bedroom of her house in Toronto because she wanted to spend more time with her young daughter. Being self-employed was the last thing on her mind, but she felt she had few options. She's now gone from one business to two, AIS solutions and the Kninja Knetwork, and couldn't be happier she made the initial jump.
2018 Canadian Firm of the Future Finalist — Tammatha Denyes
Tammatha has always had an entrepreneurial spirit. But the best catalyst came in the form of the worst news. When she was let go by her then-employer, she realized there were only two options: look for a new job or put her all into building her own business. Today, she is the proud owner of her successful eponymous virtual firm, TD Accounting Services. On top of this, she also offers mentorship to accounting professionals looking to adopt and adapt to the changing industry.
2018 Global Firm of the Future Winner — Tanya Hilts
The owner of CloudBookkeeping,  Tanya is another example of a woman entrepreneur taking technology by the horn. But that's not to say it was easy. "I'll be honest. I was resistant at first, and I was comfortable in my old ways. But then I saw how powerful it was … Why would I spend time doing a task for an hour when I can do it in five minutes?"
"Technology is a new habit. It takes time. But once it becomes second nature, you don't even think about it."

— Tanya Hilts, 2018 Intuit QuickBooks Global Firm of the Future Winner

Financing… the final frontier for female founders in Canada
Financing is another great hurdle for women entrepreneurs. Only 1 in 10 respondents in the TSheets survey said it was easy to get a loan to start their business. This echoes findings from the Everywhere Every Day Innovating report, wherein female entrepreneurs are mostly self-financed and seek loans from family and friends.
The same report argues this is because definitions within the world of venture capital are so narrow. And because female-led businesses are primarily perceived to be in the service industry, women are unfairly disqualified from "funding opportunities that are concentrated for innovation in high technology."
The good news is that more help is on the way. The federal government has plans to double the total number of women-owned businesses in Canada and invested $2 billion to focus on female entrepreneurs via its Women Entrepreneurship Strategy (WES). There are also provincial resources that do not require applicants to own 51% or a majority of the business, to encourage more women into business.
"More women entrepreneurs and small business owners means more growth in our economy, more Canadian businesses exporting to new markets and more well-paying, middle-class jobs for Canadians."

— Hon. Bardish Chagger, Small Business and Tourism Minister
Mentorship and support: For women, by women
Some 16% of the respondents in the TSheets survey wished they had a mentor when they were first starting their business.
Canadian female entrerpreneurs and organizations paying mentorship forward:
Heather has been on the giving end of this equation. "There's something about seeing someone like you … a mentor who has been there can show you it's possible," she told Small Business BC.
For women business owners today, FWE is a mentee-driven program for women across Canada dedicated to educating, mentoring and empowering women entrepreneurs, while promoting strong economies and thriving communities.
 Vickie Saunders — Founder SheEO
Similarly, Vickie Saunders launched the Ottawa-based SheEO with a simple plan in mind: Recruit women who can donate $1,100 to fund zero-interest loans for businesses founded and run by women. Codenamed Radical Generosity, the project has since raised $4 million.
Nancy Wilson — Founder Canadian Women's Chamber of Commerce (CWCC)
Funding for women entrepreneurs is one of the key issues for the CWCC. As the founder and CEO, Nancy advocates the importance of earmarking funds to support women entrepreneurs in tech with fool-proof definitions to prevent misuse.  In a Globe and Mail article, she notes, "At a time when only 4% of Canadian venture capital investment goes to female founders, I'm concerned that the cause of women's entrepreneurship is being used to further marketing goals above actual progress."
Next steps for current and future women entrepreneurs 
What's clear is that no matter the hurdle, women-led businesses continue to push forward, blazing trails and uplifting others in the process. But just as it takes a village to raise a child, it takes a nation to support their efforts. For current and future women entrepreneurs in Canada, it's up to all of us to make inclusion and equality in entrepreneurship a reality.

The advice we share on our blog is intended to be informational. It does not replace the expertise of accredited business professionals.