Become an insider!
Get our latest payroll and small business articles sent straight to your inbox.
Although we're months into the global shutdown, many small business owners continue to worry about the impact COVID-19 will have on their companies.
If your company has weathered the storm so far, you've likely found yourself either working with a smaller team, operating remotely (partially or fully) or returning to normal operations.
No matter which category you fall under, you face similar challenges like:
Amending processes to maintain productivity levels.
Tweaking your employees' responsibilities to make up for lost manpower and resources.
Adding new tools and technology to supercharge your new processes.
It's a lot to take care of — and a lot to keep track of in terms of information and organizational knowledge. This is why a solid approach to knowledge management is vital to your ability to cope with the Coronavirus shutdown — or any other crisis your business may face.
What is knowledge management?
Emil Hajric, CEO at Helpjuice and author of Knowledge Management: A Theoretical and Practical Guide for Knowledge Management in Your Organization, provides the following definition of knowledge management:
Knowledge management is the systematic management of an organization's knowledge assets for the purpose of creating value and meeting tactical & strategic requirements; it consists of the initiatives, processes, strategies, and systems that sustain and enhance the storage, assessment, sharing, refinement, and creation of knowledge.

— Emil Hajric, CEO at Helpjuice
This definition refers to "knowledge assets" which is the idea that the knowledge your employees and organization possess is an asset to your business. It's what enables your company to operate as it does.
Knowledge management is all about ensuring your organization's knowledge assets are properly created, stored, shared, and improved upon as time goes on.
There's more to knowledge management than documenting the "on-paper" data and information that flows throughout your organization (although that is a part of it). Knowledge management is more focused on documenting the meaning behind the information — how your team translates "on-paper" info into organizational knowledge.
With a strategic approach to knowledge management in place, your team will always have the resources and information they need to put their best foot forward.
Four ways knowledge management can help your small business cope with a crisis.
While knowledge management is important during "normal" times, it becomes even more critical during times of uncertainty.
Let's see how proper knowledge management can help your team avoid catastrophe and continue being productive when facing a crisis.
1. Knowledge management creates documented preparedness.
There's no sugarcoating it — the small business world was not prepared for the Coronavirus pandemic.
According to the US Federal Emergency Management Agency (FEMA), one in five small businesses spends no time creating or maintaining a business continuity plan for their organization. Unfortunately, 90% of these businesses are likely to fail within a year if they're unable to resume normal operations within five days.

(Source)
Those that are prepared for impending disasters will be much more likely to survive any crisis that comes their way.
Standardize processes more efficiently with knowledge management.
For starters, focusing on knowledge management means focusing on creating documented standard operating procedures and policies for your team's various processes. Within (or in addition to) these documents, you'll also want to include contingency plans to help your team members stay on track in case things don't go according to plan.
Proper knowledge management also ensures information and documentation stay centralized and accessible at all times. This is especially important during crises during which employees must work from home — and potentially use their own equipment for work-related purposes.
Ensure deliverability and accessibility of knowledge.
Knowledge management focuses on communicating knowledge in multiple formats to allow for frictionless consumption. For example, your knowledge base might include video demonstrations of certain processes in action to supplement the text-based instructions provided.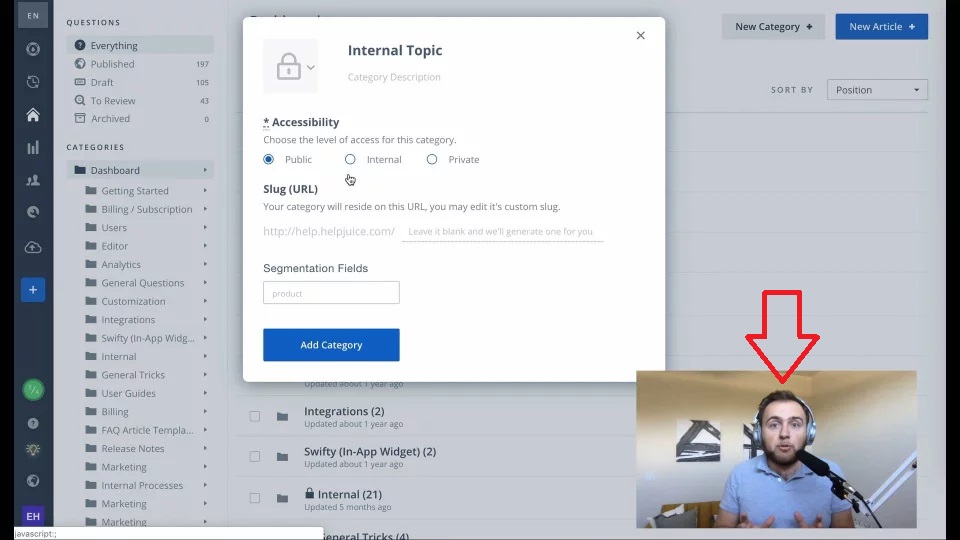 Again, this is huge during times of uncertainty, as you'll want to quickly digest information and put it into action.
Because knowledge management focuses on centralizing your organization's information, your documents and files will always be up-to-date within your system. This ensures your team always has access to the most accurate and current data available when things are changing at an unrelenting pace.
Overall, it's clear that having plans in place to deal with crises is essential.
But just having a plan doesn't mean much if your team can't access, understand and implement it.
An effective approach to knowledge management ensures your contingency plans and related documents are always where your employees need them — allowing them to move in the best direction.
2. Knowledge management enables systematic capture and retention of knowledge.
Whether or not it's documented, knowledge exists within all organizations — and it falls into one of three categories:
Explicit Knowledge: Knowledge that is quantifiable, tangible, or otherwise concrete. Customer data, sales numbers, and profits are all examples of explicit knowledge held within your organization.
Implicit Knowledge: Task-based information, typically describing the steps taken to accomplish a certain procedure within your organization. The information held within an emergency plan is a key example of implicit knowledge.
Tacit Knowledge (aka Tribal Knowledge): Intangible knowledge held by your employees that lets them operate as effectively as they do. It's the experiential skills and knowledge they gain throughout their time with your organization — which isn't always easy to translate into words.
Without knowledge management processes in place, your team is at an ever-present risk of losing information should a crisis arise.
In a literal sense, catastrophes from fires to server crashes can cause you to lose valuable knowledge if not properly documented and stored. Or — thinking of the current situation — if certain information is only accessible on-site, your team won't be able to use it if they're ordered to stay home.

Retain knowledge despite organizational changes.
Another area of concern is the loss of organizational knowledge due to restructuring and temporary layoffs.
For teams that have had to restructure or reassign some of their employees, it's become necessary to quickly train team members in various processes they may not be familiar with. Similarly, those who've had to let employees go during the crisis have had to rely on fewer team members to fill the gaps in productivity created by the layoffs.
In each case, strategic and proactive knowledge management aims to retain knowledge held by both current and former employees — and again, to deliver it to team members as efficiently as possible.
By making knowledge capture a part of your overall, ongoing processes, you'll retain the knowledge and wisdom held by your employees — even if they leave your organization down the line.
3. Knowledge management allows for enhanced communication and collaboration.
It's always important for team members to stay in close contact with one another.
We've seen a major spike in using various communications-based tools throughout the shutdown. Whether we're talking about Slack's reported 12.5 million active users in late March, or about how Zoom took the video conferencing industry by storm — businesses around the world have embraced digital communications.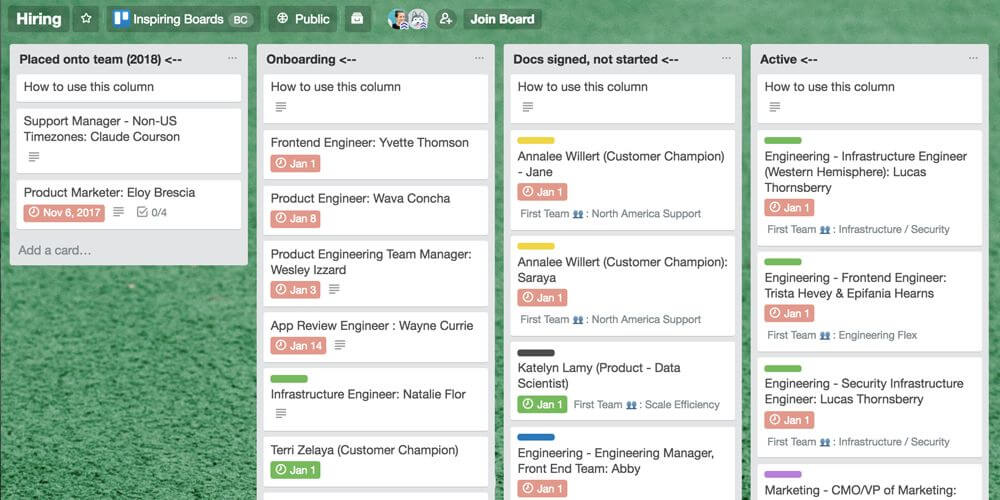 Source / Project management tools allow for team-wide visibility and task-focused communication.
With this increased use of such tools comes the need for continuous, real-time management of communications. Without it, the messages being sent and received over a variety of channels can easily be misplaced, overlooked, or otherwise lost — leading to friction, redundancies, and an overall loss of productivity for the team.
The key to managing team communications is integrating the tools in your tech stack.
This lets all communications — and the information held within these messages — to be centralized and disseminated to all connected tools in your stack. When a piece of information is updated on one channel, it'll automatically be updated elsewhere — making for much more effective cross-team communication, even when working remotely.
Stay aligned with your team.
Ongoing maintenance of communications is another key aspect of knowledge management.
Routinely, you'll want to comb through your team's communication logs and any documentation related to said communications to make sure you're aligned. Your employees should also become more focused on adhering to standardized procedures when communicating on different channels — and ensuring their messages are received clearly, regardless of the channel used to send them.

4. Knowledge management keeps your team focused on what matters.
We've touched on this idea throughout this article, but let's now make it clear:
Knowledge management isn't something that's done in isolation every once in a while. Rather, it's an ongoing, cyclical process to be baked into all other processes within your organization.
(At least, this is the case if you want to proactively avoid catastrophe for your business which is exactly what we've been talking about, no?)
All kidding aside, a strategic, systematic and omnipresent approach to knowledge management will inherently allow for more effective employee management as your team will have a better understanding of what matters most to your organization, in terms of:
What knowledge needs to be identified, captured, and shared with your team.
What processes and tools work best to accomplish certain tasks.
Which employees or teams are best-suited to handle specific processes or tasks.

Source / PPM Express lets teams prioritize processes within their organization.
Becoming more experienced with knowledge management will also show your team what processes don't work so well — and to identify what needs to be done to improve them.
Thrive and prosper.
Earlier, we talked about how knowledge management can help your organization stay afloat when facing a crisis.
More than just "weathering the storm," a continued focus on knowledge management lets your business thrive during moments of uncertainty.
For one thing, you'll have plans in place to help guide your team through any changes to be made to processes and operations. You'll also have comprehensive resources on hand to ensure best practices are followed as closely as possible throughout the crisis.  And, you'll have the structures in place to ensure your team members stay in constant communication with one another — and always know what's expected of each other as you navigate uncharted territory.
Prioritize what matters.
All crises, by definition, are tumultuous.
As we said earlier, the Coronavirus shutdown left many small businesses scrambling regarding what needed to be done, and how best to do it — all while dealing with the personal stress of a global pandemic. And, again — those who were most likely to succumb to the shutdown were those who could not get back up and running to some capacity within five days.
On the other hand, those who were prepared for the pandemic stand a much better chance of maintaining normalcy throughout and beyond the shutdown. When your resources are stretched to their maximum, it makes sense to prioritize certain processes while putting others on the backburner.
With ongoing knowledge management processes in place, you'll always know what to focus on to keep your business moving in the right direction.

Using knowledge management to survive crises.
The Coronavirus pandemic is unprecedented in our lifetime. Many small businesses around the world were left unprepared for the shutdown it caused.
Unfortunately, there's nothing to say that we won't face some other catastrophe that ends up having an even worse impact on the small business world.
When disaster strikes, it's crucial that your team members know exactly what to do, and that they have exactly what they need to do it.
With knowledge management at the center of your crisis management processes, your team will always be prepared to make the best out of a bad situation — and come out of it on top of your industry.
The advice we share on our blog is intended to be informational. It does not replace the expertise of accredited business professionals. Wagepoint assumes no responsibility for errors or omissions in this document