Become an insider!
Get our latest payroll and small business articles sent straight to your inbox.
With the growing acceptance of "lean startups," the "done is better than perfect" mentality, and accelerated launch approaches like those proposed by Startup Weekend, it's safe to say that the traditional business plan has become something of an historical artifact.
Rather than creating generic business plans that paint pretty pictures of where they want to be, entrepreneurs are shifting to creating growth-centric business plans that define how they're going to get there.
For a startup that wants to climb into the ring with big brand incumbents, that focus on growth is critical.
That's not to say that traditional business plans were ever completely useless. They allowed us to visualize and consider the critical elements of launch, which created a kind of foundation to build from. While the resulting businesses may not have looked like what was painted, the plans were enough to provide a glimpse to investors.
The process had its uses, but that's changing now. The modern business plan is one that is focused on growth and scaling a business. While it's a pivot from traditional business plans, it's still very much vital to success.
Why develop a business plan?

For every entrepreneur who grew after creating a solid business plan, you can likely find a half dozen tales of startups that launched with notes on a napkin. But notes on a napkin are still a plan of sorts.
And having a forward-thinking plan contributes to success.
One study shared by Small Business Trends found that, of 2,877 SMB respondents, 1,556 respondents had not yet completed a plan. Among them, only 43% were experiencing growth, and only 36% had secured funding.
Aside from fueling your growth potential, there are a number of reasons to create a more contemporary business plan:
You're forced to look at the whole of your business and clarify your objectives.
Your  plans lead to roadmaps, which increase the speed at which you accomplish tasks that are critical to your growth.
You develop a solid framework for decision making, even if that decision is to pivot.
Your idea is subjected to harsh truths that will root you in reality and objectively analyze the viability of your business.
While plans don't necessarily need to be complicated, including certain elements and taking a structured approach, provides the greatest chance of growing a small business exponentially.
"Many startup businesses fail to realize the importance of a good business plan coupled with a realistic financial forecast and cash flow," says Matt Connolly, founder of myLovelyParent. "Referring to the business plan regularly and comparing projected figures with actuals can help the owner take steps to amend the plan and targets for the business."
The 4 pillars of a modern, growth-centric business plan.

While a traditional business plan puts a great deal of emphasis on executive summaries, with a foundation in market research and financial forecasting, a growth-focused business plan is based on four key principles:
1. Agility
Agility is one of the most critical attributes for accelerating the growth of a small business. A business plan needs to be developed around rapid ideation, deployment, and your ability to pivot. Because every business plan is a framework, you must take an nimble approach. This lets you embrace what's new, try what has not been tested, and throw out what's broken well before you waste a tremendous amount of time sticking to a set of guidelines.
2. Efficiency
Part of your plan will involve detailing your processes, workflows, and the people involved. Building a business plan with efficiency in mind ensures that you and your team won't stall coming out of the gate. There's nothing more frustrating than getting bottlenecked by the very processes you created. Choosing the right tools, and defining those tools, is critical.
3. Focus
Focus is part and parcel of efficiency. You'll have overarching goals to reach, and getting there requires focus. When processes and plans change, you have to maintain focus on the primary goals. Adjust your path, and get back on course.
If you're not focused on forward growth, you won't know what to do or which direction to travel to reach your goals.
4. Insight
"In God we trust; all others bring the data."
That's a quote from William Edwards Deming, an American engineer, statistician, and management consultant who was largely responsible for advancements in both Japan's and the United States' industrial and commercial production processes.
He is regarded as having had the most significant impact on Japanese manufacturing of any individual not of Japanese descent.
His statement underlines the importance data plays in making decisions and planning for growth. Data, reporting, and insights are how you measure the success of your business plan. Unless a burning bush tells you it's time to shut it down, you use the data to find out what's working and what isn't – and you make changes based specifically on that data.
Creating a growth-centric business plan.
With these principles in hand, you can begin drafting your business plan. Before you start piecing information together from research and data, keep in mind that your business plan should be treated as a guide. It's not a doctrine chiseled in stone.
You also shouldn't feel pressed to include more information than is necessary. A business plan, even one built around growth strategies, doesn't need to rival War and Peace in scale. What's important is injecting value in what you include.
Consider the following elements when putting your plan together and building that sustainable growth strategy.
1. Define your solution
Every customer that approaches you is doing so because they have one or more problems. They'll have questions that need answers in order to help them zero in on the main issue. Your customers are following a path that eventually leads to a solution.

Your plan should clearly lay out what the primary problem is for customers, and what solution you're providing that will help them. Understanding the solution you provide (your products or services), and how your customers benefit, is a major component that will shape a majority of your marketing going forward.
2. Pinpoint your market(s) and customer(s)
"You need to establish that there is a market for your product and work out how you're going to access it," says Geraldine Abrahams, director of TWM Productions. "Identify who your typical customer is and how you're going to connect with them. A good start to a plan is to include a personal statement to establish your motives, objectives, and vision."
At this stage, you need to be able to clearly define your ideal customer( s). Key demographics and behavior information should be noted, such as their age, education, job title or occupation, and income range. You can delve deeper, and any data you uncover can be used to drive your strategy.
The most successful brands have been able to thrive and grow because of their ability to understand and define their customers. This can be difficult for a startup with no customers, and may require a little research.

Combine what you know along with assumptions about your audience, and support those assumptions with research. The most direct way to research the market and your audience is to find your competitors. Examine how they talk to their audience(s), their online habits, interests, demographics, etc.
It's okay to start with a high-level buyer personas, as you'll refine and reexamine them and your audience segments for specific campaigns in the future.
"In the body of the business plan you will detail what market research you have undertaken and summarize the findings," writes Emma Jones, founder of Enterprise Nation. "These findings will have helped you create sales forecasts which will then translate into turnover in the financial plan. It sounds obvious, but I have seen many plans that don't provide the correlation between the two and where it is obvious that the financial plan has been written 'bottom up' so the sales figure becomes the balancing entry."
3. Determine your value proposition
Your value proposition answers the question "Why would customers buy from us instead of our competitors?" Your value proposition is not your solution; instead, it's a statement of differentiation that makes you unique from others in your market.
The value proposition is part operations, part marketing, and part strategy. Once you have it defined, it becomes the foundation of your competitive advantage because it's something that your competitors cannot replicate.

Your value proposition may change over time, but it needs to be defined early on. Your customers will subconsciously weigh your company against others, leaning on your unique value to determine who they will do business with.
In order to define this element, you'll need to spend some time performing a competitive analysis of your market. Don't make the mistake of thinking that your solution is so unique that you have no competition.
Competitors aren't just other brands offering the same product. Your competition includes substitute products and alternative options – which includes the customer performing the work on their own or creating their own solution(s).
"Don't become blindsided by your excellence," says Anna Morrish, former marketing executive at DMC Software Solutions. "You may believe you're the best in the business with no threat of competition, and maybe that is the case, but if you're creating a plan for investors, they want to see that there is a market for your business. If there is no competition, where is the market? Make it clear in your business plan how you're going to compete. The use of charts, graphs, and images will provide factual and visual evidence which can help to back up your potential ideas."
4. Establish your goals and objectives
Launching a business without goals and objectives is something that derails growth the most often. With no goals to focus on, it's easy to get distracted. Rather than sailing to your destination by a predetermined route, you'll be spinning the wheel of the ship in zig-zag motions every time something twinkles on the horizon.
"You must identify and commit to no more than three priorities and then go to work on creating the projects and tasks needed to pull these off," writes John Jantsch, founder of Duct Tape Marketing. "And, you must say no to the idea of the week that shows up to knock you off course."

Once you've established your primary goals, break those down into smaller and more achievable milestones. This process creates a roadmap you can follow to reach the end goal. When things inevitably change and you have to pivot, you can refer back to your milestones and roadmap to course-correct and get back on track.
5. Map your operations
Traditional business plans usually want your organizational hierarchy to be defined. This is essentially a "who does what" list of your team. That's an important element to include, but a business plan aimed at accelerated growth needs more meat around the team.
When you map out your operations, you shouldn't start with the hierarchy to determine what needs to be done, and who does it. Start at the end of the funnel with your customer as they stand there with the solution in their hand and work backwards. For your ideal customer who just converted, ask yourself:
What are each customer's minimum expectations for the product or service, and how it's delivered to them?
What processes are necessary to make that final conversion?
What resources, tools, and equipment need to be in place for those processes to work?
Which departments are involved, directly and indirectly, with the conversion and delivery to the customer?
Who are the people in those departments? What are their roles, who holds them accountable, how do they communicate with one another, and what is their role in communicating with the customer?
How many of those people are needed, in individual departments, for processes to work flawlessly, and to meet the minimum expectations of the customer?
6. Create a clear marketing strategy
You can't grow your business without a marketing strategy. You may not have the seven-figure marketing budgets of larger incumbent brands, but that's fine. The right strategy could create tremendous growth right out of the gate for your business.

Ideally, you want to show why you feel your target audience will embrace you, and how you plan to get your brand in front of them. Your strategy will be driven by market analysis and other research you've done up to this point and will be one of the more detailed segments of your growth strategy.
Or it may be the slimmest. It boils down to your audience, the competition in your market, and how you'll leverage your value proposition.
Some companies spend hundreds of thousands on complex campaigns that include social ad costs, media buying, explainer videos and commercials, web design, direct mail, and more.
Others see success with far less of an investment by following a direct strategy. Grasshopper, a VoIP service for entrepreneurs, sent out chocolate-covered grasshoppers to influencers before launch. That simple launch strategy netted them a quarter of a million YouTube views, 170 earned media mentions, and approximately 30,000 referrals over a 90-day period.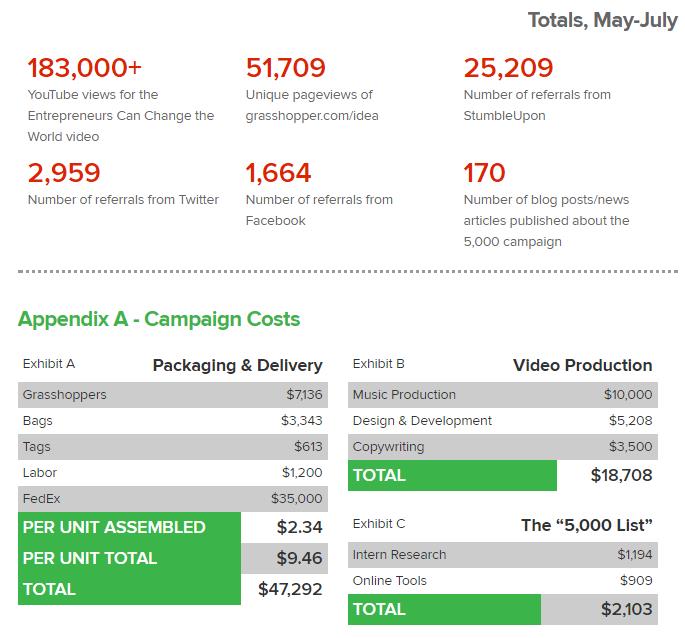 Key areas of focus for your marketing strategy include:
What channels you'll use reach your audience – where are they most accessible?
Who are your primary audience segments and refined buyer personas – who will your campaigns be targeting?
What formats you'll use – video, digital written content, audio, images, print?
Will you produce the content in-house or with an outside advertising agency?
What are the goals of these individual campaigns – what do you expect from each effort?
Your marketing strategy is likely to draw the most scrutiny if you're seeking funding. Investors want to see deadlines and expected data. They want to know what kind of web traffic and social engagement to expect, and they'll want to know how you intend to track it all .
For every campaign you lay out in your business plan, you need to know what metrics you'll be monitoring, and the key performance indicators of this success. You should also include forecasts for conversions and the customer acquisition costs (CAC) for your strategy and engagement.
7. Outline your financials and forecasting
Financials and forecasting are important parts of both traditional and growth-centric business plans. Investors want to see numbers to measure expected returns, margins, and profits. You also want to set a financial goal so you have something to drive yourself towards.
Your financial projections are going to be the last inclusion in your business plan because they need to include data from a lot of the other components. Everything has a budget and expected cost that should be included.

This is not a section for accounting – accounting consists of records from today working backwards. This section should be for projections from today onward.
When laying out your projections, don't just estimate a single budgetary, expense, and P&L plan. Instead, include three financial plans:
A conservative plan
A moderate plan
An optimistic plan
Each of these plans should be broken into monthly/quarterly statements with realistic and achievable revenue goals.
"When a new or young company presents financial projections, lenders and investors will want to have data which supports the company's financial assumptions," says Marc Prosser, co-founder of Fit Small Business. "Where did the company get its numbers for gross profit and amount of inventory it will need to purchase? If the company is using industry benchmarks, it will gain more credibility in the eyes of investors than saying the company made reasonable estimates. How can you get this data in your business plan?"
If you have existing sales records to substantiate your projections, you can include those, but it doesn't need to be in line-item detail. You can always pull more detailed reports if asked.
Likewise, if you're already operating and you're refining your business plan to improve growth, use your financial data to help with your growth plan. Revenue growth only happens one of three ways:
Increasing the average order value or size of the transaction.
Increasing the number of purchases or lifetime value of the customer (reducing churn).
Acquiring more customers.
Use existing merchandising, customer, and financial reports to forecast change can help determine opportunities for  improvements, such as better marketing for more acquisition, new products, or focusing on customer delight.
Putting the pieces together.
While a contemporary business plan has a number of components, it's only as complex as you need it to be in order to create a strategy that will accelerate the growth of your small business. Don't let the scale of putting the information together prevent you from making progress.

The biggest obstacle is just getting it started, and getting it done when you're trying to run a business or gear up for launch. Instead of treating it like an interruption, or some ugly task you need to do, view it as a constructive means of defining what you want to achieve and how you'll get there.
That's the "how we get results" approach that successful brands use every day to define their campaigns and refine growth strategies.
"If it really is a working document then it should be changed and altered as often as the business and routes to market dictate," says Rosie Wolfenden, co-founder of Tatty Devine. "I think it is quite a cathartic exercise in that updating the plan helps reinforce the commitment to the next part of the journey."
There's no better time than now.
You won't find a single template that is the ideal layout for business plans, and there's no shortage of choices. For those who prefer to study in order to handle things on their own, Entrepreneur has a library of business plan guides to help you develop the business plan that best fits you.
If you would rather start with a pre-assembled template that contains many of the elements we discussed in this article, both Entrepreneur and Enloop have template libraries to give you a head start.
A happy medium between the two options is business planning software, with detailed tutorials and wizards to help you create the perfect custom business plan to grow your business. Stratpad, Palo Alto, and LivePlan are three good options to get started.
"Wherever you are in your journey, you have a need to develop the knowledge and plans to guide you to a successful business operation," says Hal Shelton, author of The Secrets to Writing a Successful Business Plan: A Pro Shares a Step-by-Step Guide to Creating a Plan That Gets Results. "While this learning and planning process takes many forms, shapes, and levels of intensity, it is all considered part of the business planning process. Learn how a well-thought-out business plan can dramatically turn the odds in your favor."
Have you developed a growth-centric business plan for your brand? Share your thoughts with us in the comments below.